Legacy Building Solutions Among 2014 ENR Top 600 Specialty Contractors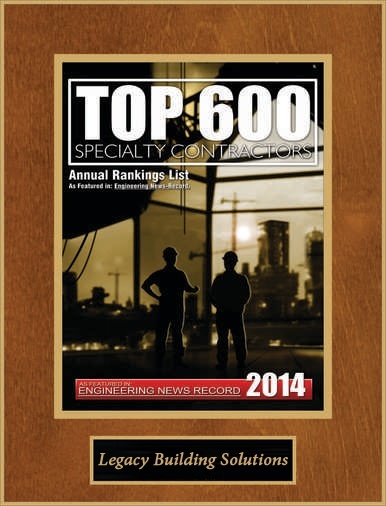 Legacy is thrilled to be listed on the 2014 ENR Top 600 Specialty Contractors list, an annual recognition from Engineering News-Record. The full list is available on ENR's website (www.enr.com).
"It's great to be on the ENR list," said Ben Fox, president and CEO of Legacy Building Solutions. "We are number 600 this year, and we intend to keep growing and climbing the list."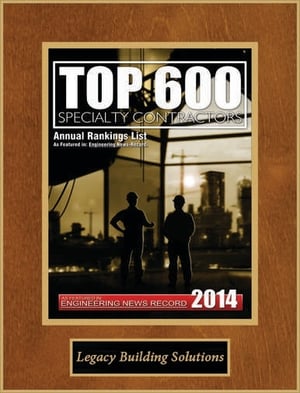 The specialty contractors list includes electrical, mechanical, utility, excavation contractors and at least one fabric building company.
Update: Legacy Building Solutions was named a Top 600 Specialty Contractor in 2015.
South Haven, Minn. – Legacy Building Solutions has been listed by Engineering News-Record (ENR) as a Top 600 Specialty Contractor. This is Legacy's second consecutive year on the list. This year, the company achieved a ranking of 564 and is the only fabric structure manufacturer listed among the top 600.
"To be recognized by ENR is a huge honor," said Ben Fox, president and CEO of Legacy Building Solutions. "Our goal is to provide the best service for our customers, so to be listed among successful companies with established reputations is more than we ever expected."
The article accompanying the top 600 listing highlights design-assist construction as a growing trend in the construction industry. Design-assist and design-build contracting are important components in Legacy's plan to simplify the construction process for customers while providing custom solutions for each individual project.
About ENR
Engineering News-Record is a weekly publication for the construction industry. The specialty contractors rankings are determined by market revenue data provided by participating firms. More information about ENR and the listings can be found at www.ENR.com.
About Legacy Building Solutions
Legacy Building Solutions designs, manufactures, engineers, and installs large-scale custom fabric structures for a wide range of industries. A pioneer in the use of a rigid steel frame for fabric structures, the company was founded in 2010 by a team with more than a century of expertise in the tension fabric building business.
Headquartered in South Haven, Minnesota, Legacy Building Solutions provides services worldwide. Committed to sustainability and best management practices, the firm has achieved ISO 9001:2015 and CSA-A660 certifications. Learn more at www.LegacyBuildingSolutions.com.