4 Features That Enhance Moisture Control in Fabric Buildings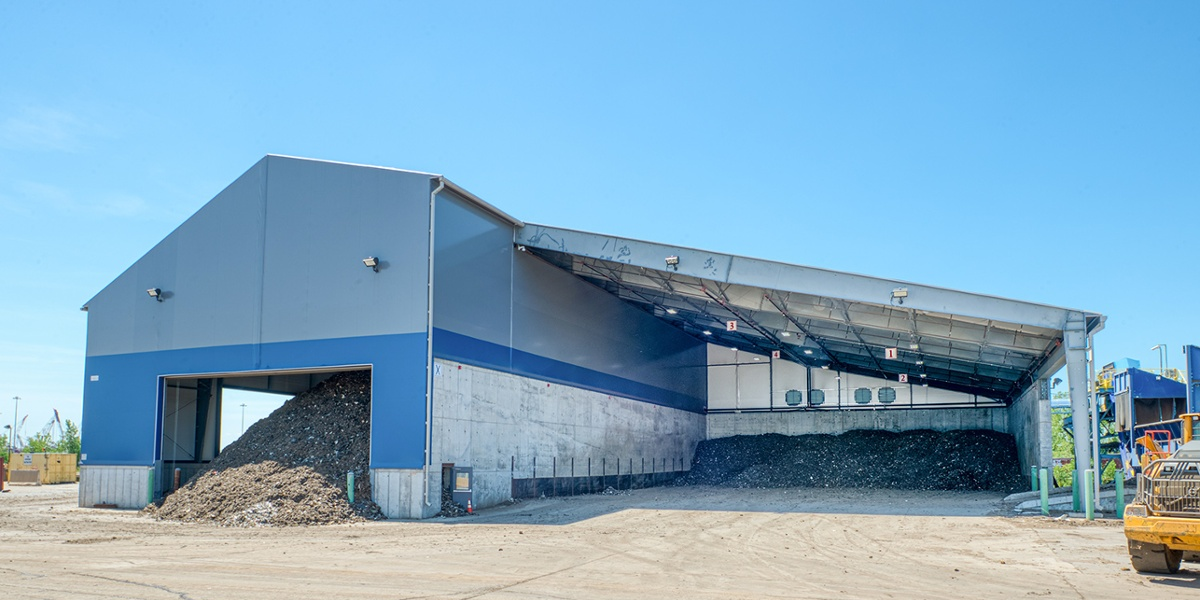 Moisture control is a vital function of most buildings. Precipitation can cause permanent damage to stored assets, and it creates a cold, damp and unsafe environment for loading and working. For these reasons, moisture control in buildings is a top priority at Legacy Building Solutions.
The only way to ensure a safe and dry area around a building is with a water management system. With fabric structures on a rigid steel frame, you have several options for water mitigation:
Overhangs
Awnings
Gutters
Downspouts
Icebreakers
Fabric Buildings with Overhangs
Overhangs, known as eaves, are the basis of a water management system. Overhangs are an extension of the roof that reach beyond the building sidewalls, protecting the area around the building from precipitation.
Standard overhangs are 18 inches wide, although you can get overhangs from one inch to six feet or more, depending on your specifications. In fabric buildings with sidewall doors, a single overhang may vary in size to create larger dry areas over entrances.
Many overhangs also serve as the basis for a passive ventilation system. Because the eave level is closer to the occupied level of the building, the overhang maximizes fresh air intake along the structure's edge. These gravity-powered ventilation systems reduce condensation levels inside a building and require no active power to operate.
While overhangs help to reduce water intrusion in buildings, not all structures are suitable for the feature. Because monocover buildings use a single sheet of fabric stretched over the roof and walls, angling the material around the overhang causes the fabric to warp on these buildings.
Other applications require a fully or mostly enclosed extension of the building — known as a lean-to. This part of a building can serve double-duty, providing a space for loading, circulation paths or storage. A lean-to makes a building more usable, so it's worth considering this feature for your next construction project.
2. Fabric Buildings Awnings
Awnings, like overhangs, provide a dry and shaded area around a building. While overhangs are extensions of the roofline, awnings and canopies are placed over doorways and windows.
An advantage to awnings is that they are completely customizable. They may be any size, shape or color to give the building a unique look while providing the dry space you need. At Legacy's headquarters, we use custom awnings to create a shaded break area and protect doorways. See how we incorporate these awnings into our building to improve the structure as a whole.
3. Gutters and Downspouts
Gutters direct the flow of water and prevent potential damage to a building's foundation and landscaping. Following a downpour, a gutter's purpose becomes obvious — water pours out of a building's downspout rather than the sides of a roof, making flooding less of a concern. In the winter, gutters and downspouts prevent ice from forming on walkways. Without gutters, the areas surrounding a building would resemble an ice rink when temperatures plummet.
With Legacy's patented system, gutters and downspouts are attached to overhangs along one or more sides of a building. We provide standard and oversized options that meet rain intensity requirements at your building's location.
4. Icebreakers
Icebreakers stop large sheets of ice and snow from sliding off the roof. Breaking ice and snow into smaller cubes greatly reduces the risk to people and objects below.
Icebreakers are useful in occupied areas where snow sliding off the roof will cause liability and accessibility issues. Icebreakers also protect other buildings, landscaping and assets in close proximity to the structure.
Manage Building Moisture
The inside of a fabric building is a controlled environment. While it's not possible to control conditions outside, using a water mitigation system on the outside of a fabric building allows you to regulate the environment around the building. Contact our team to learn more about our fabric buildings, and how they incorporate features that mitigate moisture.