Advantages of a Tension Fabric Building for Dry Fertilizer Storage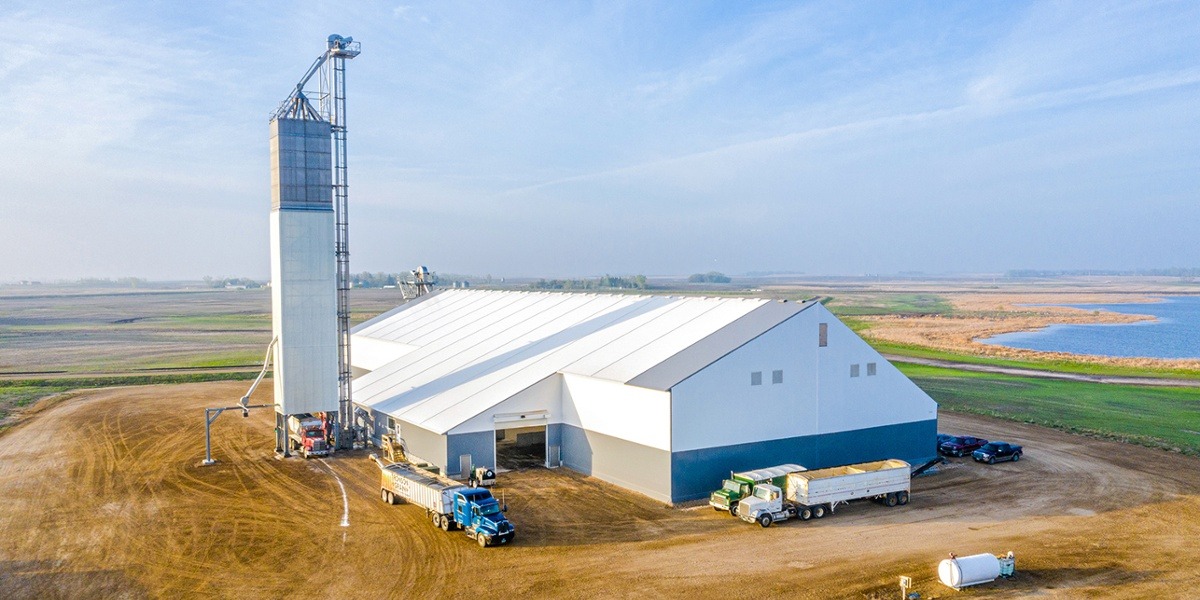 Fertilizer is corrosive. In fact, some would say it's the worst—even harsher than salt. No wonder corrosion resistance is the number one concern for anyone looking to build a dry fertilizer storage facility. When the quality of your building affects productivity, ongoing maintenance costs, building longevity, and ultimate return on investment (ROI), you cannot afford to skimp.
Tension fabric buildings from Legacy Building Solutions are second to none when it comes to dry fertilizer storage.
You could use an inexpensive hoop structure, but hoop houses are not designed or intended for long-term use. A wood beam building with a shingle roof would give you good corrosion resistance, but it can take far longer and cost far more to build than an ExxoTec™ tension fabric building. And a tension fabric building offers multiple additional advantages.
Corrosion resistance
Legacy's proprietary EpoxxiShield™ epoxy coating is a critical advantage of Legacy's tension fabric buildings. Hot-dip galvanizing (HDG) has long been the standard in corrosion protection, but in some bulk storage applications, such as fertilizer, HDG-coated frames have a shorter life span. HDG-coated frames in dry bulk fertilizer buildings provide short-term protection, with the building deteriorating in just a few short years.
Legacy's EpoxxiShield™ COR triple coat process provides dramatically better protection in the near term and throughout the life of your storage facility. If the surface of your building's steel framework gets damaged during the course of everyday work, the epoxy coating can be repaired on-site. Unlike HDG, there is no need for expensive, time-consuming maintenance.
In addition, Legacy ExxoTec™ 28-ounce tension fabric is naturally resistant to corrosion and fire and typically comes with a 25-year warranty.
A 100 percent custom design
How durable will your building be? How long will it last? And what about maintenance hassles and costs? Those may be your primary concerns, but there are many variables that determine the quality and long-term value of a dry fertilizer storage building.
Size. You need ample space for what you're doing now, but you may also want to size your structure to accommodate future expansion. Our unique rigid steel I-beam framework allows for very long spans and high rooflines in whatever dimensions you require. The absence of interior columns means every square foot is usable space, with open sight lines that improve safety as well as efficiency. You can hang trippers or other types of conveyors rather than waste valuable floor space to construct them.
Design. At Legacy Building Solutions, all of our buildings are custom-designed. You have an end goal in mind—e.g., We need to store 10 tons of fertilizer. We have the expertise in building design and construction to help you determine the details. We work as your partner right from the start, asking lots of questions to understand exactly what you need. That way, we can get the design just right and quote you an accurate price. No need to hire an outside consultant to handle this process for you.
Legacy's tension fabric buildings also come with one of the best passive ventilation systems in the industry. Soffits and peak vents are placed at intervals that allow air to flow outward naturally and efficiently. The building stays drier inside, protecting both the product being stored and the building itself.
The possibilities are almost endless. Tronson Grain's Assistant Manager, Patrick Tronson, says his company's fertilizer storage building is "simple with a big footprint," but that's a big understatement. Take a look inside and see for yourself. (By the way, our Legacy installation pros erected this huge building in just three weeks, a full week ahead of schedule.)
Rapid construction
Delay costs money. An ExxoTec™ tension fabric building offers the same design capabilities and warranties as a wooden structure, but thanks to our one-stop design-to-installation process, your facility can be up and running much faster. Choosing a single-source manufacturer can also help avoid miscommunication and third-party vendor delays.
With custom design, reliable corrosion resistance, and ROI-friendly longevity, a tension fabric building can be the ideal solution for dry fertilizer storage.