Advantages of Legacy Fabric Structures for Military Use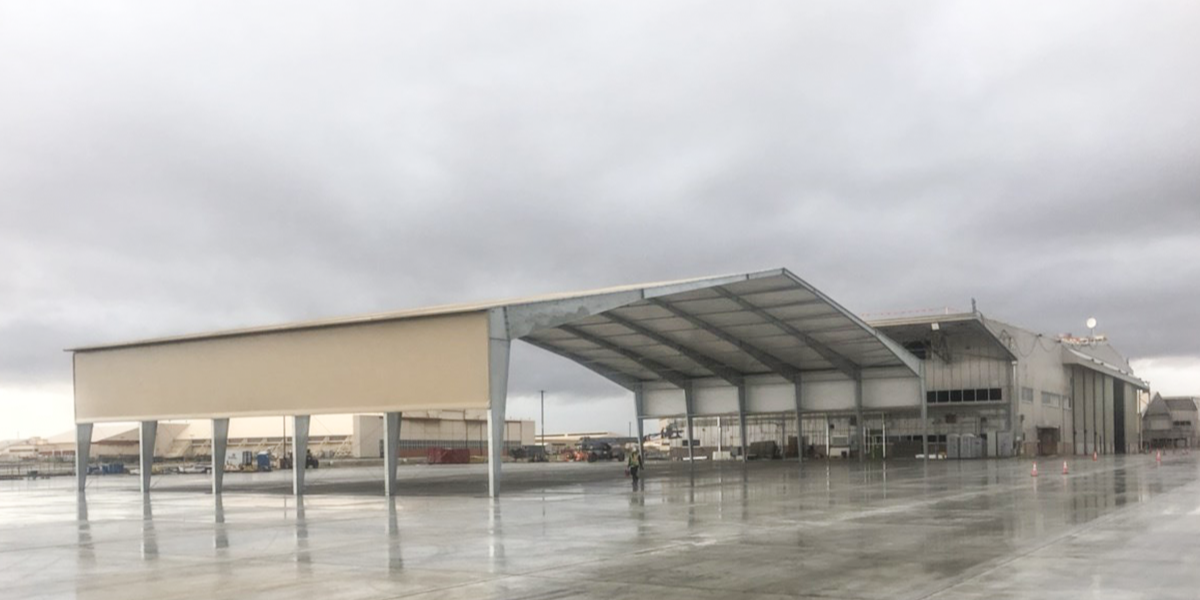 Legacy Building Solutions provides soft wall shelters for military, expeditionary and MILCON applications worldwide. Our team has provided temporary and permanent fabric shelters for military aircraft hangars, open-ended cold storage buildings and aerospace storage.
Engineered, not pre-engineered: All Legacy shelters are engineered for military customers' exact location, application and size requirements. Using the highest-quality fabrics and state-of-the-art engineering techniques ensures the Legacy building will withstand decades of daily use in any environment, including exposure to extreme snow, wind and UV rays.
How are fabric shelters engineered for high altitudes and extreme weather? Click here.
Benefits beyond spec: Our experienced design team will suggest ways to optimize your shelter. Getting an optimized structure means you are assured that the structure solution provided has been designed to the utmost efficiency given your mission requirements. Options include hangar doors, steel wall panels, cargo and aircraft doors, insulation systems (up to R30), off-grid power options, HVAC and full on-site installation services
Responsive to requests: Legacy prides itself on team design mobilization speeds to provide our customers with unmatched responsiveness to any structure request. This means rapid and accurate quotes and custom design services with professional installation estimates. With more than 35 million square feet of fabric structures installed, our team has field experience in every environment.
Frame-supported and column-free: Great for large free span storage and logistics applications, LAMS, aircraft and TUAVS hangars, cold storage and warehouses, shade shelters, wheeled vehicle storage and maintenance facilities, and dining halls.
Learn why the Legacy fabric attachment system outlasts other fabric tent buildings.
Competitive pricing: Building design, engineering, material costs and installation are included in the competitive quote. Longer-lasting in extreme environments for long-term economy.
Fully demountable: Legacy tents are deployable as permanent or portable, demountable assets. Move or expand the buildings with no loss of quality to the fabric or steel frame.
Proven and trusted: Tight quality control and timelines are part of the Legacy experience. All components are made in-house.
Unique contracting mechanisms: We strive to make your contracting experience as effortless as possible.
Get started today with a no-obligation consultation with a military tent representative.