Advantages of Tensioned Fabric Buildings for Potash Storage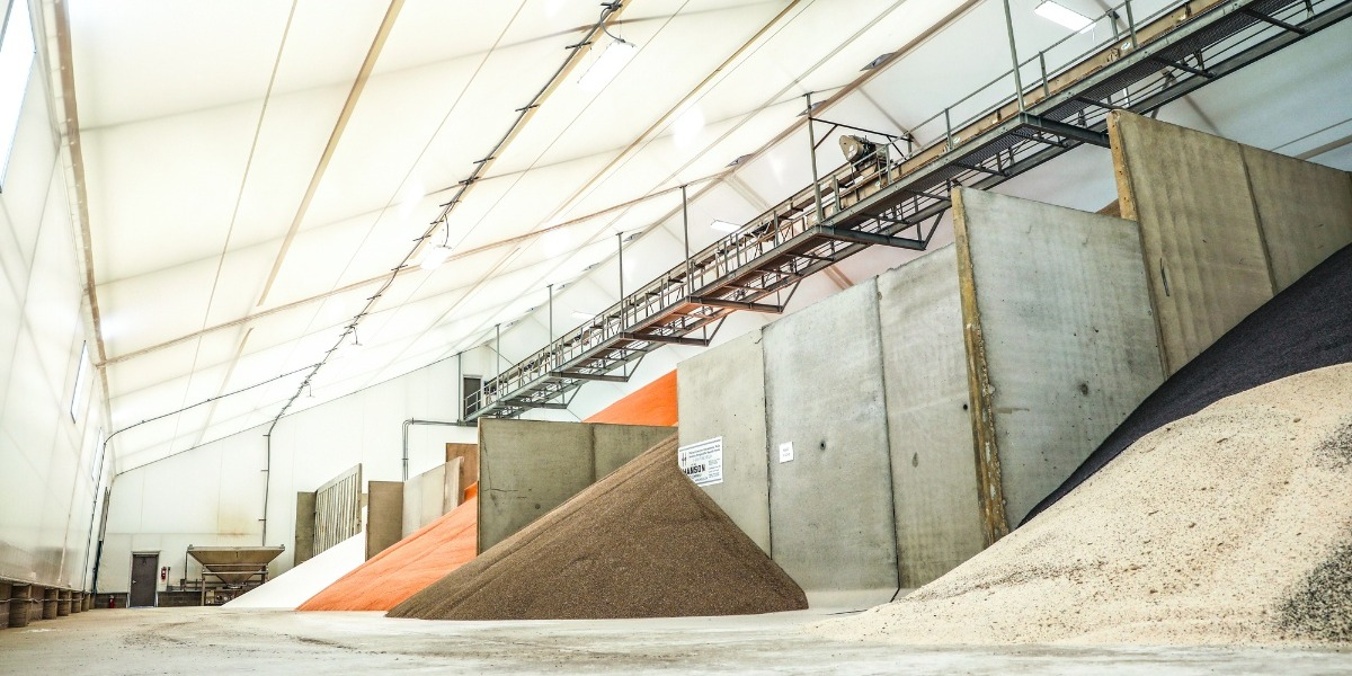 Fertilizer keeps our agricultural economy growing. As the ingredients that make up fertilizer are mined and make their way to farmers, they have to be stored—and often blended—along the way. Proper storage becomes critical because these components are corrosive and potentially toxic. Potash can be particularly harsh.
Tension fabric buildings make it easy to design huge, complex facilities that match your storage and handling needs and alleviate safety concerns. Legacy Building Solutions can incorporate ExxoTec™ fabric and EpoxxiShield™ frame finishes in potash buildings to provide maximum performance and minimum maintenance requirements, with a faster design-to-install timeline and lower total cost of ownership.
Legacy buildings meet or exceed all required standards, including building codes, snow and wind loads, or any location-specific requirements. Get all the details here.
Customized down to the last detail
When we say "custom," we don't mean assembling standardized component options and adding a few modifications. We mean 100% custom design and engineering that ensures your building meets all your operational and product storage requirements. For example, we understand that you may need to store four or five different fertilizer products, not just potash, so you'll need to keep them separate but equally accessible.
The framework
Rigid steel I-beam construction will give your buildings maximum versatility. With clear-span widths that can exceed 300 feet wide and any length, plus ceiling heights that can easily accommodate hanging conveyors, crews and equipment can maneuver safely and efficiently throughout the facility.
The fabric
Legacy's exclusive ExxoTec™ PVC fabric has exceptional tensile strength. It is climate-responsive and the white fabric can provide up to 12% translucency, letting in enough natural light for daytime activity. You get a brighter and more comfortable working environment that stays warmer in winter and cooler in summer. Legacy's patented fabric attachment system ensures safety and longevity.
Corrosion prevention that protects over the long term
Hot-dip galvanizing (HDG) was the standard when it came to corrosion protection. However, Legacy took it one step further with our proprietary EpoxxiShield™ frame finishes. EpoxxiShield™ vastly outperforms HDG for corrosion protection. In addition to our proprietary frame finishes, ExxoTec™ fabric covering is inert to corrosion, providing your building with the utmost in corrosion protection. Period.
Ventilation that protects your people
As noted earlier, fabric keeps interior temperatures more consistently comfortable. But airflow is critical to keeping indoor air clean and dry. Legacy buildings use industry-leading passive ventilation that ensures reliable passive airflow, although active AC systems can also be added if desired. Again, Legacy tension fabric buildings are 100% customizable.
No worries about weather
Legacy buildings stand firm in the face of high winds and heavy snow loads. But what about water management? Potash must be kept dry. Contact with moisture can turn powdery potash into a solid, unusable block. Wet potash releases heat, creating a potential combustion hazard. It is highly corrosive to metals and dangerous if it comes into contact with human skin, eyes, or lungs.
Steel buildings are held together with screws, and each hole offers another opportunity for moisture to enter. Legacy's ExxoTec™ fabric provides a continuous membrane creating a better building envelope that is hole-free and durable. Your product and the building itself will stay dry inside.
In-house, all the way
Legacy is the only single-source manufacturer of tension fabric buildings. We provide design, engineering, manufacturing, and installation. With everything in-house, the process is streamlined and moves much faster. You can save money and put your new facility to work sooner.
Think of us as your potash storage partner
Legacy Building Solutions is more than a typical building manufacturer and supplier. We build relationships with our customers from day one and stay with you long after your project is completed to answer any questions and ensure your tension fabric building continues to exceed your expectations.