Benefits of ExxoTec™ Fabric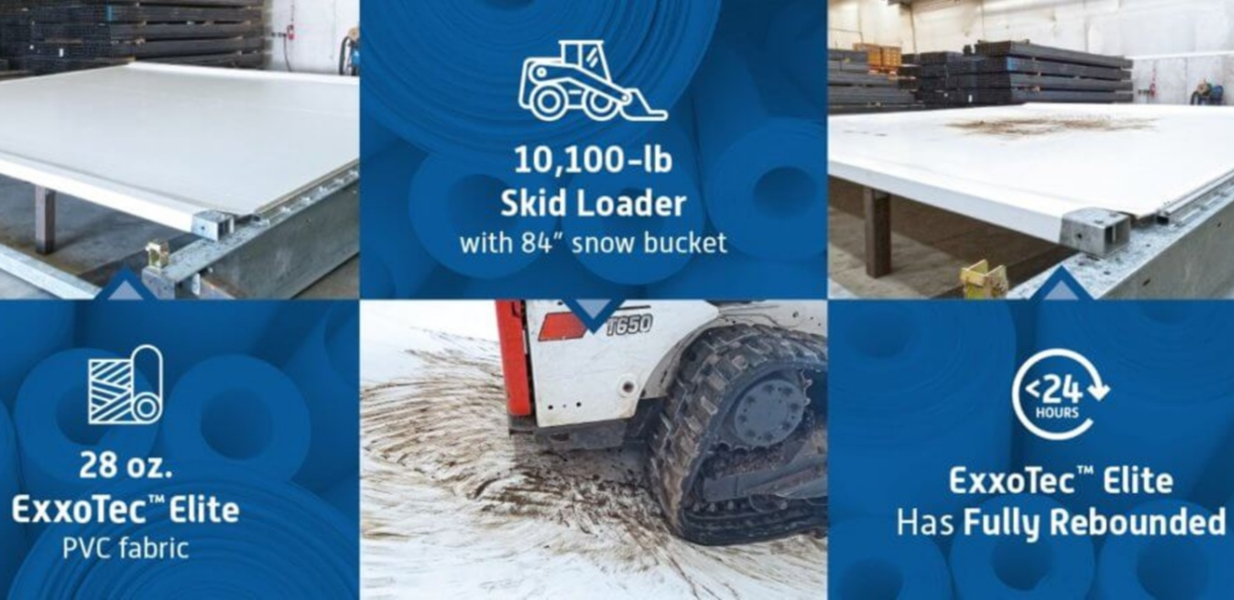 ExxoTec™ is a PVC fabric exclusively available from Legacy Building Solutions. This fabric provides significantly better strength and performance characteristics than competing PE fabrics while remaining cost competitive with alternative PE and PVC fabric.
High Strength-to-Weight Ratio
Independent studies have shown ExxoTec™ to outperform other PE fabrics in original strength and strength after weathering tests. ExxoTec™ has a greater initial strength per square inch and retains 91% of its strength after 13 years of exposure to the elements.
When combined with Legacy's patented attachment system, ExxoTec™ fabric is strong enough to withstand the rigors of daily use. In addition to standardized tests performed by independent laboratories, we conducted our own skid loader test. We placed a skid loader with bucket weighing a total of 10,100 pounds on a sample of the fabric and drove it. The fabric was undamaged by the impact and moving tracks of the skid-steer. Watch the video results of the fabric test.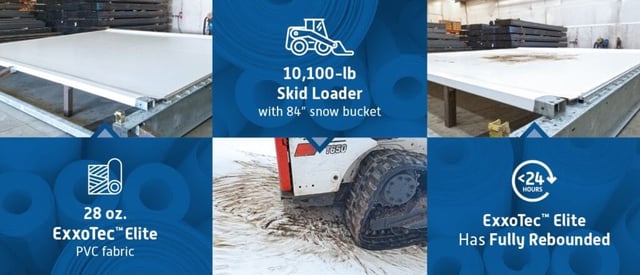 Cost Competitive
ExxoTec™ is a premium fabric available at an excellent price providing extraordinary value. The per-square-foot price of ExxoTec™ is on par with traditional "budget" options. Using ExxoTec™ allows you to construct a premium quality fabric building while meeting budgetary constraints.
Flame Retardant
ExxoTec™ has successfully passed NFPA 701 (large and small tests), S 109 (large and small tests), California Fire Marshal Testing, and E84 and S102 flame spread testing. Flame-retardant fabric has several benefits:
Adherence to code and insurance requirements
Fabric allows the fire to vent without adding flame or heat to the fire, typically resulting in far less damage to building and contents during a fire situation
What are the advantages of a flame-retardant building? Click here to find out.
The flame-retardant elements are a permanent, indelible part of the fabric. Even after years of use, ExxoTec™ will display the same flame-retardant qualities without requiring additional maintenance.
Self-Cleaning
Acrylic coatings on the outer layer of the fabric protect the fabric from pollutants and provide self-cleaning ability when rain or snow falls on the fabric. These coatings are a permanent part of the fabric and will not fade or wash away as the building ages.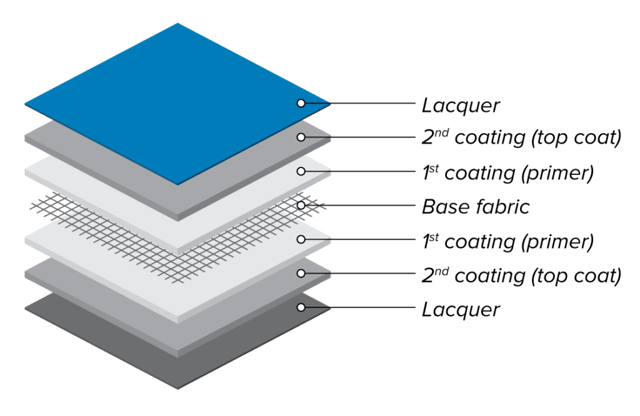 25-Year Warranty
The high strength of ExxoTec™ fabric, along with the non-corrosive properties, makes it a long-lasting choice in any environment. No matter where the building is located or how it is used, ExxoTec™ Elite includes a 25-year warranty*.
With Legacy's patented attachment system, the fabric is also repairable in case of damage caused by accident or extreme weather. The fabric can be repaired on site or in a case of large damage, a new panel of ExxoTec™ fabric can be installed into the existing building quickly and with minimal business interruption.
Natural Light
Using ExxoTec™ fabric allows the building owner to take advantage of natural daylight to create a brightly lit, pleasant interior environment. ExxoTec™ has up to 16% translucency.
Two Options: ExxoTec™ Elite and ExxoTec™ Pro
There are two fabric options of ExxoTec™ available: 28 oz. ExxoTec™ Elite and 19 oz. ExxoTec™ Pro. Both fabrics are available in five standard colors: White, Navy Blue, Green, Tan and Gray.
ExxoTec™ Elite is twice as strong as PE fabric and comes with a 25-year warranty. ExxoTec™ Pro is 41% stronger than 12 oz. PE fabric and includes a 20-year warranty. The strength of the fabric as well as its non-corrosive properties make it a long-lasting, warrantied option in any environment – including corrosive storage, occupied buildings and harsh jobsites.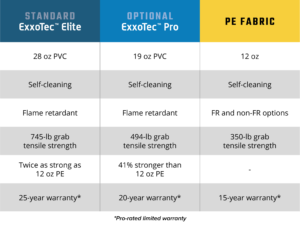 Custom Design
Combining the durability of ExxoTec™ fabric with a patented attachment system and rigid steel frame means all buildings are custom designed to meet project specs and building codes.
Our team of qualified and experienced building designers and engineers customizes each building to include owner-specified features including wide clearspan design, high clearances, hanging loads, insulation and liners, and architectural elements including lean-tos, alternative claddings and more.
Learn more about Legacy's customization options.
All building design, engineering, component manufacturing and installation is done in-house for faster construction and tighter quality control.
Only ExxoTec™ fabric has all these benefits and a competitive price. Ready to learn what it can do for you? Contact us.
*Limited, pro-rated warranty