Building a Better Wastewater Treatment Plant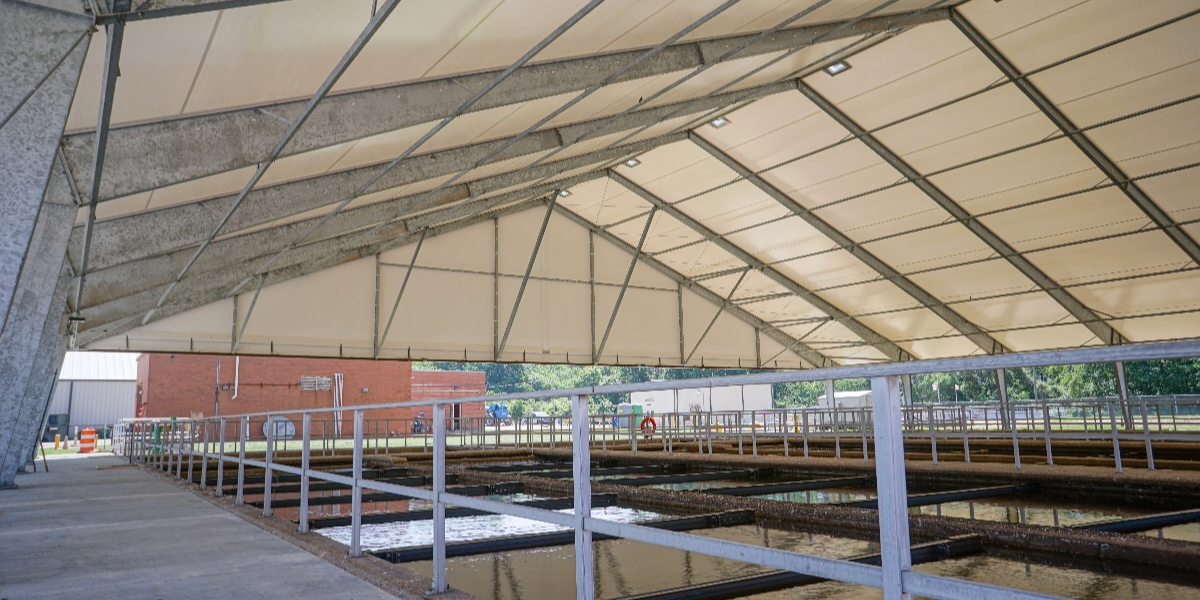 The general public might not give wastewater treatment plants much thought, but everyone expects your plant to operate efficiently, cost-effectively, and as unobtrusively as possible. It's all about creating the right environment. How much should you budget for that? It's not possible to adequately or accurately answer this question without knowing more details—especially if you expect maximum value—because every project is unique.
Consider the following benefits of a tension fabric structure for a wastewater treatment plant.
A superior structure
A flexible framework design allows for long, clear spans and roof heights that meet your dimensional needs. Legacy tension fabric buildings can accommodate equipment such as hanging conveyors and can house your entire operation (including offices) in a single facility, if desired.
Modern fabric buildings are naturally better suited to withstand moisture and chemicals in wastewater and treatment by-products. They allow for customization in terms of wall design, gap-free openings for doors, fans, conveyors, and other equipment. The gap-free nature of Legacy's buildings also offer better separation between the roof and walls to prevent water from following openings and entering the building. And there are no screw holes or cladding overlaps that can often allow moisture to creep into metal buildings.
In harsh conditions, EpoxxiShield™ frame finishes provide significantly greater corrosion protection than hot-dip galvanizing. We will recommend the level of corrosion protection that makes the most sense for your operation and explain why it's the best choice.
ExxoTec™ fabric cladding is the best-value membrane for performance and longevity. Its tensile strength and thermal properties are ideally suited for high wind or snow loads and high-UV locales. The fabric is fire retardant and creates an airtight envelope for better building efficiency.
Passive ventilation assures proper natural-air circulation and can reduce the need for mechanical ventilation systems, which are prone to rust and corrosion in moist environments.
Legacy expertise
Thanks to our extensive experience working with municipalities, we are well aware of how design criteria and engineering requirements vary. Our software is continually updated as codes or other requirements change, which helps our customers navigate design-build accuracy for permitting.
We make it easy for you to create a structure optimized to your operations; one that will offer decreased maintenance time and cost going forward.
Step by step, our team works with you to create the ideal building.
Design and engineering. Municipalities often look to an architectural or engineering firm to help assess operational needs. Our Legacy designers and engineers collaborate with your team to custom-design a building that meets your specific needs down to the last detail.
Manufacturing. We manufacture everything needed to complete your building in-house. We can work faster and ensure thorough quality control.
Installation. Legacy crews have the knowledge, skills, and experience to erect our tension fabric buildings quickly and safely to the highest standards. Speedier construction saves money and gets your facility online sooner.
Operational savings. Legacy buildings save time and money because they are inherently low-maintenance and allow in natural light to cut down on energy usage.
Our tension fabric structures are also ideal to upgrade and enclose existing, exposed facilities because we can simply build over the top of the equipment. Here's how the process unfolded at the Fern Hollow wastewater treatment plant.
At the Max Rhoads wastewater treatment plant, we used pavilion-style buildings to cover a series of settling tanks without sacrificing the client's business productivity. Note that this structure was designed to withstand extremely high winds—another feature that sets Legacy buildings apart.
Superior customer service
Time is money. You want the best possible building, but the longer it takes to design and construct, the more it may cost. Legacy Building Solutions is your single-source partner. You get a single source of responsibility and accountability and a dedicated liaison who will communicate closely throughout the process to ensure all goes smoothly with faster, highly satisfactory results.
Digging deeper to see the bigger picture
In case you missed it, this highly informative article appeared in Waste Advantage Magazine earlier this year, describing the many advantages of fabric buildings for multiple types of waste facilities. Beyond wastewater treatment, municipalities typically deal with salt and/or sand storage, compost, recycling processing and storage, and even vehicle and heavy equipment storage. Having a uniform, superior building solution is a major, overarching benefit for public works operations.