Building Better Salt Storage Buildings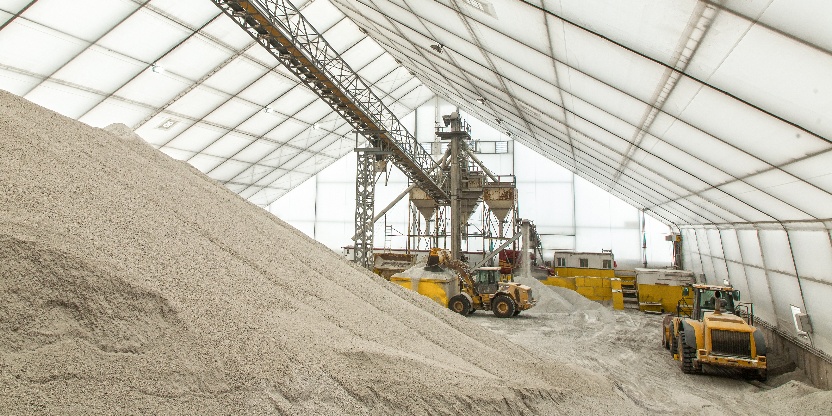 Bulk salt is used in a number of manufacturing processes, but it is mainly used as a deicer by state transportation departments, municipalities, and other jurisdictions as well as private snow removal contractors. Whether you're managing a seasonal operation or a processing facility, proper storage is critical for protecting your investment in the product and in your salt storage building.
Across the United States, we use about 20 million tons of road salt each year. That's a lot of salt! For some entities, that can mean salt storage buildings that total more than 100,000 square feet.
Road salt is a major investment in public safety, one that costs hundreds of millions of dollars in some states, and like so many commodities, the closer to crunch time you buy it, the more it costs. Prudent public works managers and commercial business owners order bulk salt when it's less expensive: in summer. But do you have an appropriate storage building? In some cases, purchasing contracts depend on your ability to store the shipment when it arrives.
Time Is of the Essence, But So Is Quality
What does it take to build a better salt storage building?
Corrosion Protection
The rigid steel I-beam framework of each Legacy Building Solutions building is sturdy no matter the conditions. This is ideal for salt storage because it removes concern about potential internal corrosion that is common with hollow-tube framing. But what makes Legacy's buildings even better is our proprietary EpoxxiShield™ triple-epoxy coating, which outperforms hot-dip galvanizing when it comes to corrosion protection. You can look forward to many years of use with only minimal maintenance.
White ExxoTec™ fabric offers additional protection. It is inherently corrosion- and fire-retardant, and it is 12% translucent, brightening the interior with natural light to reduce energy costs and provides a well-lit, safe environment for operators. The fabric doesn't conduct heat or cold, so your building stays naturally warmer in winter and cooler in summer— providing better performance with a reduced condensation effect that can otherwise degrade the quality of the salt and amplify salt's corrosive impact.
Ventilation
Salt must be kept dry. The building's framework and cladding protect against rain and snow, but if the relative humidity reaches 74%, road salt begins to absorb moisture, and your investment can literally dissolve. Corrosion can occur three to four times faster when moisture comes into contact with salt. This is a major concern in metal buildings that are literally riddled with holes where components are screwed together, but not in an ExxoTec™ tension fabric building.
Adequate ventilation reduces corrosion risk—especially in winter, when poor ventilation can increase indoor humidity. Legacy's salt storage buildings feature passive ventilation, with soffits and peak vents spaced to allow air to circulate and exit naturally.
Free-Span Flexibility
Weather is notoriously unpredictable. Experienced buyers know that it's better to order potential excess than skimp and then scramble to replenish supplies midwinter. It's a smart approach. Stored properly, salt doesn't deteriorate, so any leftover product can remain in place during the offseason.
The tonnage you plan to order, how many vehicles you need to house, and whether you want additional features, such as covered brine tank space, all dictate the overall footprint of your facility. But your facility also has to function efficiently, as vehicles drive in and maneuver around to load and unload product.
Legacy's ExxoTec™ buildings can be designed to any length, width, and height specs you need, with clear spans of up to 300 feet. You get 100% usable square footage you can configure to ensure the entire facility is convenient, efficient, and safe. Doors of any size can be located for easiest accessibility. Take a tour of this salt storage building in Maryland.
Strength to Hang Conveyors
Rigid steel I-beam construction not only allows for long, clear spans, but it is also strong enough to hang conveyor systems. Seasonal deicing operations don't typically need conveyors to move salt within the facility. However, bulk storage operations that serve as distribution centers or that store both salt and other products for mixing often rely on conveyor systems for efficiency. The ability to hang these systems further clears surface area for maximum flexibility and safety.
Short Timeline, Better ROI
As already noted, you need a building that's ready to go when all those tons of salt arrive. Legacy ExxoTec™ clad buildings meet applicable zoning, environmental, and building codes and restrictions. With precast walls, we can design, manufacture and install over the top in about 1/3 of the time it would take for general construction. Wood beam, shingled buildings resist corrosion, but they take longer to construct, cost much more, and generally require maintenance and upkeep from the impacts of moisture and corrosion.
Pre-engineered buildings can seem like a faster alternative, but they rely on standardization. At Legacy Building Solutions, 100% custom design ensures you get a better salt storage building—exactly as needed to efficiently accommodate humans, vehicles, and product on the move. Our holistic approach provides single-source consistency through every step, including installation. We've even streamlined the purchasing process for government entities.
If you're looking for a better salt storage building, our Legacy Building Solutions experts are here to help.
About the Author:
MATT VANSCOYOC, BUILDING & PROJECT DESIGN CONSULTANT

Experienced in all aspects of fabric structure sales and project management. Works with customers, contractors, and interested parties throughout the bid, review, and document development process.