Corrosion Protection: HDG versus Epoxy Coatings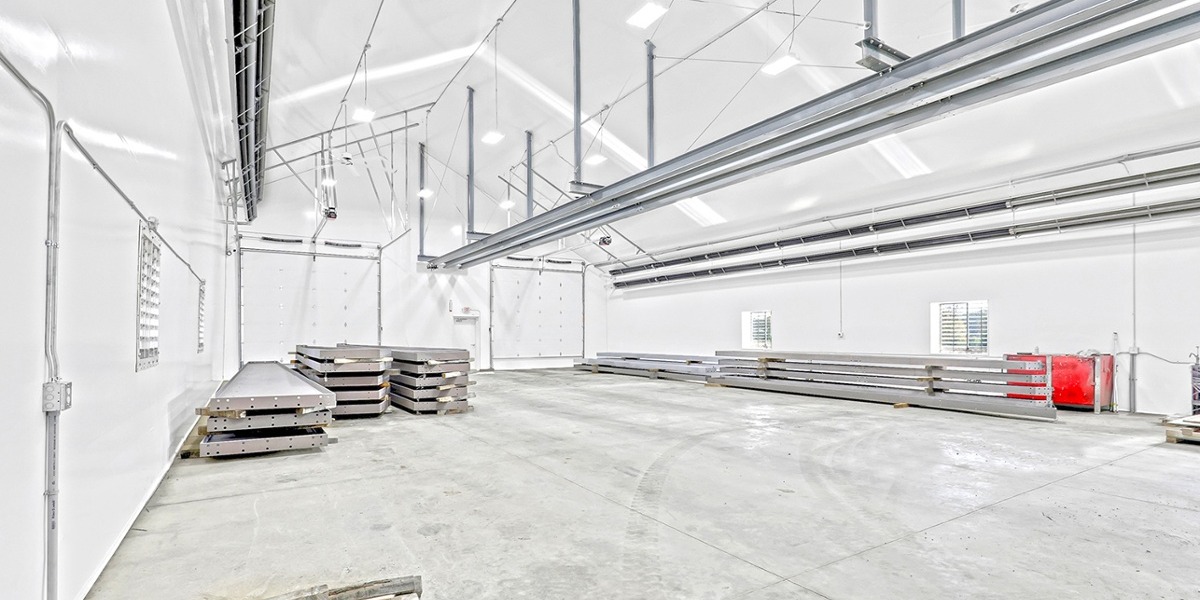 For years, hot-dipped galvanizing (HDG) was the state-of-the-art for corrosion protection. It worked pretty well, and some folks still swear by it.
At Legacy we were looking for the next big thing in corrosion protection, and we think we found it with epoxy coatings. Because of the industries and customers we serve, protecting against corrosion is a large part of creating a long lasting tension fabric structure. Some industries we serve include:
Salt Storage
Fertilizer Storage
Mining Material Storage
Each of these, as well as buildings located near coastal regions, need the best corrosion protection we can give them. We've worked hard to engineer and design our solid steel, tapered, I-beam frames and we don't want them to be undermined by corrosion. Durability has always been a priority for our structures, and corrosion protection is a necessary part of the equation.
HDG
Before we embarked on researching and building our epoxy coating facility—our suite of coatings are called EpoxxiShield™--we used HDG for our frames and support pieces. We can still do HDG for customers who request it. The drawbacks for it as corrosion protection are twofold.
HDG only slowed down the corrosion process; it doesn't stop it.
HDG was difficult to repair once corrosion starts or if damaged.
Ultimately, HDG wasn't as effective as our epoxy coatings at protecting steel. How can we be sure? We tested it.
The Test
We had an independent testing facility test samples of our steel with EpoxxiShield™ coatings and one sample with HDG. They were all exposed to a salt fog environment for an extended period of time. The photo below says it all. The HDG is rusted, blistered, pitted and generally a mess. Our epoxy coated samples came out looking great*.
*Each sample had a scratch etched into it to see how well the coating would keep rust from spreading if surface was damaged.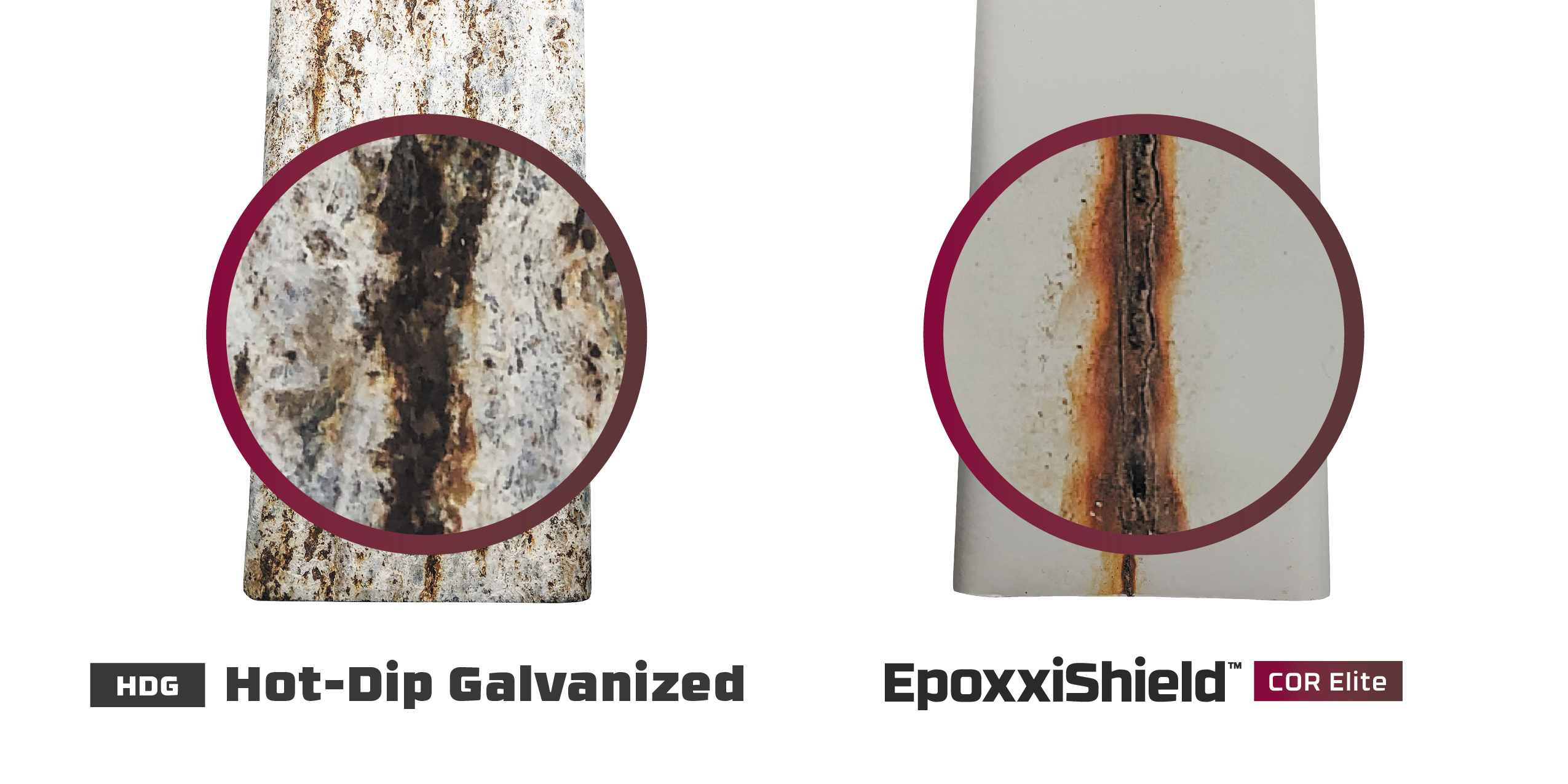 The results of this extensive corrosion test are still being analyzed, but the early results showed us what we suspected: HDG is good, but it's no longer the best solution for corrosion protection for many of our customers. The HDG sample had broad corrosion through the piece. The ExpoxxiShield™ sample only had corrosion on the intentionally placed damage to the coating, which could be repaired. Also, no corrosion bled underneath the epoxy coating.
The Trifecta: The Post Smolt Facility
This fish farm operation in Newfoundland had it all in terms of corrosion—salt water inside and out. The location is oceanside, so the climate itself is corrosive. Inside, they grow salmon from hatchling to smolt in conditioned salt water filled tanks. This building had a full interior liner in addition to epoxy coatings for the frame.
We supplied three structures for this site including the Influent Treatment Building, the Effluent Filter Building and the Post Smolt Facility. All of the building structures required a corrosion resistant finish on the steel. This was a perfect opportunity to use our EpoxxiShield™ coatings. One of the critical features was the addition of our interior liner as a second line of defense for corrosion resistance in this high humid, moist, saline environment.

Each of the buildings were insulated and needed to be fully lined to create an integrated vapor tight interior envelope for the roof and walls. The Interior partition walls combined specially design steel frames with an Epoxxishield™ finish and our Exxotec Pro Fabric. Each tank needed to be kept separate, so these walls divided the spaces into the various compartments.
With every compartment and each building so vapor tight, you can imagine the buildup of humidity. Not a problem if you are a fish; a challenge when you are protecting your steel frame from corrosion.
It's important to remember with this facility, epoxy coatings were only one line of defense. For this project we needed a three-pillar corrosion system: This building only had a single coat of Epoxy. The primary protection was the fabric liner.
First, the EpoxxiShield™ coatings
Second, the ExxoTec™ Pro Fabric liner
Third, our ability to customize the structure to control the movement of moisture
When HDG is Not Even an Option
Legacy is currently working on a storage building for a copper mining operation. The corrosion issue is that copper concentrate reacts chemically with the zinc in the galvanizing, so HDG could not be used on the frame. Our EpoxxiShield™ bypassed that chemical reaction and perfectly met the mining company's specs and requirements.
EpoxxiShield™ is the most recent addition to the innovations Legacy has incorporated into our tension fabric structures. It was an important evolution for us. We know that if we take care of our customers' steel through the best corrosion protection, the structure will last for decades.