Design-Assist Fabric Buildings for Increasing Bulk Storage Capacity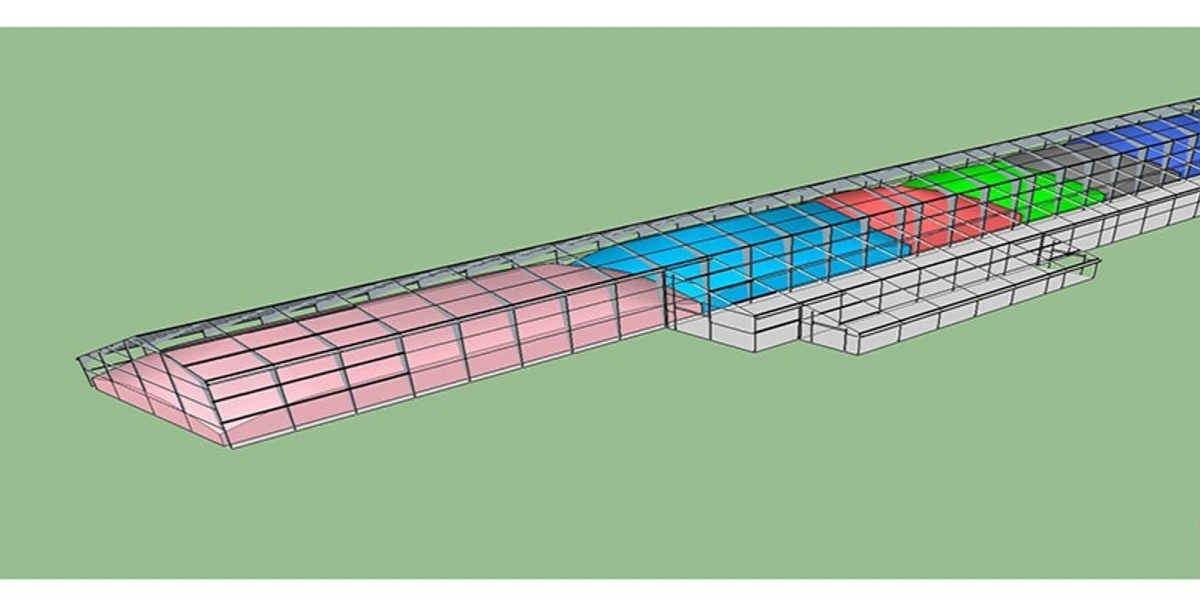 Fabric structures have many natural advantages for agricultural storage: a temperate environment with passive ventilation, clearspan storage space, an inability to corrode. The added design flexibility of a rigid steel frame increases options for blend bays and transloading equipment.
The main function of a bulk storage warehouse is to provide unobstructed storage space. However, product handling, loading and blending also require consideration. Combining fabric structures on a steel frame with design-build technology optimizes the available storage space and ensures smooth operations after construction.
The Design-Assist Process
In many cases, the project starts with a napkin sketch. Of course, engineers will produce the necessary technical drawings before any construction begins, but sometimes a quick sketch will ensure matched expectations.
We'll use a recent port storage project as an example. The client needed to store separated bulk fertilizers for several customers. They also needed space for operations and loading, but that couldn't subtract from the available storage area. Knowing how similar large-scale bulk storage buildings have best used their space, Legacy proposed a structure that used several lean-tos for operations, as well as an offset peak designed around a conveyor.

To continue our case study, the customer agreed that a lean-to was the best solution. Using information about the capacity of the structure, including the type of products to be stored and the tonnage of each, the Legacy team created a model of the piles and storage bays for each.

Finally, Legacy created a drawing depicting the stored material and the containment structure. The customer could clearly see how space would be allocated, and how the lean-tos create a circulation path with room for maintenance and operations. If you look closely, you can also see that the secondary bracing, doors, and portals are shown on the drawing. After this drawing was agreed upon by all parties, contracts, building plans and construction were completed.

The Completed Design-Assist Structure
The completed building Legacy designed in partnership with the building owner (pictured at top) measures 77 feet wide by 580 feet long, with an offset peak and three lean-tos. The lean-tos provide a drive-through area and room for operations without compromising the clear area available for storage. Ventilation is via mesh soffits under the overhangs for intake and RV-3000 roof vents for exhaust.
The conveyor load is designed for a fully loaded weight of 350 pounds per lineal foot. The building is optimized to receive product via rail, truck and barge. Inside the building are six concrete storage bays with bin lift gates. Each storage bin is a different size to accommodate the product, and the bins can be reconfigured as needed.
All aspects of the building are designed for bulk agricultural storage. The rigid steel frames are hot dip galvanized to prevent corrosion, even when storing fertilizer and chemicals. The energy-efficient fabric cladding provides enough light for daytime work, and there are lights installed for overcast days or nighttime work. As you can see, this building is located in an area where snow is a factor, so the exterior has gutters, downspouts, and icebreakers for safety and moisture control. The total building system is about 63,000 square feet, with just under 45,000 of that available for storage. Legacy crews installed the entire building, with subcontractors pouring the concrete foundation.
Design-assist management creates a partnership between the builder and the end user. With the final result controlling the process, each customer receives a building designed to maximize operations and ensure cost-effective storage and handling.
Ready to start designing your fabric structure? Contact us to arrange a personal consultation on your project.