Legacy Buildings for Emergency Response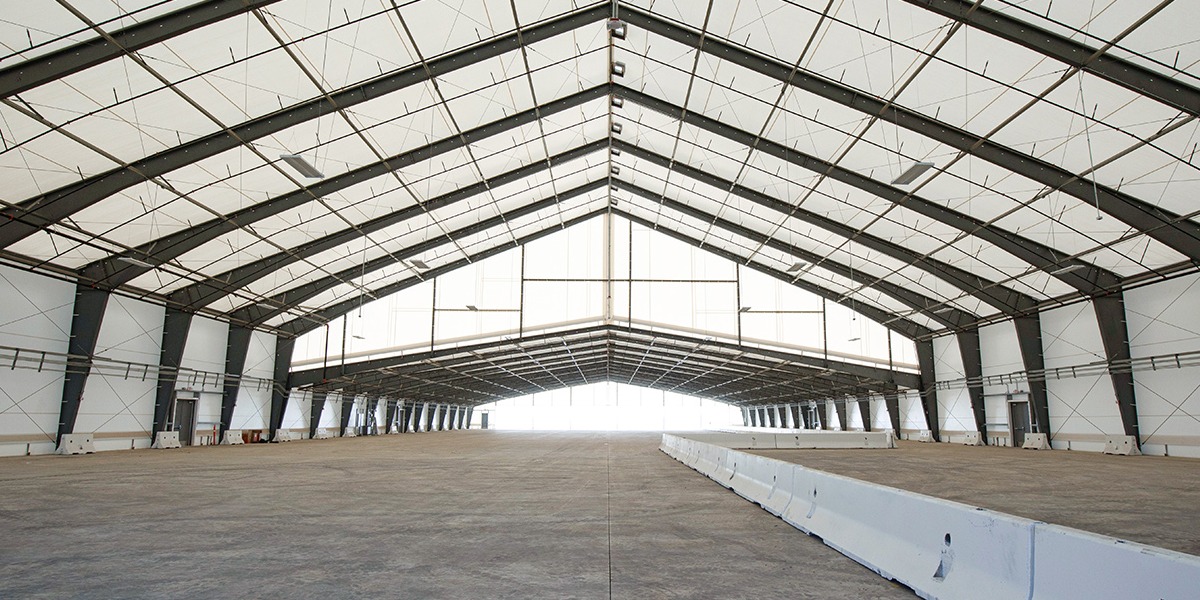 When disaster hits, the first priority is keeping everyone safe. But as soon as the disaster passes, it's time to rebuild. Rebuilding quickly is critical to restoring business and life "as usual." The sooner infrastructure is ready to use, the sooner normal business operations can resume – and the sooner the hardest-hit areas can start generating much-needed income.
Legacy buildings have numerous advantages for emergency response situations.
Immediate delivery
Expedited construction
Proven engineering
Impeccable safety record
Overall quality
Design flexibility for immediate and long-term benefits
Immediate Delivery of Fabric Structures
When timelines are tight, the Legacy team mobilizes to get buildings up within weeks, not months. Design-build project management shortens the time required to engineer and design a custom building. Because we manufacture onsite, all components are manufactured and mobilized to the site immediately. While many competitors advertise their in-stock inventory for their speed of delivery, a Legacy building has the advantage of faster availability as well as custom design.
Legacy Buildings Have Expedited Construction
Our team includes factory-trained installers on the road and ready to travel to any location at a moment's notice. When needed, multiple crews will work 24 hours a day, and the installation will overlap with other sub-trades as needed to construct the entire building and all ancillary systems.
Proven Engineering and Safety Record
Of course, safety is first on any construction project. And while environmental disasters make it very clear that there's no "indestructible" building type, rigid steel frames have a proven track record of long-term strength and safety. No matter the building regulations in your area, steel frames are engineered to meet or exceed code standards.
Quality Certification
While it can be a subjective process to try to determine what companies are delivering the highest levels of technology and innovation, there are objective quality and performance standards that manufacturers can achieve to help customers make an informed decision. Legacy has passed the rigorous quality tests enacted by ISO 9001:2015 and CSA A-660.
The Best Immediate and Long-Term Solution
While rapid deployment is necessary for rebuilding after an emergency, that's no need to compromise on long-term needs. By customizing a fabric structure to your spec, you'll ensure that the building will be in use for many years.
With complete customization, Legacy buildings have the design flexibility to combine short- and long-term needs. For example, construct a fabric structure now to take advantage of the installation almost three times faster than steel sheeting – and have the option of replacing the fabric with steel panels in the future. Options like steel sidewalls or glazing walls also create unlimited possibilities for future growth and redesign. Rebuilding is the best opportunity to truly build it right – or maybe even build it better than before.