Equestrian Contraction and Expansion: The Horses Have to Go Somewhere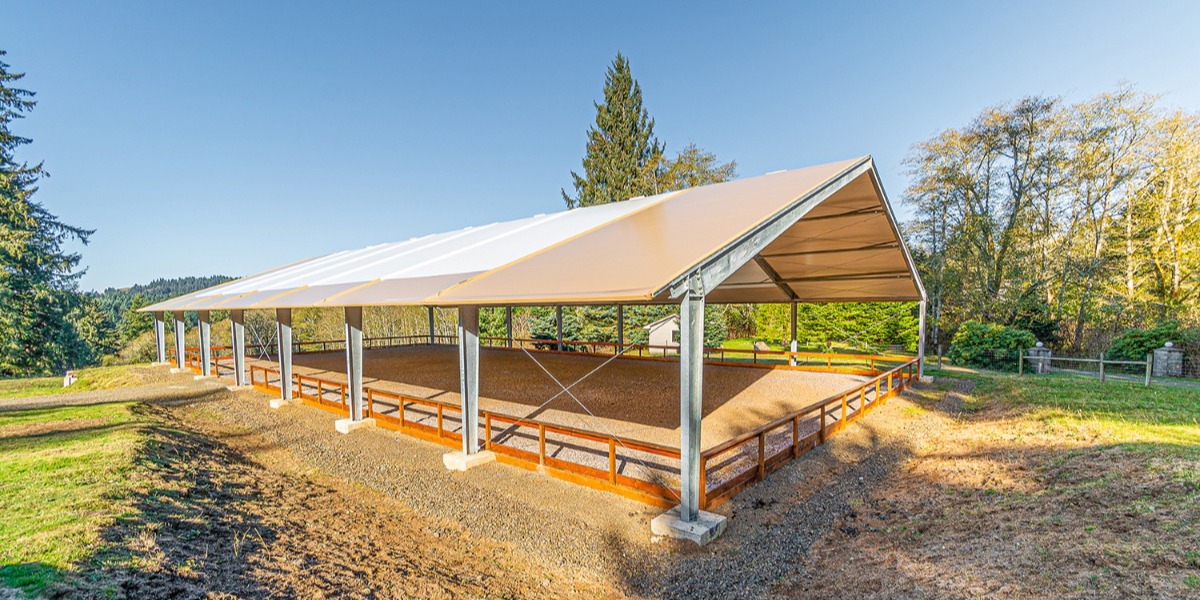 The pandemic took a toll on many industries and we are still living through the ramifications. For the equestrian world, racetracks got hit hard. They adapted, they changed, but some of the horse racetracks just couldn't survive.
With the closings we have seen, we are confident that the contraction in the industry will be followed by expansion in the existing racetracks and facilities. As Legacy's equestrian project consultant, Susan Fowler, puts it "the horses have to go somewhere."
If "somewhere" is your facility, either an existing racetrack or fairgrounds, you need to plan now. That means building capacity in terms of stables, barns and riding arenas. We can help.
Our Structures are Stable (pardon the pun)
We build our tension fabric structures with solid steel I-beams, which means our buildings are durable and they stand up to the weather. On the durable side, solid steel is the best material for a structure you want to use for decades. Designing with steel gives our buildings engineering certainty and that's a level of confidence our customers appreciate.
On the weather side, our structures are engineered to withstand snow loads, high winds and seismic conditions. Our facilities in the Andes mountains, northern Alberta and hurricane alley in Florida all attest to what we can do. Our Florida Product Approval, one of the toughest standards in the construction industry, tells you we know our stuff.
Add to that our proprietary PVC fabric—with its 25-year warranty (for the 28 oz. fabric)—and you begin to get the picture. Our buildings are creating a new standard in barn structures.
Equine Acoustics
Horses have more sensitive hearing than humans, but they also can multitask and pay attention to multiples sources of sound at the same time. Their sophisticated hearing ramps up the importance of acoustics in an equine environment. Fabric structures are quiet—especially when compared to traditional materials like steel sheeting. Customers report that their horses are much calmer in a fabric enclosure or riding pavilion.
The fabric walls and roof panels are also thermally non-conductive, meaning it stays cooler in the summer and warmer in the winter.
Get Your Horses' Zen On
Another advantage of our white Exxotec™ fabric is that it is 12% translucent. That means if you choose an open-air pavilion or uninsulated structure from Legacy, your horses will benefit from natural sunlight flooding into the interior from both roof panels and walls. There's also the issue of shadows that can spook horses. The light that flows into a Legacy structure typically eliminates shadows. While it creates a beautiful environment, it also makes humans more productive and horses more serene. That's good for everyone.
As the equine industry goes through dramatic changes and shifts, it might be time to switch your thinking about how to board and exercise your horse community. Legacy has created a new trend in barns and arenas, and our customers are rethinking what a barn looks like and how it functions. Our tension fabric equine structures outperform traditional buildings and other fabric structures in terms of caring for horses…hooves down!
Want more? Check out the video, profile and case study of Silver Drache Farm