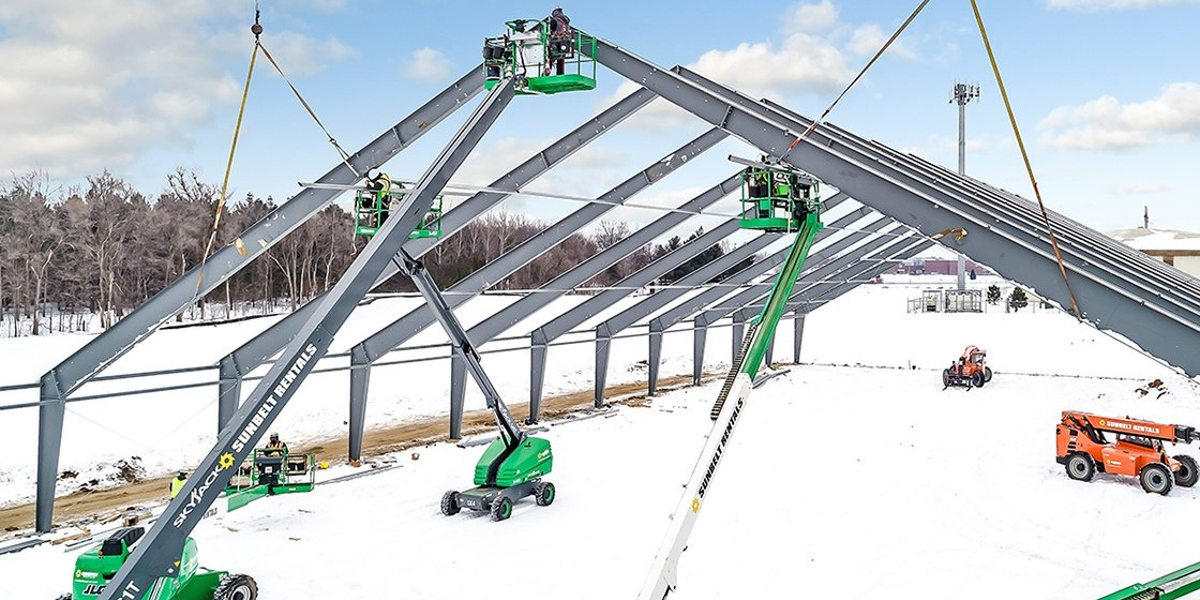 Usually at the end of the year—or the beginning of the next—you see a lot of blogs about 10 favorite things of 2019 or three resolutions for 2020.
We, for our part, are very excited about the upcoming year. First, we will be celebrating our first decade of existence as a company. Secondly, we have a lot of great projects coming up and will be working overtime to keep up with the demand. Thirdly, we will be announcing a new corrosion resistant steel frame treatment this year, so stay tuned
If you need one of our buildings in 2020, it's time to start thinking about it, talking about it and planning for it. We can help. Our building and project design consultants can go through our process with you and help you every step of the way.
STEP 1
WE LISTEN TO YOU
During your first contact with Legacy Building Solutions, you are assigned a dedicated fabric building expert who learns the details of your needs and your project. Your consultant will stay with you through every phase of the project and assist with questions before, during and after construction.

During your first meeting, you are under no obligation and will not be pressured in any way.

STEP 2
WE ASSIST YOU WITH BID/RFQ REQUIREMENTS
During your evaluation, our fabric building experts are available to discuss your project with your engineering company. In fact, we will even help you determine the specs for your 3-bid evaluation process to ensure you receive bids from vendors that offer only high-quality fabric buildings.
STEP 3
WE PROVIDE A CUSTOMIZED "ROUGH ORDER OF MAGNITUDE" PLAN
We will prepare a "rough order of magnitude" (ROM) for your project that provides you with all the additional information you might need during your decision-making process. This includes a preliminary work plan, a design plan, a list of materials specifications and estimated costs for your project.
Step 4
WE COMPLETE THE DESIGN PROCESS
Our sole objective is to ensure your building meets each of your company's needs. Your consultant will work with you to:
Fine-Tune Your Building Design and Costs
We work closely with your entire engineering and architectural team to fine-tune your building design so that all your functional needs are met. And we'll help you determine all costs for the project, including doors, lights and other fixtures.
Establish Foundation Design
Our extensive experience in foundation design and construction is part of the project to ensure the foundation for your Legacy fabric building is of optimal design, durability and site flexibility.
Manage the Project
As a special add-on service, Legacy experts are also available to provide complete construction management services for your fabric building.
STEP 5
WE CONDUCT PRE-CONSTRUCTION MEETINGS
Before breaking ground on your project, Legacy will gather information about your site and your local codes and verify all aspects of the project that relate to the grounds themselves.

We are also available to hold a pre-construction planning meeting with you, your project manager and your engineer to review the project phases and timeline.

STEP 6
WE CONSTRUCT YOUR FABRIC BUILDING
Unlike many other fabric building manufacturers, we don't contract third-party companies to assemble our buildings. Our construction teams have more experience building fabric structures than any other in the world, and they have intimate knowledge of every aspect of our materials, our designs and our construction processes.
The paradox of the way we work is that even though we only do custom buildings, our design, contracting, manufacture and construction process has been streamlined with a level of precision that we as a company are intensely proud of. Therefore, we strive to deliver a project faster than you might imagine.
Our commitment to quality is only eclipsed by devotion to our customers, and this year we are looking forward to serving by delivering our best tension fabric structure ever.
We hope to see you on our schedule in 2020. And if your project is already on the books, cheers to #BuildingYourLegacy with us.