5 Ways Fabric Fertilizer Building Design & Construction Drives Profits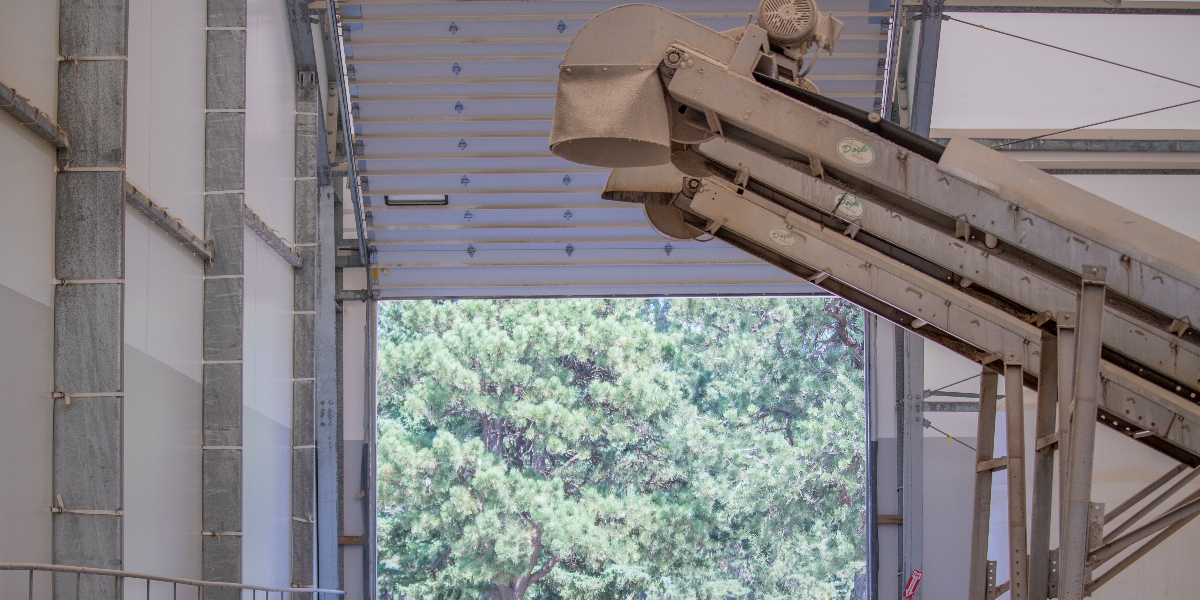 Feeding a hungry world requires plenty of fertilizer to prepare the soil, feed the plants and increase the crop yield. When it comes to mixing, storing and distributing bulk fertilizer, there are no better fertilizer storage facilities than the structures from Legacy Building Solutions.
Rapid Installation of Fertilizer Storage Buildings
Fabric panels are installed up to three times faster than steel sheets. This means construction time is drastically reduced — allowing you to realize a faster ROI on your storage building.
"Construction is always a large capital outlay," said Brend King of EMW Industrial, a turnkey construction company offering services to the bulk storage industry. "The quicker it generates revenue, the faster you realize your ROI, the less you pay in interest and the better value you get from your project." EMW Industrial partners with Legacy Building Solutions to provide start-to-finish turnkey construction services.
Turnkey construction further decreases the time spent on construction by providing a dedicated team that focuses on building design and installation, allowing the business owner to focus time and energy on running their core business.
Using Legacy's fertilizer building construction system, all building design, component manufacturing and installation are completed using in-house services. These teams work together on a daily basis, and the communication and experience provided every step of the way is second to none.
Fully Customizable Fertilizer Storage Solutions
Of course, a project done right is better than a project done fast. Realize long-term cost and time savings with a fertilizer storage solution that increases efficiencies.
Maximize your investment and space with a custom fertilizer storage building that uses conveyors, concrete storage bays, passive ventilation and circulation paths. These additions can save time and increase the storage capacity of the building.
"These buildings use every inch of available space for income-generating activity," said Paul Smith, building and project design consultant at Legacy Building Solutions. "It's amazing the difference that a few extra feet of usable space or a straight drive path can make to the business."
Unlike fabric buildings designed with open web trusses that curve to the peak, Legacy's fertilizer storage facilities use a rigid I-beam frame with a straight vertical surface. This means more overhead space for loaders, tipping trucks and equipment in the building.
See an example of a salt building designed for tipping trucks inside.
Not sure what design elements you need in a fertilizer storage building? "Bulk storage is one of Legacy's specialties," said Smith. "We use that experience to advise the building owner on ways to increase their efficiencies. A lot of times we suggest features the owner didn't even know were possible."
Corrosion Protection Is Longevity in Fertilizer Storage
Many fertilizers are highly corrosive. In a steel building, this can lead to rust and corrosion causing problems — including possible building failure within just a few years.
Architectural fabric, including ExxoTec™ PVC fabric, has non-corrosive properties. Exposure to fertilizer will not cause the fabric to thin away or develop leaks.
"The corrosion factor is the primary reason fertilizer companies choose fabric buildings," said Smith. "But many of them don't realize the advantages of a solid steel frame when it comes to corrosion protection: no unseen areas, hot dip galvanizing and a liner."
Liners, a layer of fabric on the inside the building frame, separate the steel frame from corrosive elements. With a lined building, there is no way for fertilizer to corrode the quality or strength of the steel.
The solid steel frame is another element of fertilizer building design that will not fail in corrosive environments. There are no tubes that may corrode from the inside. During hot dip galvanizing, the entire frame is evenly coated with zinc after the beam is fabricated, so there is no chance of burning off the coating during welding.
Relocatable
Unlike steel, fabric panels are reusable. The fabric is attached to the steel frame without penetrations, as thousands of tiny holes can cause leaks.
If the fertilizer storage building is on leased land, the portability of the building will provide overall lower life cycle costs and lead to greater profitability in the long term.
Patented Attachment System
Legacy uses a patented attachment system to integrate the fabric and steel. With this exclusive system, we can offer complete customization of the fertilizer storage facility.
The attachment system is the first to use biaxial tension – a unique way of stretching the fabric both vertically and horizontally. With biaxial tension, the fabric is properly tensioned in both directions eliminating the need to retention the building periodically. Unlike traditional fabric buildings that require regular tensioning and maintenance on the fabric, Legacy buildings are require tensioning during installation only.
"We are so confident in our tension system that we guarantee it for the life of the building," said Smith. "If your fabric loses tension, our crew will repair it at no cost to you."
With Legacy's attachment system, the roof and walls are separate fabric panels. If collision or extreme weather conditions damage one fabric panel, it is relatively simple to repair or replace that panel — without requiring a completely new cover.
Get Started
Tension fabric buildings by Legacy Building Solutions are the ideal solution for a wide variety of bulk materials, including fertilizer, road salt, sand and frac sand. To learn more, visit Brend King and Paul Smith at the North American Frac Sand Exhibition and Conference or contact us online.