Top 4 Benefits of Legacy Buildings for Wastewater Treatment Plants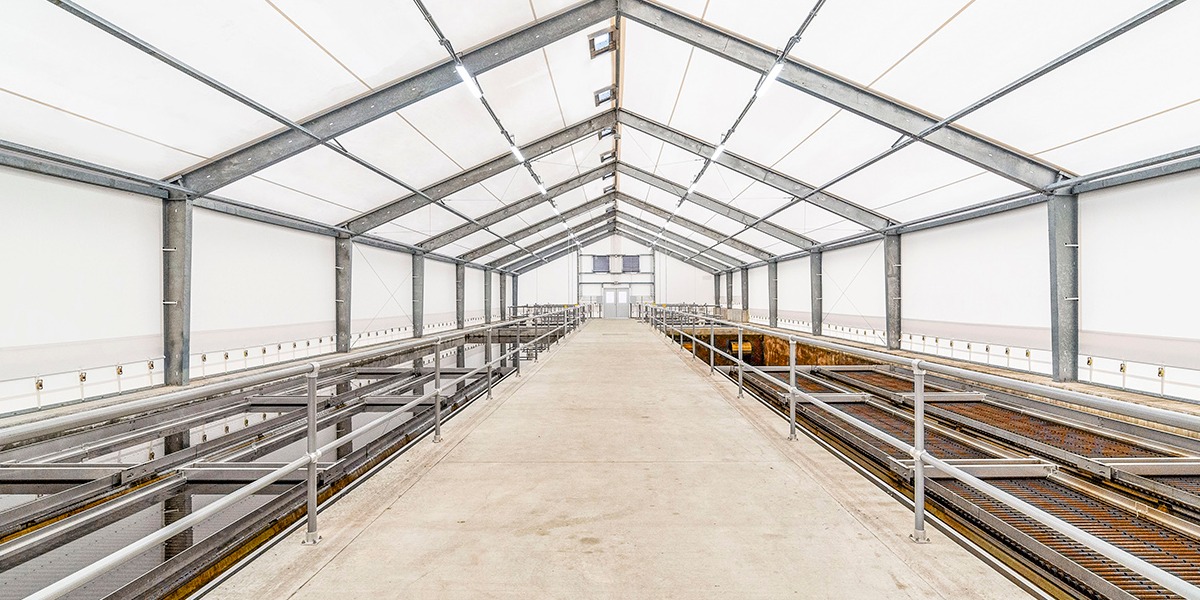 While most people don't want to think about it, wastewater treatment is an important part of maintaining our quality of life. A wastewater treatment plant (WWTP) that requires less maintenance while improving efficiency has an important role to play in any community. Non-corrosive fabric structures have four main benefits for water reclamation and wastewater treatment plants.
Longer lasting
Dryer interior
Flexible design options
Lower life cycle costs
Longer Lasting in a Corrosive Environment
Wastewater treatment plants are constantly exposed to moisture and harsh chemicals. These factors would quickly cause steel to corrode, requiring frequent maintenance and replacement.
Fabric lasts longer in corrosive environments. The PE or PVC fabric will never rust, even when exposed to constant dampness and humidity. Solid-framed fabric structures have no interior areas for corrosion to begin undetected, and hot dip galvanized steel to provide lifelong corrosion protection.
Flexible fabric seals tightly around penetrations, drastically reducing the amount of air that leaks in and out of the building. When combined with other odor-control design elements, this may help wastewater treatment plants comply with good neighbor regulations. It also improves the efficiency of climate control systems and dehumidifiers used for treatment.
Dryer Inside a Legacy Building
The non-conductive nature of the fabric creates a climate-responsive building envelope. Fabric tends to hold heat or cold better than conductive building materials, such as steel sheeting. This causes less condensation to build up inside the structure, eliminating sweating and moisture build-up.
Legacy's patented system uses a keder rail to attach the fabric to the frame. In addition to being the sturdiest attachment system available, this system eliminates small fasteners that create holes that may cause leaks and drips inside the building.
The dryer environment is vital for wastewater treatment: it reduces or eliminates corrosion caused by moisture build-up, and it keeps stored material dry. This reduces the time required for cake drying, sludge drying and sediment drying in wastewater treatment beds.
Advantages of Design Flexibility for Wastewater Treatment Plants
Wastewater treatment plants are designed to serve a community, and they are a part of that community. The flexible design options of a Legacy structure help the building blend in seamlessly with the surrounding area and even connect to existing buildings with a sealed connection.
Legacy buildings are designed so installers spend less time on the roof. This increases safety during construction, especially if the building will be constructed over existing elements such as pools or wastewater drying beds.
Fabric cladding is installed in about one-third the time of traditional steel sheeting. This means the new wastewater treatment facility is constructed in less time and at less cost. The new plant will be up and running sooner, saving taxpayer dollars and reducing downtime.
Reduced Maintenance and Lifecycle Costs
Wastewater treatment plants made of fabric will not corrode and will require less maintenance over the lifespan of the building. That lifespan will also be extended due to lack of corrosion.
Fabric is the only building material that allows natural light into the building through the walls and ceiling. On most days there will be no need for artificial lighting inside the building, saving on ongoing energy costs. The brighter building inhibits mold, mildew and bacteria growth so common in wastewater treatment plants.
A fabric structure can improve your wastewater treatment. Contact us to learn more.