Acoustic and Thermal Advantages of Fabric Buildings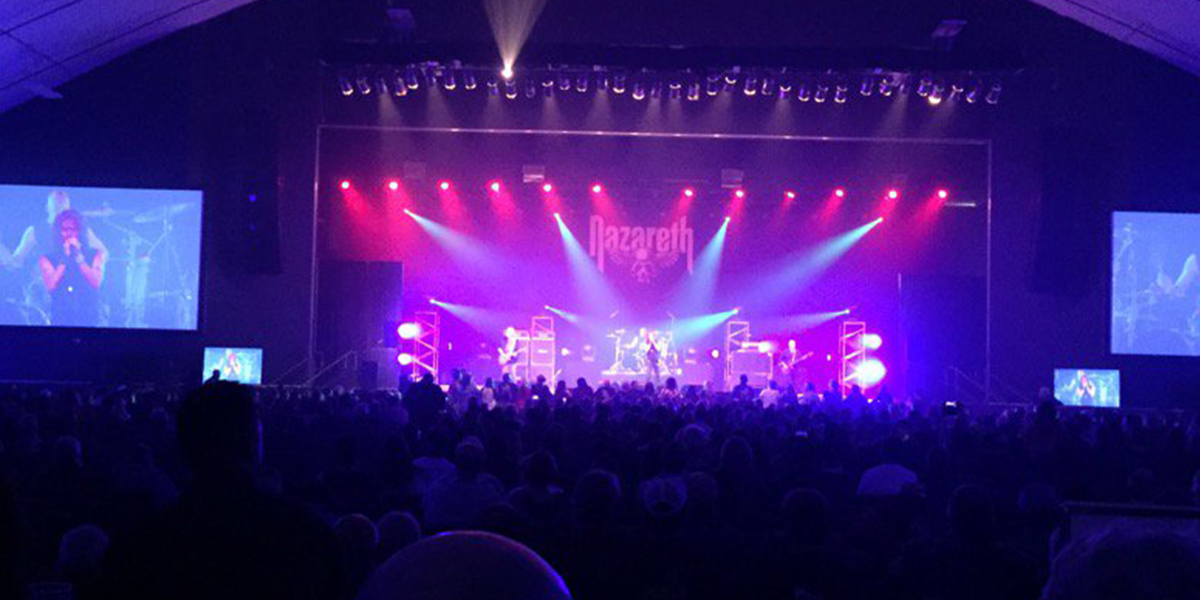 Fabric structures have become increasingly popular as entertainment venues, including concert halls, sports centers and meeting and event spaces. Their clearspan design offers more useable space inside the building. Using the proven engineering of a rigid steel frame, fabric structures are easily customized for the demands of high-occupancy buildings.
But anyone who has ever attended an event in a drafty, cold or echoing room knows that a great venue is more than just a large open space. Acoustic and thermal properties are key to a great experience - and fortunately, fabric structures have distinct advantages in both.
TWS Engineering, an engineering consulting firm in Edmonton, Alberta, recently provided a complete building performance report on The Venue at River Cree, a Legacy Building Solutions fabric structure used for casino events in nearby Enoch. The building report perfectly summarizes some of the advantages of Legacy buildings for public venues.
Acoustical Advantages of Fabric Structures
The interior fabric skin of this structure allowed for minimal reverberation within the venue, providing the client with high-quality acoustic attenuation in the entertainment space. This also allowed for the mechanical systems that were mounted on or beside the structure to be deadened by the internal/external fabric lining.
-TWS Engineering
One of the primary recommendations to prevent reverberation inside a room is to add sound absorbing fabric – a common example of this is heavy tapestries used as theater curtains. Fabric minimizes sound reverberation and provides high-quality acoustics for crisp, clear sound in all areas of the building.
See an uninsulated fabric building used for concerts.
The acoustic properties of Legacy structures also work with the HVAC system. Heating, cooling and airflow ducts are enveloped in soft fabric, muffling the sound created by these necessary but loud systems.
Fabric Structures Are Airtight
The unique construction methods used for this fabric structure allowed for minimal air leakage through the wall assembly as well as building fenestrations. This allowed the building to be adequately ventilated without the need to introduce excessive outside air. Tighter control of the building's operating conditions was also achieved, which permitted the structure to operate more efficiently with minimal air quality issues and lower-than-average building heating requirements.
-TWS Engineering
Check out a video tour of The Venue at River Cree.
Architectural fabric provides a tight seal around door, window and duct penetrations. While air will always transmit through fenestrations, providing an airtight seal around them helps control the interior climate and provides greater thermal comfort.
The airtight seal allows tighter control of the building operating conditions, including heating, cooling and odor control. Adding pressurization systems such as fans, infiltration or exfiltration equipment can create positive- or negative-pressure environments as required in building specifications.
Another factor impacting the indoor temperature is thermal bridging, the ability of the building materials themselves to conduct heat. Because fabric has non-conductive properties, a fabric-cladded structure has low thermal bridging.
Perhaps most importantly, an airtight building saves money over the course of its life. Rather than adjusting the indoor temperature based on outside air flowing into the building, a fabric structure retains a comfortable temperature for occupants regardless of the outside conditions.
Overall, we were pleased with the durability of the building system and its suitability to be used for venues as well as other large open spaces which require minimal heat loss, low air leakage rates and quality acoustics.
-TWS Engineering
Ready to learn how a fabric building can improve your venue? Contact us.