The Legacy Advantage for General Contractors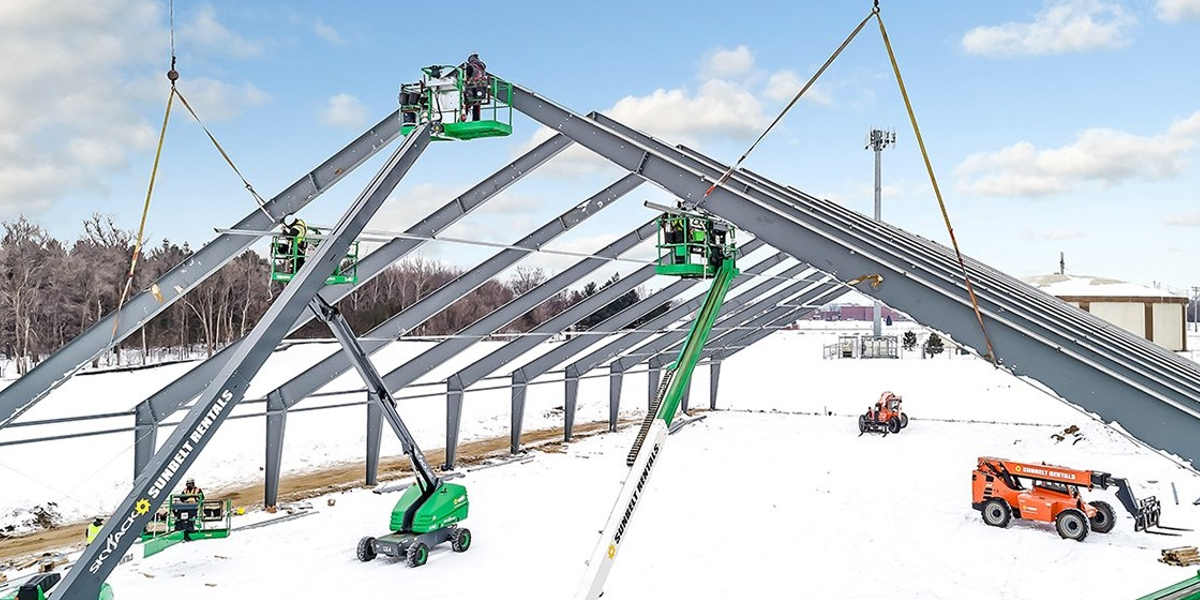 General contractors juggle the daily needs of employees, subcontractors and customers – along with the often-competing realities of budgets, building codes, regulations, weather and more. If your next contract includes a fabric building, choose Legacy Building Solutions to simplify at least one aspect of the project.
Vertically Integrated Fabric Structure Supplier for Quality Control and Timing
Legacy Building Solutions is a single-source supplier. In-house crews design, engineer and manufacture building components at our headquarters. Factory-trained crews are deployed to the jobsite to provide professional installation.
The advantages of being a sole-source supplier? Quality control and timing. Materials are regularly inspected to ensure everything meets tight standards before fabrication begins. Processes are regularly audited to provide the most efficient service from start to finish. Precise documentation from the mill to the jobsite ensures that every structure is built to your high standards and specifications.
Don't bring problems to the jobsite. Avoid these 7 common fabric building errors.
Vertical integration also helps meet deadlines. There is no need to solicit and compare bids for construction. There are no manufacturer delays. Design and installation teams communicate freely to solve problems and maximize capabilities. Using a single-source supplier means you get one right answer the first time.
And to further speed up the process, fabric roofs are installed in about one-third the time of steel sheeting.
Time is money, and that's definitely true in construction. Meeting deadlines helps a general contractor maintain their reputation and complete more jobs in the same timeframe, and it helps the customer realize their ROI more quickly.
Project Bidding and Acquisition
With years of industry experience behind us, we know that providing an accurate quote is a crucial first step. Our estimating team provides accurate quotes, which include price and time. We accept specifications directly or via bid, RFP and RFQ processes. We provide a high-end niche service – when a project isn't the right fit for Legacy, we will let you know as soon as possible so you can pursue more viable options.
Fabric Buildings with Worldwide Installation
Hiring and training crews consumes much of a contractor's time. Proper training in construction methods and safety protocol is a requirement for everyone on a construction site.
Every member of Legacy's installation crew is factory trained to erect fabric buildings on a steel frame. This specialized training makes them able to install buildings under any conditions. Crews are on the road and ready to deploy to any location worldwide.
Safety first. Learn more about our Health and Safety Management System.
And because safety is first, all crews receive OSHA 10/30 certification and any other safety training that may be required, such as MSHA, ISNetworld and COR. Separate training for special safety concerns such as hot work, confined spaces and aerial lifts is provided and reviewed as needed. And all crews are insured, licensed and bonded.
Single Point of Contact
Vertical integration saves a contractor time and money, as well as one more important factor: hassle. With a single-source supplier, you have one point of contact from bidding through post-construction services.
Learn more about the proven engineering behind our steel frames.
Having a single point of contact is especially valuable in the case of change orders or unexpected delays. Rather than stopping work to provide cost estimates and schedule changes from multiple sources, dealing with multiple entities blaming each other and providing multiple cost estimates and new timelines, you make one phone call. Legacy quickly provides updated pricing and timing for the new specifications. As soon as the change order is approved by the contractor and building owner, the updated work begins.
Inspection and Post-Construction Services
With the rigid steel frame, durable fabric cover and patented attachment system, Legacy buildings seldom require maintenance. But in case of accidental collision or other unexpected damage, crews are available to guide the building owner through simple repairs or to return to the jobsite for building repair or replacement.
Legacy Building Solutions works with contractors at any stage of the building process to design, manufacture and install a high-quality fabric building. Our time-tested engineering processes and industry experience make us capable of working with any type of project delivery and any type of customer.
For more information, visit us at CONEXPO-CON/AGG booth G-70606 or contact us online.