Advantages of Fabric Structures for Bulk Material Handling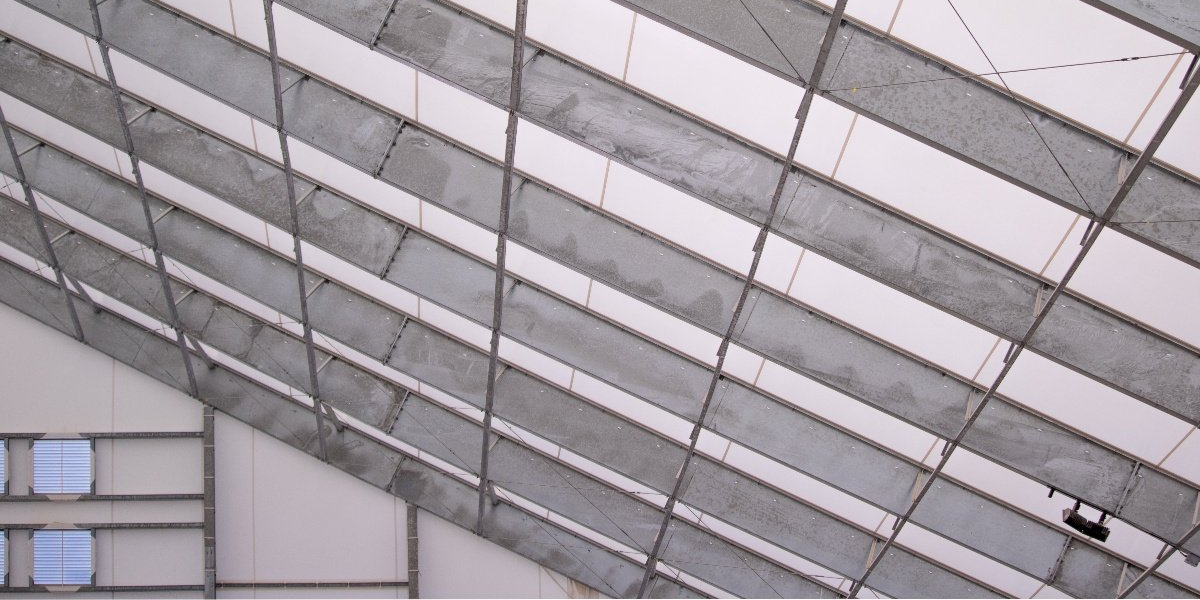 Bulk material handling is a competitive business. Owners and operators are tasked with providing low-cost storage plus high-efficiency handling and loading. Count in uncontrollable factors like poor weather and unreliable delivery and transportation systems, and it's increasingly important to control costs whenever possible. Adding a fabric structure for dry bulk storage can increase operational efficiency while lowering the per-bushel storage price.
There are many reasons to enclose material handling operations in a fabric structure:
Keeping material and operations dry
Versatile options for storage and operations
Climate control and aeration
Fabric Structures Keep Material and Operations Dry
Dry material, including cereals, ore, fertilizer, coal, gravel, salt and waste, must be kept covered to maintain quality. Keeping these materials enclosed a building allows for efficient flat storage without tarps, vermin or groundwater infiltration.
Flat storage buildings, unlike vertical containers, also create a dry place for loading, maintenance, containerized storage and logistics. Trucks and railcars can drive into a covered area, load via a conveyor and grain pump system, and drive out without contaminating the product. This increases the efficiency of handling and transloading operations.
The unique properties of fabric structures can prevent another source of moisture: condensation. Unlike steel sheeting, which magnifies the outside temperature and can cause rapid temperature swings, architectural fabric is a climate-responsive material, better maintaining consistent interior conditions and reducing condensation build-up.
Versatile Options for Storage and Operations
The clearspan area of a fabric storage building is versatile enough for uses beyond simple bulk storage. Containerized or palletized items can be easily hauled into the building and stored in unused space or during the off-season. Structures using pre-cast concrete panels as storage bays are particularly adaptable for other uses – simply move the panel walls to open up square footage for storing or maneuvering bulky items.
As much as it would simplify things to have a storage business that encompasses nothing but storage, real-world businesses are regularly faced with other tasks. A flat grain storage building is versatile enough to enclose additional operations, including heavy equipment maintenance and shop space – even an employee breakroom. Adding a lean-to is a popular way to create auxiliary rooms inside the building without increasing the footprint or subtracting available area.
Climate Control and Aeration in a Fabric Structure
In addition to plenty of space, Legacy buildings are customizable with active or passive climate control and aeration systems. From maintenance-free passive systems including endwall vents, ridge vents and mesh soffits to active aeration ducts, powered vents and fans, your system will provide the constant supply of cool, fresh air needed to keep the agricultural commodities fresh and prevent hot spots. The proper ventilation system will also reduce the risk of dust explosions, keeping the building safe for occupants and the surrounding area.
Fabric has another advantage for maintaining an ideal interior environment for grain storage. The natural light flooding in through the walls and ceiling lower the need for artificial lighting, keeping costs down while maintaining a safe and comfortable work area. The light reaches throughout the building, preventing dark corners where vermin, rot and mold can hide unnoticed.
Looking for a solution for your bulk material storage, transloading or handling needs? Stop by the Legacy booth 500-502 at #ARA2016, or contact us to arrange a personal consultation.