Fabric Structures for Salt and Sand Storage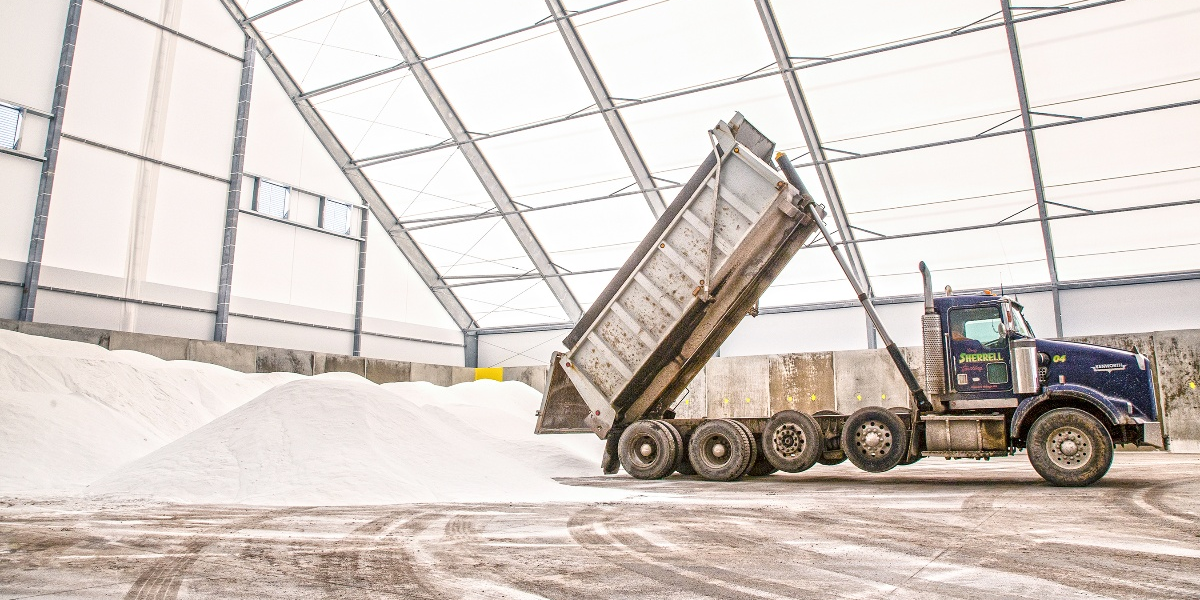 Winter storms can be scary, but having safe roads can dramatically improve the quality of life for everyone in the area.
Plowing roads and/or topping them with salt and sand makes the road safer for commuters, families and anyone else who needs to drive during or after a snow storm. By being prepared with an adequate supply of road salt and sand, local areas can ensure safe roads for their citizens.
Now all that's needed is an effective and economical way to store road salt and sand. Fabric buildings are a perfect solution for salt and sand storage for a number of reasons.
Why Fabric Buildings for Salt Storage
Fabric is naturally non-corrosive. Unlike steel, fabric can come in direct contact with corrosive elements such as salt.
Because fabric buildings are completely customizable, you choose the length, width and height of your building to maximize space and reduce cost. Your building will allow for ideal pile heights, and the sidewalls and peak will be high enough to maneuver tip trucks, conveyors and other equipment.
Fabric buildings are naturally well-lit. You may not need any artificial lighting during the day, and you'll use less lighting at night.
Fabric allows for an open floorplan inside the building. This gives you even more room to drive large equipment and pile road mix.
See this example of a commercial salt storage building in Shelburne, Vermont.
"Legacy's work ethic is incredible," said Joe Barrett, president of Barrett Trucking. "Our company makes a point of being very neat, the cleanliness of the railroad site throughout construction showed Legacy really respected that."

Putting up a fabric salt and sand storage building now will let you buy salt and sand in large quantities and when it's least expensive. Contact us to get started.