Fabric Structures for Warehouses: It's a Natural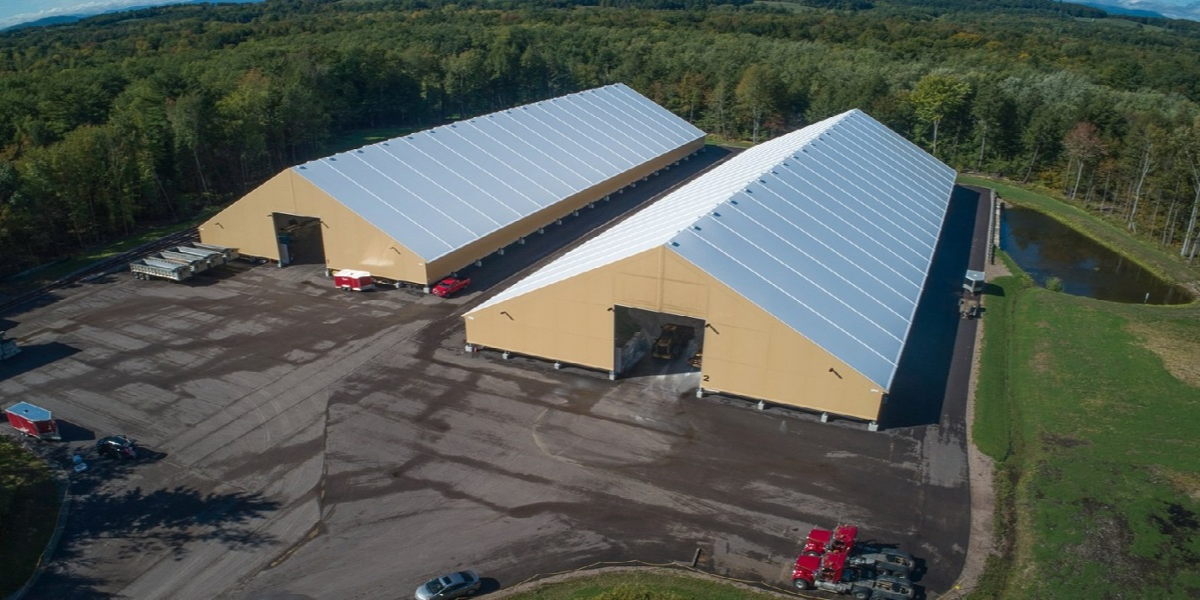 If you think a warehouse is simply a place to store stuff, it's time to think again. Today's warehouses must be so much more. A good warehouse will be operationally streamlined, logically designed, and organized better than an accountant's spreadsheet.
Our clients rarely use a warehouse for just one thing. Many of them must include space for cargo sorting, material handling, logistics, light industrial work, heavy equipment maintenance and transloading equipment. In addition to managing materials and supplies, warehouses also often include employee break rooms and office space.
After building fabric warehouses for the past ten years, Legacy Building Solutions has developed a great deal of "space sense" when designing these structures.
Eliminating Columns
What makes Legacy different from many fabric structure companies is our use of solid steel I-beams. That was an early decision that opened a lot of options for us and, more importantly, for our customers. Clear span space is one of those options that help warehouse owners. Our wall and roof beams do all the support for the building, so we don't need central columns for support. That frees up the floor space for whatever our customers want to use it for—racking, storage, parking, loading and unloading.
That's clear span. If you're not sure the advantages of that, ask some of your forklift operators. For example, a single collision of heavy equipment on a support column can compromise the whole building. It's a matter of safety and investment.
How much clear span are we talking about? Our designs, working with our steel, allow us to create clear span up to 300 feet wide. In a recent case, the original plan was to design two open air storage buildings, but the customer wanted all that space centralized in one building. Legacy designed and delivered that preferred design. One of our partners on the project was amazed, saying "we could fit three of our headquarters in that building." The building was 215' wide by 650' long.
See a video tour of a fabric structure used for frac sand storage and material handling.
Straight walls are another feature of our tension fabric structures. Just like traditional buildings, our walls are straight. In some fabric structures that are supported by hollow web trusses, the buildings are more hoop-shaped with curved walls and roofs. With sloped walls, you lose some of your storage space and your drivers need to be more careful of accidentally grazing the frames. Straight structures allow you to store up to walls.
Now, let's talk ceilings. Our steel structures provide options for warehouse owners to add heavy equipment such as cranes, conveyor systems, catwalks, mezzanines, and more--all supported by our roof beams. We have a conveyor system going in at a mining operation that weighs 250 tons. Both walls and roof can also support traditional elements such as ductwork, fire suppression equipment, cargo doors, windows—everything you would expect of a building. Some of the other fabric buildings only have enough support for their frames and their walls.
An improved Warehouse Environment
There's an old joke about how no one has ever used the phrase "as pretty as an airport" and the same usually goes for warehouses. Legacy is trying to buck that trend, creating warehouses that have a clean attractive exterior and an open, well-lit, acoustically quiet interior.
We do that in two different ways. If you choose an cold storage warehouse environment where heating and cooling isn't necessary, you can then take advantage of the natural light that comes through our roof and wall panels. Our white fabric allows 12% translucence, and often that's enough light for customers to forego electric lights completely. In addition to the cost savings, a naturally lit warehouse is a very pleasant place to work for employees.
If you need a closed warehouse with insulation, the tension fabric structure does that by installing the exterior panels and inserting insulation between those panels and an interior liner. The liner serves several purposes: it protects the frame and insulation, is a very tight vapor barrier, and it creates the backdrop for the building's interior. The interior liner is usually all one piece of fabric and white. This reflects and emphasizes interior lighting to keep all corners of the warehouse well-lit and bright.
It's important to remember that in either case, open-air or insulated, the fabric doesn't transfer exterior weather conditions the way traditional materials do. For example, a steel warehouse can become unbearably hot or cold inside because the exterior metal wall transfers temperature changes so completely. The fabric has thermally non conductive properties which work to minimize cold or heat transfer rather than radiating it like metal does. This simplifies climate control by maintaining a consistent temperature with less energy expended on heating and cooling systems.
Natural ventilation within the building also helps to prevent condensation and moisture build-up. Excess moisture accelerates the rate of product spoilage and creates an ideal environment for mold and bacteria growth. Eliminating condensation also extends the life of the steel frame by reducing the rate of oxidation and corrosion.
Passive ventilation is another technique for preventing moisture and condensation.
What you want, faster
Good bones and a great interior environment are powerful arguments for fabric warehouses. But what about more practical matters such as the speed of construction and cost?
Expedited construction: Even though every building Legacy creates is customized, we have streamlined our design, fabrication and installation to deliver a building quickly. Often, we can install a building in a fraction of the time it takes to do a traditional building in steel or wood.
Cost: Fabric warehouses can be more cost-effective to build than using other materials such as wood, precast concrete or steel.
Flexible design: Our design team loves a challenge and giving you exactly what you want in a warehouse is their mission. You can customize the entire building around your operation and your equipment. We talked about how our steel supports all manner of equipment such as cargo doors, conveyors, cranes, fire suppression equipment, catwalks and more. Our designers can also deliver special end walls or sidewalls to allow large components in and out of the structure. Do you need an offset peak to get the conveyor in just the right spot? Many clients add a lean-to to create room for storage, maintaining equipment and even offices. There are no limits to the design options available for your fabric structure.
No matter how big your operation or where you are on the supply chain, a fabric tension structure is a great warehouse solution.