Fabric Structures in Mining: All of the Above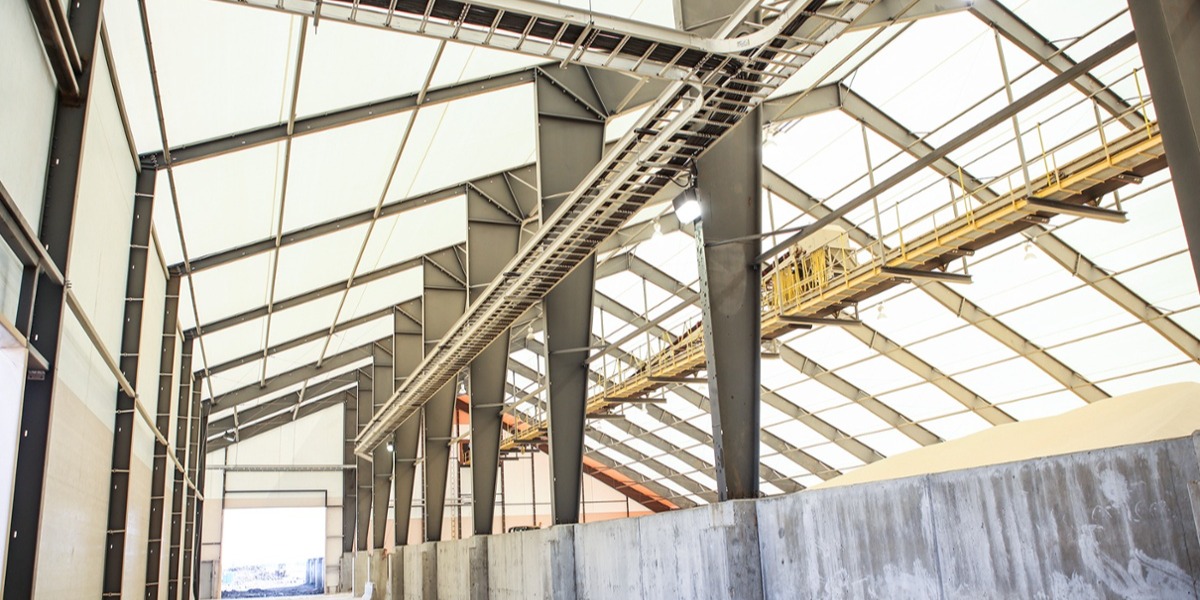 The world of mining is unique and making fabric structures for mining projects is the kind of challenge that Legacy loves to work on. Fabric buildings are a good match for mining operations because owners need a structure that is durable, that can be delivered and installed quickly, that can be manufactured with corrosion protection and that can address their specific needs.
Legacy's tension fabric structures check all of those boxes for mining operations, but we can offer even more to your mining sites.
As we see it, a mining project has four distinct phases:
Initial exploration and mine development
Operation and processing
Transportation and logistics
Maintenance and expansion
Each phase has particular requirements for buildings on the site. Fabric structures don't just work for one phase, they are an "all of the above" solution for a mining organization.
Initial Exploration and Development
The flexibility of fabric buildings is key to the initial exploration phase. On the storage side, fabric structures can be used to store core samples, construction material storage and water and effluent treatment facilities. In those cases, we might recommend an uninsulated building or even an open air structure. The advantage of non-insulated structures is that Legacy's proprietary white fabric cladding, Exxotec™, is 12% translucent and both walls and the roof can let in a lot of natural light. That has the dual advantage of creating a well lit interior and, for many organizations we work with, cost savings due to minimal need for electric lighting. It can also be great if you need an off-the-grid facility.
For other mining buildings, a completely insulated facility may make more sense. For example, buildings that house laboratories, fabrication workshops, personnel housing and recreation buildings are all situations where a tension fabric structure will provide an ideal indoor environment.
Operations and Processing
Our tension fabric structures can be used for a wide variety of storage and processing operations at a mine. We can do dust control buildings, settling pond covers, processing buildings, smelting operations and large commodity storage. We are currently working on a concentration building in South America, where copper concentrate is stored and then moved to ships at the port. In this case, traditional hot dipped galvanized steel (for the frames) wouldn't work because the copper concentrate reacted chemically with the zinc in the galvanizing. Legacy has been working for the last few years on an upgraded alternative to HDG, using epoxy coatings instead. Our EpoxxiShield™ suite of coatings were precisely what the mine owner needed.
If you need more than just storage for ongoing operations, fabric buildings are also ideal for maintenance shops, truck washing facilities and general maintenance buildings. Our lined and insulated spaces are also great for office space.
Transportation and Logistics
When it comes to transportation of mining materials to and from the storage building, we have one word for you: clearspan
Because our tension fabric structures use solid steel, tapered I-beams for the frame, they can be designed to create a very wide building without any central support columns. With a whole storage area uninterrupted by support columns, loading and unloading is much easier. Additionally, and even more importantly, wide building widths allows our customers to maximize their storage volumes as the wide widths allows commodity piles to grow in height transforming the storage capacity exponentially.
We have one more word: conveyors. By using solid steel beams, we have made a reputation for hanging heavy equipment like conveyors from our roof frames. Most fabric structures don't have frames that can support conveyors, cranes, catwalks and more. We can. In fact, in the South American copper mine, we are designing a structure that will support a massive conveyor. The support framework alone weights 250 ton.
Maintenance and Expansion
The ongoing costs of maintaining mining structures can be considerable. With a fabric cladding exterior such as Exxotec™, the exterior of your building won't need repainting every few years. The rust you might face with the exterior of a traditional metal building won't be an issue. Fabric doesn't rust. Moreover, the glossy nature of the PVC fabric can be easily washed off by a pressure washer or even the rain. Some of our customers call our fabric virtually maintenance free.
In the case of some fabric structures, you need to retension the cladding every few years. Legacy has a patented tensioning system that works with the physical properties of our fabric, so retensioning isn't necessary.
Legacy designs all of our buildings from individually and specifically for your project. Consequently, if you need a building that will eventually be expanded, our engineering team can design that. We did that recently for Northern Farmers Co-Op, a project for storing fertilizer. In this case, they were constrained by a highway on one side and railroad tracks on the other. Nevertheless, we created a design that met their current needs but could also be expanded from the back wall to meet their planned future expansion.
Legacy has worked for years to create our tension fabric structure, and we are able to adapt our innovations for many industries. In the case of mining projects, we can create buildings for all the phases of your facility—from open air storage of mining materials to insulated housing for employees or office space for administration. Talk to one of our mining specialists today to see what we can do for your mine site.