Fabric Structures
that are Worth Your Salt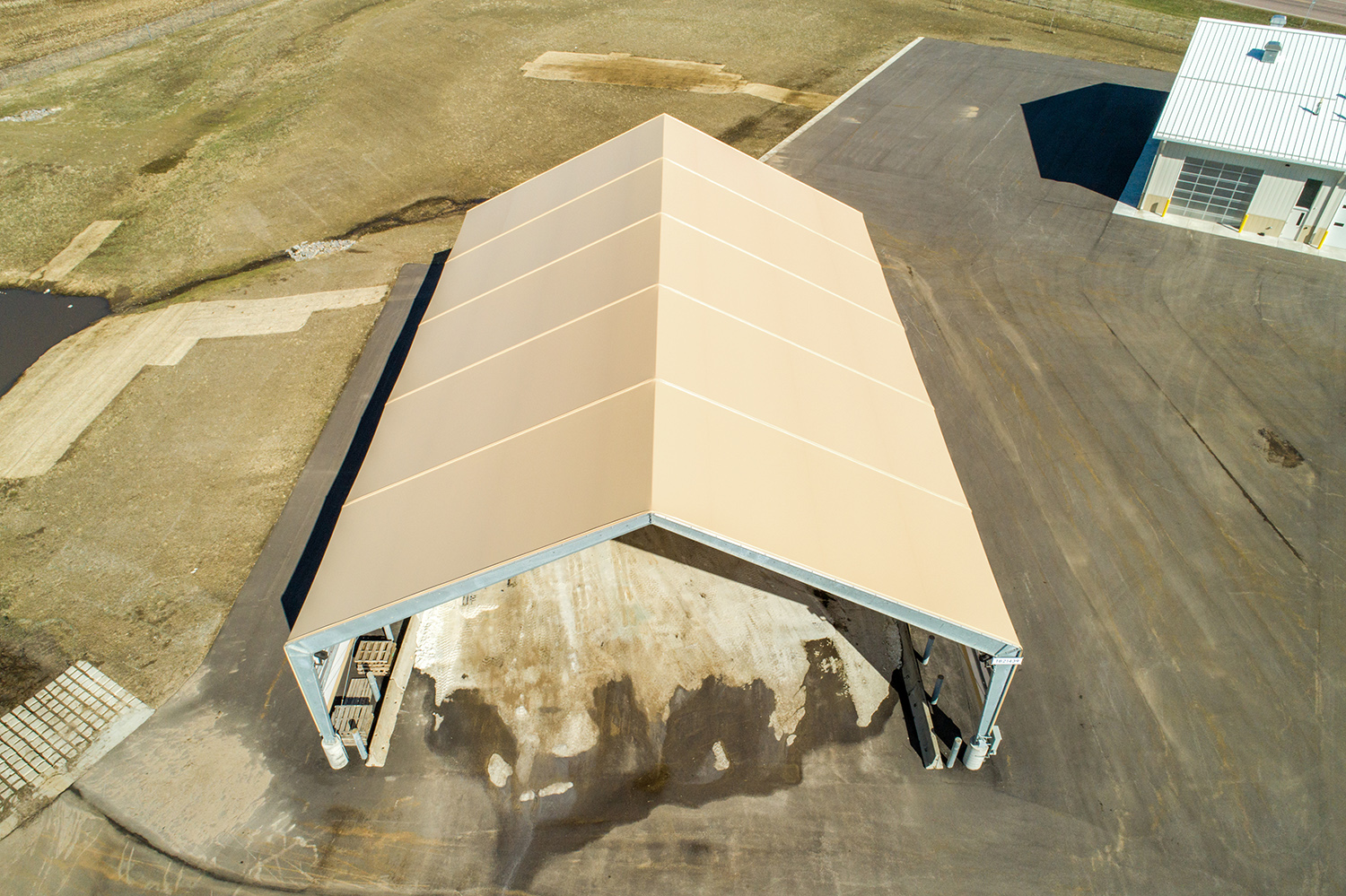 If you are north of a certain latitude, you are probably anticipating some snow soon. That means you need salt to keep the roads clear. Legacy does salt storage for a lot of companies, organizations, DOTs and municipalities, and we've been doing it for a long time.
Salt storage buildings are an investment to protect an investment. Organizations that store salt have been stockpiling it for the last few months, and they need to keep it away from the elements. The challenges of storing this material are very familiar to us and our tension fabric structures are particularly suited to meet those challenges.
But don't take it from us. We contacted some of our customers from a few years ago and got their comments about how a Legacy salt storage facility is working for them.
Airflow
Gunther Salt is a 28,000 square foot storage building we installed in 2018. It's in St. Louis, MO, and it includes a conveyor and catwalk that are supported by our solid steel I-beam frames. It stores agricultural salt.
Darren Chapman, the plant manager for Gunther, said "It's done very well for us. No issues with it at all. It has nice air flow so everything in there stays good and dry."
In 2016, we installed a fabric storage structure for Northern Salt (12,800 square feet, St. Paul, MN). The COO for Northern, Greg Dumke, also commented on the airflow. "Airflow is key to keeping things dry and the building does a nice job of airflow," he said.
We use a variety of ventilation solutions depending on the customer's needs. Some open air pavilion-style storage buildings provide their own natural ventilation. For more enclosed structures, our combination of vented soffits and roof vents can create passive ventilation. Other customers need a more aggressive system, and our solid frames are great for supporting mechanical ventilation equipment including HVAC systems.
It's important to remember that Legacy only does customized structures, so making sure the ventilation works for our customers is an important part of the overall design.
The Only Natural Choice
Corrosion is a central issue when you are storing salt. If you are looking at an all-steel building, you might want to think again. There are number of ways that a corrosion rich environment such as salt storage can compromise an all-steel structure. Our fabric is, of course, non-corrosive so it's ideal for storing salt. In addition, we protect our steel frames with a proprietary suite of epoxy coatings called EpoxxiShield™. Different varieties of EpoxxiShield provide different levels of corrosion protection. Our EpoxxiShield COR, for example, offers 13 mils of protection and is designed for the most corrosive environments.
Chad Schuman is the maintenance engineer for Olmsted County in Owatonna, MN, and he thinks fabric is the right solution. When his organization was looking at a new building, "fabric was the only option we considered because of the salt."
So far his experience with a fabric solution has been good. "It works well for the salt environment," said Schuman.
Northern Salt's Dumke agrees. "It's the only way to go when it comes to salt storage. I am pleasantly surprised, pleasantly happy with how it's holding up," he said.
Airflow and corrosion protection are only two factors that make a tension fabric structure a good solution for salt storage. Natural light, for example, is a benefit that many customers comment on. Because our white fabric is 12% translucent, many of our buildings that aren't insulated (such as salt storage buildings) have natural light coming through the walls and roof panels. This saves on up-front construction costs and long-term energy costs. Legacy not only customizes every building, we use our own engineering team, our own designers, our own manufacturing facilities and our own crews for the install. It's not too early to plan for your salt storage for next winter, so contact us if you want to hear everything we've developed for the salt storage industry.