Fabric Over Steel Building Frames | Legacy Blog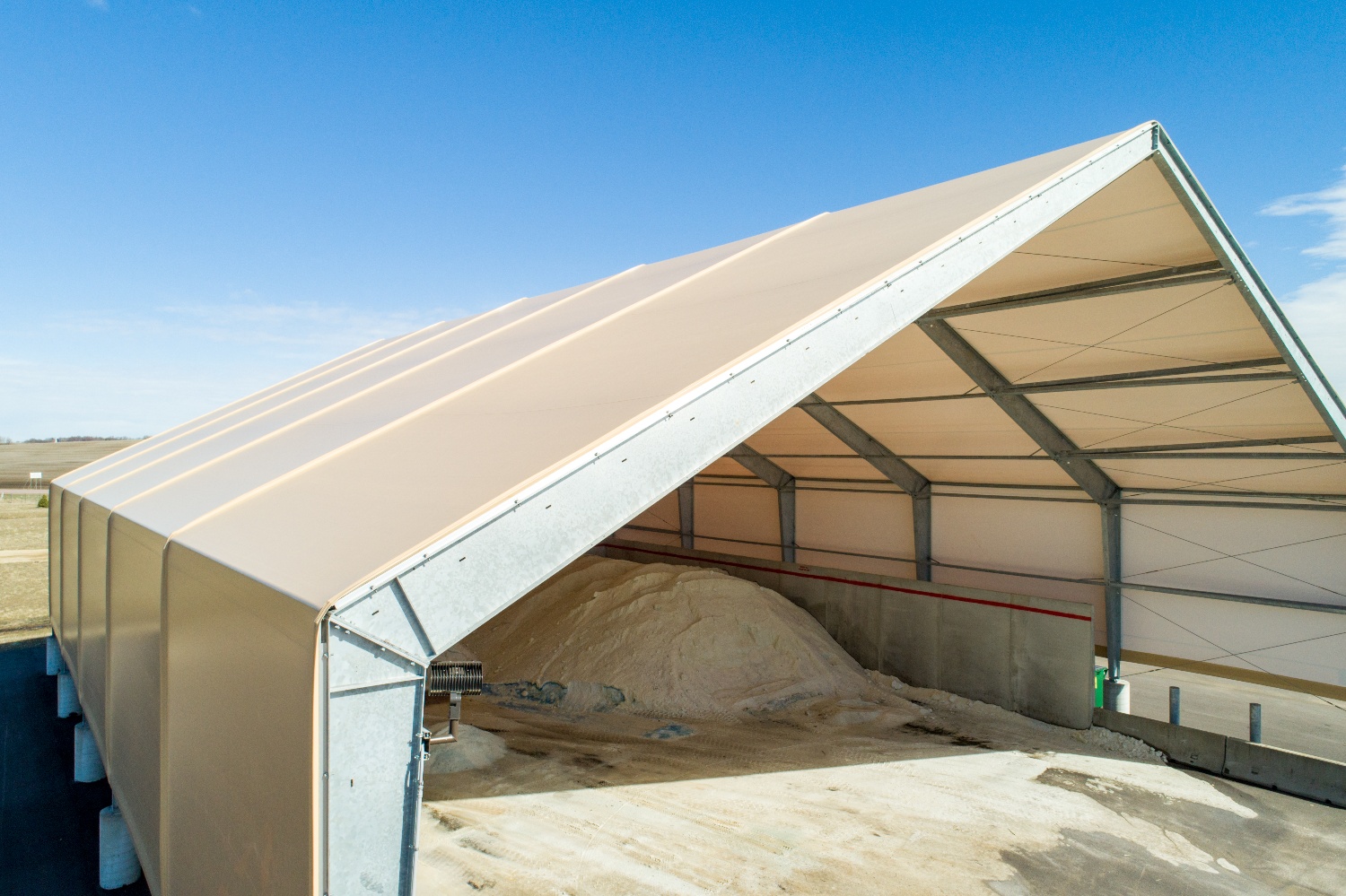 When comparing fabric vs steel buildings, there are a number of factors to consider. All rigid-framed buildings use the same proven engineering principles. This allows for an apples-to-apples comparison of Legacy buildings and steel structures when it comes to building design flexibility and options.
Structurally, the main difference between a Legacy fabric structure and steel buildings is how the material interacts with the frame. Steel sheets provide an exoskeleton around the building that aids the frames. Fabric provides tension on the building frames, which must be accounted for during engineering. An experienced fabric building design firm will include the fabric tension load from the earliest design phases.
The building envelope of a fabric structure is superior to that of a steel structure. There are several advantages of fabric structures over steel buildings, including:
Abundance of natural light
Longevity in corrosive environments
Energy efficient
Expedited construction
Fabric vs Steel Buildings: Natural Light
Natural light is one reason building owners choose fabric structures over steel.
The sunlight inside fabric structures has several advantages:
Reduced lighting costs
A more natural, enjoyable environment
Eliminated "dead spots" caused by darkness
Depending on the fabric chosen, the fabric structure will have up to 16% translucency. On a sunny day, this provides plenty of light for working inside the building. Natural light also creates a more pleasant environment for workers.
Studies have shown that workers are more efficient when exposed to natural light. Learn more.
Although insulated fabric buildings have no natural light, the white fabric liner magnifies the light inside the facility – creating even, glare-free light in all areas, and increasing the effectiveness of the lighting system.
Fabric Buildings in Corrosive Environments
One advantage of fabric over steel buildings is that fabric is a building material that is not impacted by corrosion. This is vital when storing corrosive materials – such as road salt, fertilizer or mining tailings – and in corrosive environments, such as marinas and ports.
Architectural fabric is not susceptible to pitting, galvanic reactions, uniform corrosion or stress-cracking corrosion. The fabric scrim and protective layers are made of materials that are not affected by corrosion, oxidation or rust.
All steel will eventually corrode. Exposure to pollutants, chemicals and moisture will speed up this process. Corrosion and rust wreak havoc on steel buildings – causing the material to weaken and thin.
One of the significant advantages of fabric buildings is their resistance to corrosion. Fabric buildings last longer in the face of corrosion, so the building owner experiences less downtime and costs due to maintenance and replacement.
Galvanizing is a way to protect the frame of both fabric structures and metal buildings. However, even galvanized frames will eventually corrode. The most effective way to stop corrosion before it starts is to line the inside of the structure with a fabric liner which creates an air-tight, non-corrosive seal that completely protects the frame from the materials stored inside the structure.
Advantages of Fabric Buildings: Energy Efficiency
In addition to the reduced need for electrical lighting, fabric has non-conductive properties that don't radiate the outside temperatures into the building like metal does. This leads to greater energy efficiency and more sustainable operation.
Want to go completely off the grid? Check out this off-the-grid hangar.
Another benefit of fabric is that it is airtight, creating a better building envelope. Unlike metal cladding which is attached to the frame with thousands of screw holes that leak air over time, the airtight fabric eliminates significant heat or cooling losses. In independent studies, insulated fabric buildings have proven to be 20% more efficient to heat and cool as compared to similarly insulated metal buildings because of these non-conductive and airtight properties.
Advantages of Fabric Structures: Expedited Construction
Using Legacy's patented installation system, fabric cladding is often installed in about one-third the time of steel sheeting. Rather than installing thousands of tiny fasteners – consuming hours of time – the Legacy fabric is pulled into a keder rail and attached by a professional crew.
The shorter construction time means a faster return on investment: the building is ready for use weeks sooner, and the costs of wages, living-out expenses and downtime are drastically reduced.
Fast construction means FAST! Learn more.
Professional installation is another advantage of the Legacy fabric building. By adding construction management services, Legacy Building Solutions has provided the building owner a way to remain hands off the project from pre-construction through finishing.
While there are many factors that differentiate fabric and steel buildings, these advantages of fabric structures noted above make them the preferred option in many applications.