Fast Frac Sand Storage: A Case Study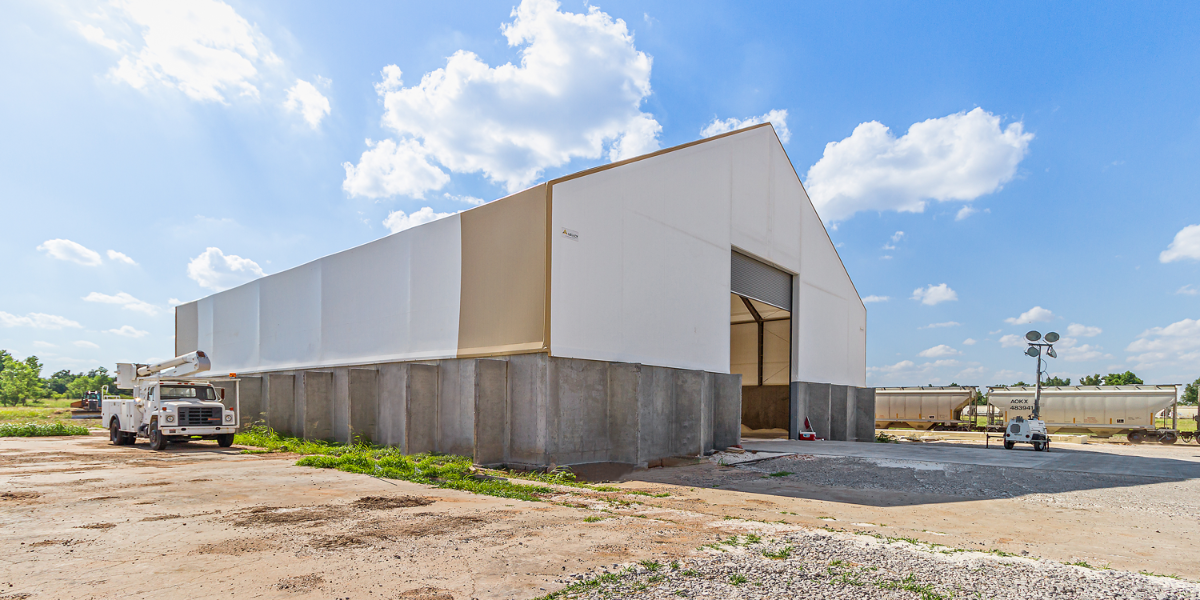 When you need to make a decision about frac sand storage, you usually need to make it fast. That doesn't mean, however, you must take only what you can get. Our tension fabric structures can be customized to your needs and still meet your deadlines.
Case Study: Pontotoc Sands
Pontotoc Sands Co. is a supplier of Tier 1 frac sands. Its El Reno, Oklahoma, operation needed an 8,000 square foot storage building to supply sand to a nearby fracking operations. By partnering with Legacy, Pontotoc Sands had a storage facility up and running in less than two months.
The president of Pontotoc Sands contacted Legacy on December 28, 2017. After designing the building specifications and establishing a budgetary estimate, Legacy and Pontotoc signed the contract on January 12. Final building drawings were approved six days later, on January 18.
See the full specifications of the completed Pontotoc Sands building.
Manufacture of the building components started immediately. They were then trucked to the site from Legacy's headquarters in Minnesota to Oklahoma. Our crews and supplies arrived onsite on February 7. Construction was completed and crews left one week later on February 14.
"From the start of discussions until the building was loaded was less than seven weeks," said Matt VanScoyoc, Legacy's representative on the Pontotoc Sands building. "It was a whirlwind, but that's how things tend to work in the fracking industry."
Flat storage buildings keep frac sand under cover during storage as well as loading and distribution. So do traditional steel buildings, but they can take months to build.
Of course, this kind of project only works if you have experienced designers who have worked on similar projects. Then, you need a committed, experienced crew to put the building together without hesitation. Finally, you need a company that is easy to do business with. Legacy provides all three.
Our Design Team
The Legacy team has in-house estimating, design and engineering departments. This means that with client cooperation, building drawings and plans can often be completed, approved and stamped in several weeks – along with an accurate budget and construction timeline.
Legacy's process focuses on helping the customer reach the end goal.
Vertical integration means you will have one point of contact who will know all the ins and out of your particular building. That means communication will flow naturally and everyone can focus on getting work done rather than waiting for a return email or call back.
Our Manufacturing Team
We can build our structures quickly because our fabric and steel components are manufactured in-house. That means we can have tight quality control and the ability to prioritize your project. Our on-hand raw inventory may allow our crews begin work on your building components right away.
Our fabric manufacturing meets ISO 9001 standards. Legacy's industry leading ExxoTec polyvinyl chloride (PVC) fabric is manufactured in a climate-controlled environment to levels that meet or exceed industry standards. Learn more.
Steel parts are welded in our onsite shop. All welds are inspected to meet AWS and CWB compliance. Then the steel pieces are primed, epoxy painted or hot dip galvanized.
Our Installation Crews
Our fabric panels are designed to install quickly--about one-third the time of steel sheeting. This means crews arrive on site and complete construction faster than with traditional construction. Of course, this only works when you hire the best crews…and we do. Our highly trained in-house crews are ready to travel to any location to provide safe, efficient, and professional installation.
If you need a storage facility, and you need it done fast, and you need it done right, please take a minute to contact us. When we make your project our priority, you will be amazed at the results.