Why Legacy Buildings for Frac Sand Storage?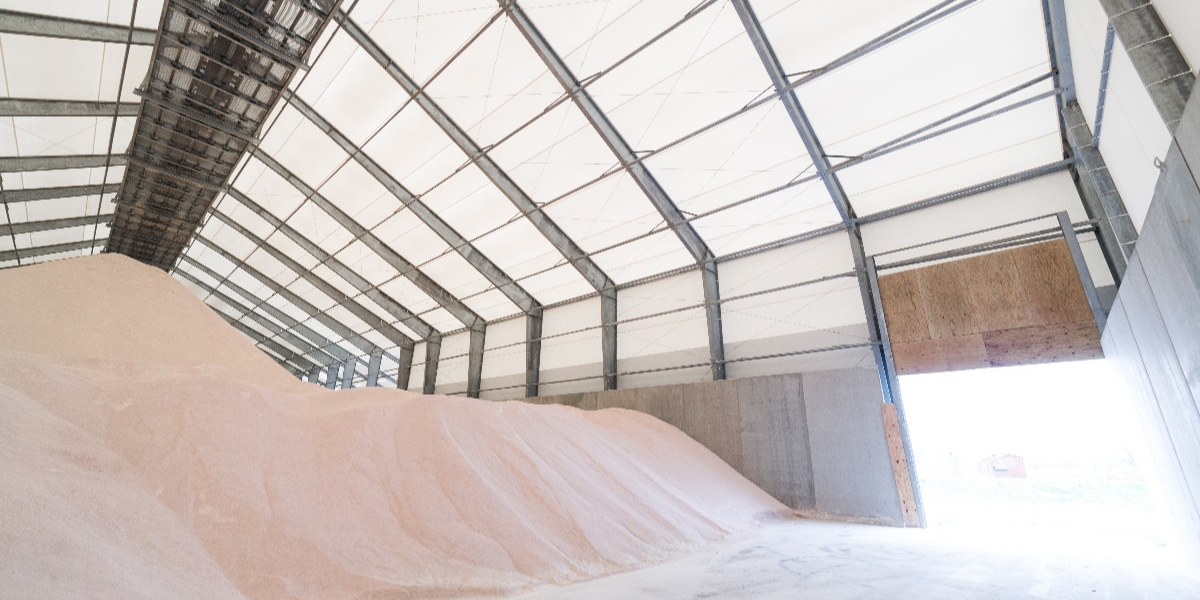 Fracking is an important tool for supplying energy to the world. And fracking requires at least one tool in large amounts: frac sand. Without a ready supply of sand, there is no way to keep a frac running consistently.
But where to store the sand? Municipal guidelines frequently require silicate to be stored under cover, which eliminates open-air storage options. Bins have limited capacity. Metal buildings are often not designed for the harsh environments and realities of fracking sites.
When it comes to frac sand storage, there is no better option than a tension fabric structure.
Check out a highly customized frac sand storage building in Wembley, Alberta.
Custom Frac Sand Storage Solutions
On a busy jobsite, everyone does multiple duties – and the same is true of a frac sand storage building. In addition to storing the frac sand, the building should be flexible enough to receive product via multiple modes of transportation, protect workers handling the sand, and create efficient means of loadout via truck, rail or barge.
Take a video tour of a custom frac sand storage building.
A custom fabric building does all this and more. Fabric structures bring these advantages to the fracking site:
Freespan area
Conveyors
Loadout Systems
Energy Efficiency
Freespan Storage Buildings
The ability to customize a free span area means no interior columns, just unobstructed storage space. More clear area means higher storage capacity without a larger building – a must when every dollar counts on a frac job site
Some building owners add storage bays made of precast concrete panels – a good solution for storing different grades of proppant, or even for storing ores and other mining products. Precast concrete can also be used along the building sidewalls and endwalls to allow higher piles of product, another way to increase storage capacity without increasing the footprint.
Precast panels are common in all types of bulk storage. Learn why.
Increased storage space isn't the only advantage of clearspan area. The additional space can also be used for operations, maintenance and other activities on the frac – allowing you to maximize efficiency and your bottom line.
Separate Space with a Lean-To
A lean-to is additional space on one side of the building. One or more lean-tos are common additions to bulk storage buildings, such as those for frac sand.
Lean-tos have a number of uses:
Circulation paths
Separated storage space
Equipment storage and maintenance
Office and logistics areas
Lean-tos may be enclosed or open. Enclosed lean-tos may be closed off from the main building cavity with separate climate control, or use the main building climate control system.
Overhead Conveyor Systems
The rigid steel frame of a fabric building may be modified to include an overhead conveyor and catwalk. Attached conveyors simplify product distribution, and keeping the hanging load suspended from the building frame means they are accessible without taking up valuable floor space.
Even freestanding conveyors that are ground-supported can be attached to the rigid steel frame. This provides additional support to the conveyor and lowers the cost.
What features are most common in a bulk storage building?
Conveyor placement is critical to overall building handling and efficiency. Fabric structures on a rigid steel frame have the design flexibility to suspend the conveyor anywhere in the building using an offset peak. The thickness of each I-beam is adjusted to support the conveyor and minimize vibration.
Interior Loadout
A primary advantage of a flat storage building is the ability to keep load-out under cover. Covering these operations allows for year-round work regardless of the weather.
A covered loadout area also complies with "good neighbor" requirements by keeping the sand covered at all times. Adding a negative pressure system will keep all particles and dust inside the building.
Need a place to store frac sand? Contact us to start designing a structure from your specification.