Greatest Hits: 10 Remarkable Legacy Buildings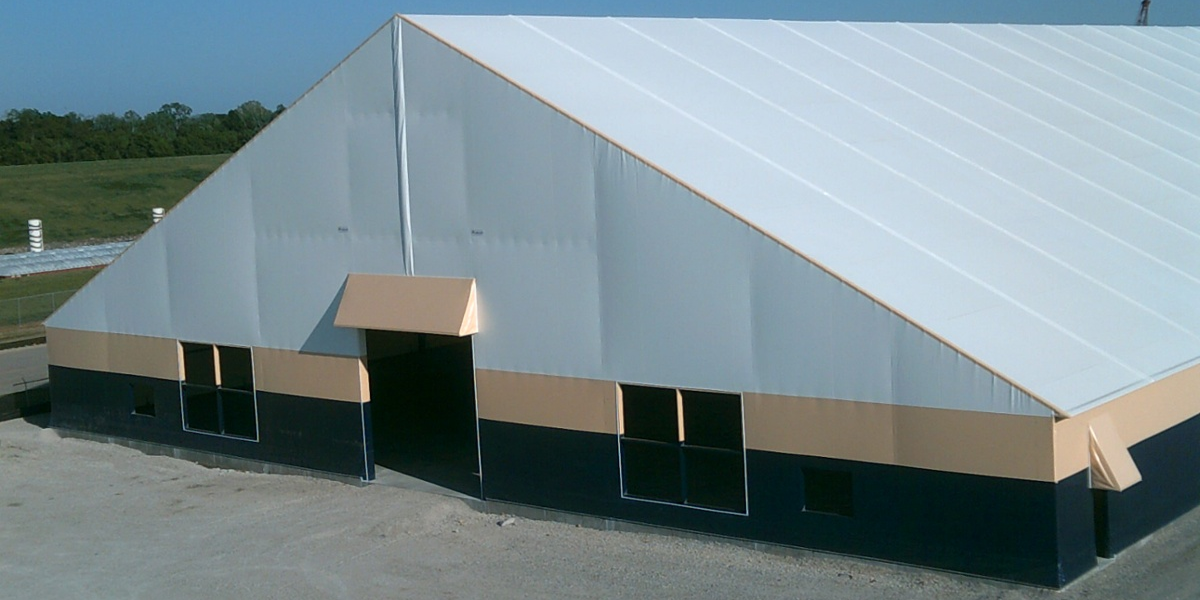 In celebration of our 10-year anniversary, we decided to take a look back at some of the buildings that were real turning points for us and for the industry. It's easy to look through a bunch of our photos and see how clean, attractive and unique our buildings are. It's also good to review how we got here. In no particular order, here are some of our greatest hits.
IEI Barge is a fertilizer storage and blending facility, owned by Alliant Energy Transportation, located in East Dubuque, Illinois. It was the first building to incorporate an off-set peak, varying leg heights, double lean to's, and hanging conveyors. That combination had never been done in the fabric building industry. It was the first of its kind, and it set the stage for all other commodity building designs in rigid frame fabric buildings going forward.
Fox Creek Greenview Multiplex may have the largest footprint in terms of square footage we have manufactured to date but hey, 2020 isn't over yet. One building contains a full hockey arena AND a swimming pool AND the administration offices/Community Center for Fox Creek in northern Alberta. If that wasn't enough, we also built them a field house that's connected by a breezeway. Inside, there is a daycare center, a restaurant, a mezzanine and everything else (including kitchen sinks) you can imagine.


Stony Brook University commissioned a field house for their football team. The building was finished in January 2020, right before the shutdown. It is attached to a traditional brick and mortar building on campus--and making it fit a very specific design was a fun challenge. The owner said "You guys were able to meet the needs of our architect, and he wanted a little different looking project than some of the builds you do. Just the way it cantilevers out and the way it connects is unique." Stony Brook was our first inverted leg building. Typically, our solid steel I-beams are straight on the outside and, as they get taller and thicker, the inside of the beam leans inward. With the inverted legs, it's just the opposite—straight on the inside and leaning outwards on the exterior edge.


Andersen Air Force Base in Guam wins the award for wind. We recently completed this project, and the structure was designed to withstand one of the highest wind loads we've done—195 m.p.h.


We are currently working on a storage building for U.S. Steel in Pennsylvania. It has the highest walls we have ever installed (74 ft) and the highest peak (97 feet). With the tall side wall height, we chose to install our wall panels vertically and tensioned between each frame, just like our roof panels.
Chadron Aquatic Center

in Nebraska was a joint project with the local city and the local university. It was our first foray into welding decorative designs onto fabric—what we call The Waves. Another technical challenge was installing our structure over an existing pool. We typically do it the other way around.
The storage structure we built for Lyons Salt Co. in Lyons, Kansas is not your typical salt shed. It's part of a salt mining operation, with the salt coming directly from the mine. That created a very corrosive environment inside the building, so we needed to protect the steel. The steel was all hot dipped galvanized but we needed to go the extra mile so we included a fabric liner for the whole building to isolate the steel from the internal environment. Follow up inspections showed that the liner performed exactly as intended with little, or no, corrosion present. Ventilation was also a factor and this building had a filtered ventilation system inside as well as passive ventilation. We also helped replace existing support steel on a conveyor, which was our first work with epoxy coatings. That work, years later, led to Legacy building an entire epoxy coating plant at our headquarters.
We knew Solar Ship's hangar in Brantford, Ontario was an important project right out of the gate. It was an off-the-grid storage unit for Solar Ship's solar powered aircraft, with all the energy for the structure coming from solar panels on the roof. It was our first tall sidewall building (60 feet at the eaves, 82 feet at the peak) we did with a very large bottom rolling hangar door which is 60' tall. Our joint venture with Solar Ship won the "Game Changer Project of the Year" recognition from the Canadian Solar Industries Association in 2016.



Agriland FS

hired us to build a fertilizer storage structure in Woodbine, Iowa. As storage buildings go, this one had almost all the bells and whistles: precast concrete along the walls for storage bins, conveyors and catwalks mounted to the roof beams, natural light, and more. "We needed a building we could adapt," said Curtis Hoakison, procurement manager for Agriland. "Having everything contained in one facility was easier than trying to add another part to an existing building."


DHL Express needed two large covered buildings to stage cargo at their Erlanger, Kentucky, operations. They needed them fast, and Legacy delivered matching buildings, in the DHL colors, on time and on budget without interfering with their ongoing operations. What made this one unique were the jackbeams installed on the walls so DHL's motorized tugs could move between buildings easily.
After 10 years, hundreds of buildings and millions of square feet of space, we continue to innovate. Through research, development and customer service, we adapt to our clients' needs, providing them a truly customized building solution.