How Legacy Building Solutions Mitigates Supply Chain Issues in 2022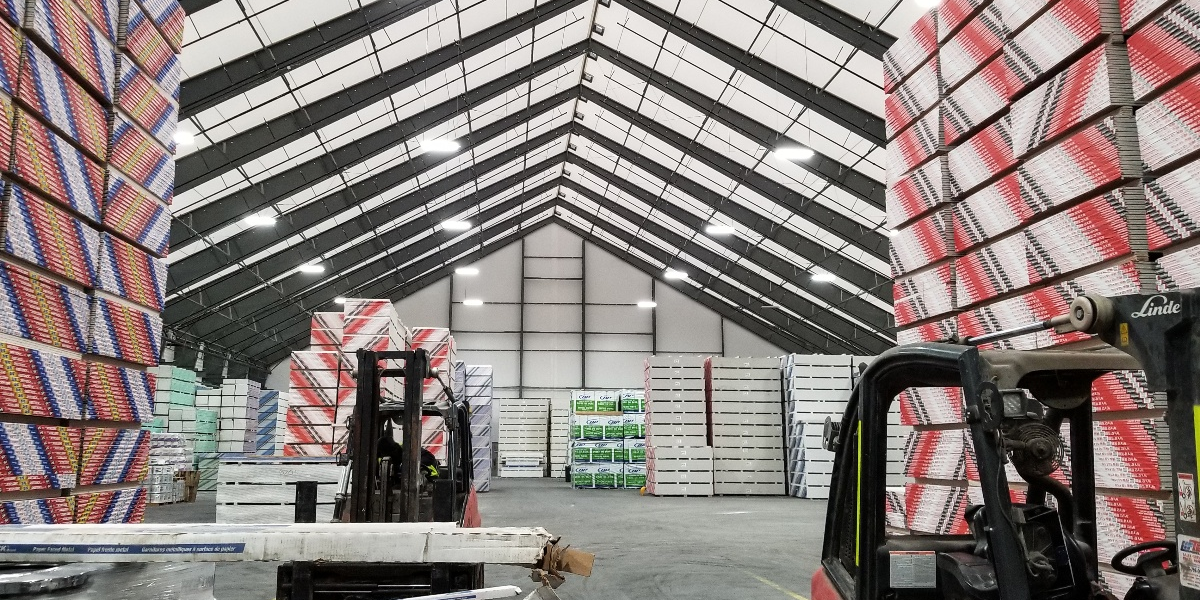 As we reach the end of the first quarter of 2022, "supply chain issues" are a popular topic. Supply chain issues, which are loosely defined as problems with manufacturers having access to the supplies they need to make a finished product, are impacting everything from new cars to Girl Scout cookies.
What is causing these supply chain issues? There seem to be a number of contributing factors, including:
COVID, which has caused many employees to be out sick and employers to be forced to slow down

Delays in shipping, particularly overseas, caused by a glut of goods and a shortage of available vessels and crews

Rising inflation, making both raw and finished materials more expensive

Changes in consumer demand as populations come out of quarantine and adjust to the "new normal"
Regardless of what causes supply chain issues, there are some steps that companies can take to mitigate the impact to consumers. Legacy Building Solutions is well prepared to weather these challenges and provide you with the service and quality you deserve.
How Long Will Supply Chain Disruptions Last?
Just as no one could have predicted the impact of COVID on our lives, the long-term impact of supply chain issues is still unknown. However, many experts agree that supply chain disruptions will continue for the foreseeable future, most likely at least through the end of the calendar year.
No matter how long the current shortages affect the global supply chain, Legacy Building Solutions has calculated the fabric building design and construction process for maximum efficiency and minimum disruptions.
In-House Manufacturing: One Less Link in the Chain
Legacy Building Solutions has onsite facilities to weld steel framing members, create fabric panels, and dedicated crews to install buildings.
How does keeping these manufacturing services in-house fight supply chain problems? Basically, it shortens the chain. There are fewer steps in the process, fewer vendors to deal with, fewer shipping modals, and fewer ways for your building to be delayed.
"In-house service means we don't have wait times between phases of the process," said Nathan Stobbe, General Manager of Legacy Building Solutions. "Once you have approved your building plans, we can start the material ordering and manufacturing process as soon as the next day. Speed has always been one of our strengths."
In-house services also make it possible for the Legacy team to plan ahead. Because we know when building components will be available and where they need to go, we can create efficiencies with scheduling.
So often with traditional design-bid-build construction, there is time lost between phases of the project as the various entities line up schedules, negotiate responsibilities and point fingers at each other. As a design-build manufacturer, Legacy Building Solutions manages all parts of the building erection process, pinpointing potential delays and working to create solutions.
In-House Installation
Highly trained crews are deployed year-round to install fabric buildings worldwide. They come prepared with necessary hand tools and materials. Their time and travel cost are built into the price of your building, so there are no budget-busting surprises at the end of your project.
Another benefit of having dedicated crews is being better able to strategically schedule the workers from the start as best we can. Now, bear in mind that Mother Nature is going to do what she does without regard of our carefully calculated timeline. The project management team will work with you to try to accommodate schedules on site before we arrive to install the building. Take comfort in knowing that our project management team is a part of the process from start to finish, and we can provide accurate estimates of the timeframe for our crews to be on site for the installation of the building
By keeping what we can in-house, it streamlines important things like quality assurance as well as maintaining open lines of communication. We believe that good practice of the latter ultimately makes for a positive work relationship.
What do customers have to say about our crews and processes?
Communication During All Phases of Construction
When your business is depending on your infrastructure, you can't afford construction delays with no communication. When you experience a bump in the road, you need to know-how–and most importantly when–it will be resolved.
With Legacy Building Solutions, you have one point of contact (and responsibility) for any delays that do occur. Whether a delay is caused by supply chain issues, weather or other unforeseen challenges, your project manager will be available to answer your questions and give you an accurate assessment of when the project will move forward.
"Legacy takes pride in getting to know each customer and their unique needs," said Stobbe. "The sales, engineering, drafting, component manufacturing and construction teams all work together to make each fabric building the best it can be so that we can meet or exceed your expectations."
Before the crew leaves your site, they will walk you through the building, answer any questions and explain the simple maintenance tasks you will have going forward. From the first call to the last day of construction, you will receive simple, clear communication.
What About Rising Material and Fuel Costs?



In 2022, increases in fuel and supply costs are causing widespread price increases, surcharges and "shrinkflation."
Rising material and fuel costs are affecting everyone and it is not fair to say we are immune to it. However, with Legacy ensuring quality design, manufacturing, and installation – we are able to better communicate to our customers a total cost upfront.
In-house design-build means we know how much each phase of the project will cost, including manufacturing, design and installation. Your estimate will account for all these costs from the beginning, with no surprises at the end.

Expertise and an eye to efficiency at every step of the process allow us to keep costs in check.
"Rising costs are a fact of life right now," said Stobbe. "But we understand that your budget is set, and our mission is to get you as much building for your buck as possible."
Planning Ahead
Legacy Building Solutions is in the fabric building business. This is what we have done for the past 12 years and prior to that, our team had 15 years' experience as the largest installer of fabric buildings in North America.
Why does this matter? In short, nobody does it better. Legacy's team creates accurate plans, manufacturing schema and calendaring from day one. We have built our reputation on accuracy, quality and thoroughness.
Other Benefits of Legacy's Process
With supply chain issues likely to impact all areas of your work and personal life, you really don't need additional hassles from your building construction company. That's another benefit of in-house service.
Learn About Our Fabric Building Construction Process
Learning more about Legacy Building Solutions, our history and our completed projects will give you concrete examples of how our process can help you overcome potential supply chain issues.
While you can't control what is happening in the world, you can control what is happening to your business. That's why it's important to choose a fabric building construction company that is reliable and able to mitigate the impact of supply chain disruption.
Have a question? Contact our experienced team and learn how we can help you.