Legacy Building Solutions to Exhibit at WasteExpo 2014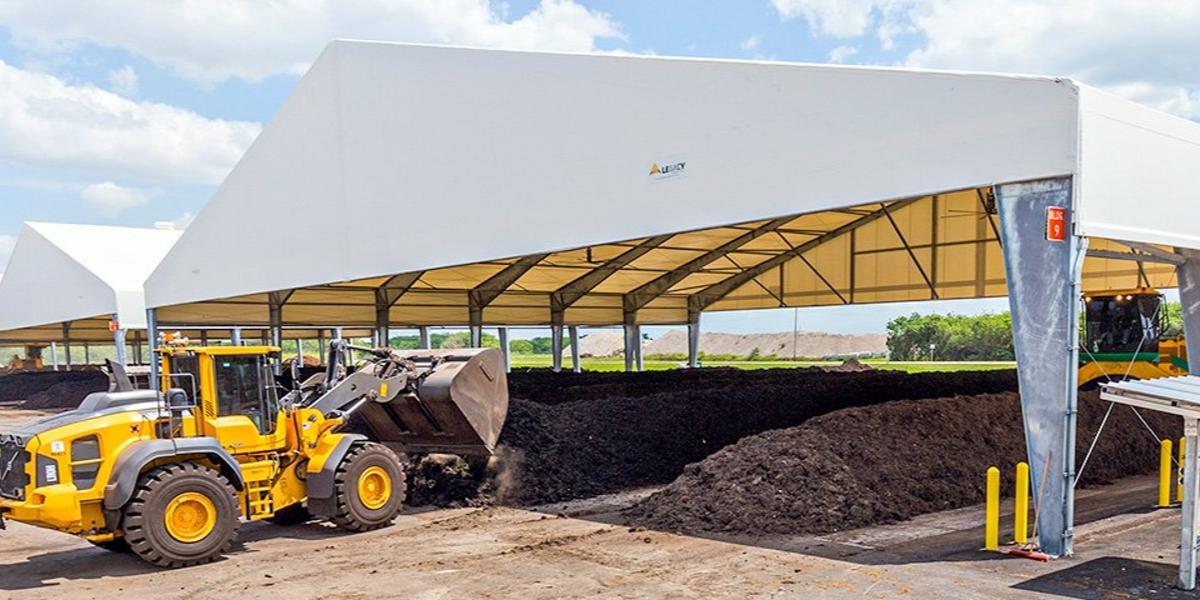 Hybrid fabric-steel structure from Legacy is a multi-purpose facility for waste and recycling and other industrial uses.
SOUTH HAVEN, MINN. – Legacy Building Solutions will be showcasing tension fabric structures at WasteExpo in Atlanta, Ga. April 29-May 1.
Legacy's sustainable tension fabric cladding ensures an air tight envelope, allows many ventilation control options, is translucent for energy efficiency and is non-corrosive. Perfect for biomass production, solid waste recycling, waste treatment, remediation and curing enclosures, bio-solid composting, fabrication facilities and more. Additional design loads including conveyors, bridge cranes, fire suppression, high side walls, large doorways and doors are easily incorporated.
"No matter what, fabric won't corrode," said Ben Fox, president of Legacy Building Solutions. "Plus, our buildings are easy to ventilate, and they can support a conveyor right on the building frame. Our customers love the versatility of these buildings."
Legacy Building Solutions is among the only companies building fabric structures on a rigid steel frame. The finished structures are corrosion-resistant and built to withstand accidental collisions, snow loads, wind loads and seismic activity.
WasteExpo is the largest solid waste and recycling event in North America. Public and private sectors gather at the annual convention, held in a different city each year.
About Legacy
Legacy Building Solutions specializes in the innovative design, engineering and construction of fabric covered buildings for several different industries and applications. For more information, contact Legacy Building Solutions, 19500 County Road 142, South Haven, MN 55382, call 320-258-0500 or 877-259-1528, or visit the company's website at http://www.legacybuildingsolutions.com.
Fabric structures in the waste and recycling industries are designed for maximum efficiency, odor control and durability.
Energy-efficient fabric buildings for waste facilities provide a cooler, drier environment to slow the growth of mold and bacteria. Add aeration and circulation systems for the best environment for processing and sorting.
Clearspan space and tall clearances mean more room for heavy equipment maneuvering and piles.