Fabric Building Repair | Structure Repair & Recover Services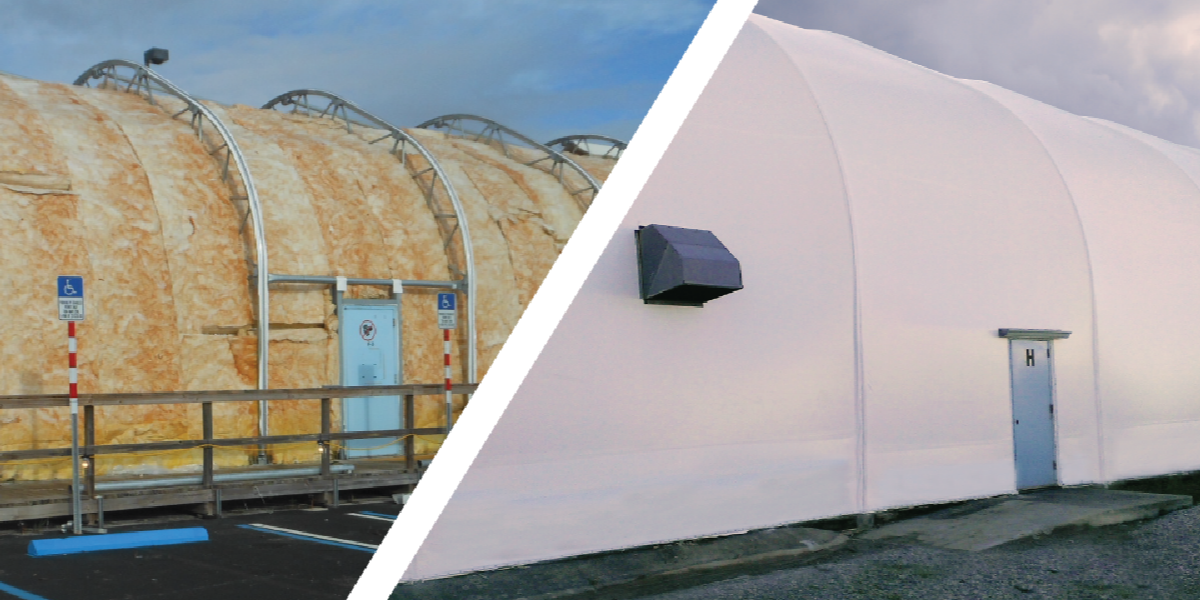 Fabric structures are designed to withstand the rigors of everyday use. However, age, accident and extreme weather conditions can cause damage to the fabric cover. When it's time to recover, repair or replace a fabric structure, Legacy Building Solutions can help.
Services for All Brands of Fabric Structures
While many manufacturers stand behind only their own buildings, Legacy Building Solutions repairs all brands and models of fabric structures. We got our start as installers of fabric buildings, and our crew has experience with all types of fabric building repair.
Learn more about services for Coverall buildings.
Our team focuses exclusively on fabric buildings. This experience means we are prepared to deal with any type and condition of fabric building, as well as obstacles including adverse weather and poor site conditions. If the fabric structure can be repaired, recovered or replaced, our team can do it.
Readily Deployable
Legacy has experienced installation crews on the road 12 months a year, ready to travel to any location to replace or repair a fabric covered building. If required, crews are onsite quickly to get your building back up to fully operational status.
If you need a new fabric cover, we manufacture covers and have an inventory of fabric on site to cut the time required to fabricate a custom fabric roof. Combined with a ready crew, your new cover will be installed as quickly as possible.
Major Fabric Structure Damage
For larger tears and damage, Legacy provides no-obligation consultations to advise the building owner on the best course of action. Some options include:
● Providing materials and assistance to the building owner to repair the structure
● Mobilizing a crew to repair the fabric structure
● Recommending a complete recover or replacement building
New Fabric Building Covers
Building recovers are usually necessary when the cover of a fabric building is detached from the frame or has major damage. Legacy Building Solutions uses pictures, measurements and the specification of the original building (when available) to manufacture and install a new fabric cover.
Need a new cover for your fabric building? We can help.
No matter the brand of building, Legacy can manufacture a fabric cover or panels and attach them to existing, undamaged building frames. In many cases the new cover will be an identical match to the old one, or the business owner may choose to upgrade the cover to include a new look.
Fabric Building Replacement
When a fabric building must be completely replaced, due to damage or change in business needs, Legacy Building Solutions is available to design, engineer, manufacture and install a new building. In some cases, non-transportable assets such as a foundation or concrete wall can be reused.
Why choose Legacy Building Solutions?
The in-house staff at Legacy Building Solutions will ensure that your new fabric structure meets your current and future business needs. One of the benefits of fabric structures is that they are expandable and portable as needed – if your future projections include a move or additional space, your structure will be designed to accommodate it from the first steps.
Another benefit of in-house services is that your new building will be designed and installed quickly.
Fabric Structure Upgrade
As building codes or business needs change, it may be necessary to upgrade a fabric structure. Upgrades can include strengthening frames or trusses to meet code, expanding or relocating the building, or adding features such as insulation. Legacy Building Solutions also provides upgrade services. Our experienced engineering team will review the requirements and provide next steps.
Legacy Building Solutions has the industry knowledge and experience necessary for effective fabric building repair. No matter the cause or type of damage, our team will make sure your building is safe for future use. Contact us to learn more.