Why Legacy Buildings for Covered Feed Bunks and Cattle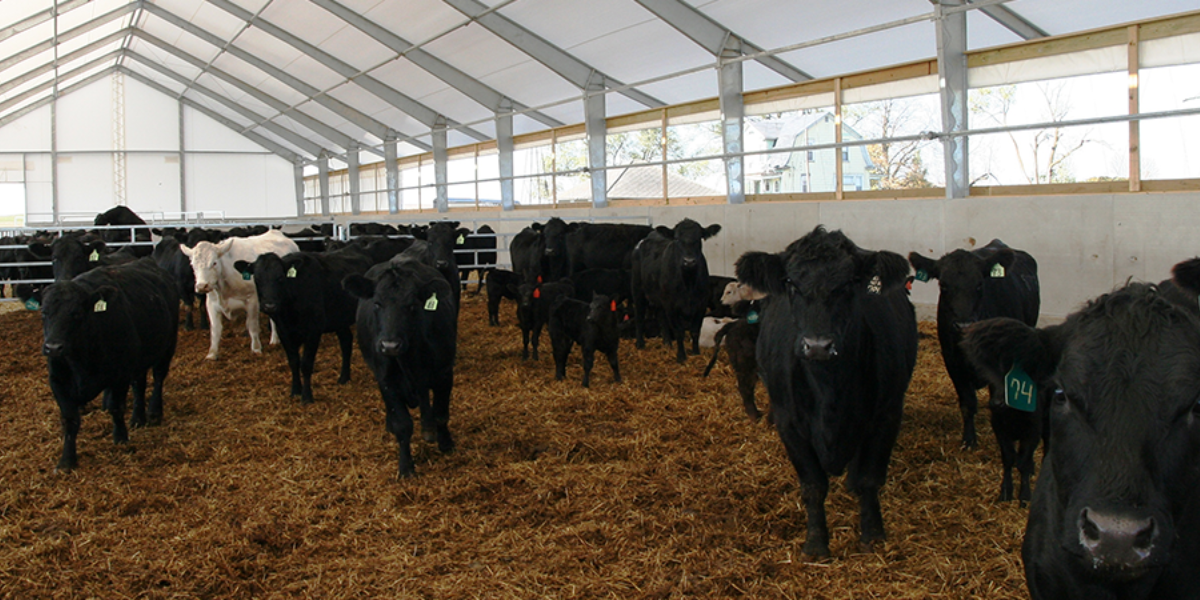 Break out of the hoop! Fabric structures by Legacy Building Solutions provide the best environment for cattle. Minimize stress on the herd with a cattle barn that is:
Cooler inside
Dry
Protected from corrosion
Flexible and roomy
Economical
Cooler Inside
Fabric has naturally non-conductive properties, which keep the inside of the building cooler on hot, sunny days. Livestock in a Legacy building will be kept under shade cover, separating them from the sun's hot rays.
Unlike metal barns, fabric has non-conductive properties that block heat rather than transmitting it, making the building feel cooler than the outside conditions. Picture a piece of metal sitting in the sun – it will be hot to the touch, even after the sun has gone down. In contrast, fabric maintains a consistent, comfortable temperature.
Learn how fabric buildings stay cool.
Fabric is the only building material that gives cattle the benefits of diffuse natural light while keeping them cool and comfortable every day. Sunlight is important for the well-being and happiness of your livestock; only a fabric structure provides all-day access to the sun while giving them a protected shelter.
Dry Interior
Every aspect of the fabric barn is customized to allow maximum airflow, preventing condensation and moisture build-up. Gravity ventilation is the most cost-effective source of the cool, fresh air necessary to keep cattle comfortable and prevent zero-gain days.
Open wall designs allow even the slightest breeze to blow into the building, supplying a constant source of fresh, dry air. With the higher roof provided by the rigid steel frame, there is more room for air intake and more clearance for warm, wet air to rise above the level of the herd.
Passive ventilation options are most common in livestock buildings. Learn more about gravity ventilation systems.
Rooftop ventilation options range from a completely open ridge to several sizes of exhaust vents. Combined with ground-level air intake, roof vents complete a maintenance-free ventilation system that provides constant airflow.
For extra moisture mitigation, overhangs extend beyond the sidewalls of the structure and keep precipitation from the bed pack. Because there is no limit to the height of the building, higher overhangs also leave ample clearance for tractors, stacked hay and equipment to pass underneath.
Corrosion Protection
Fabric has non-corrosive properties and will outlast years of exposure to moisture, manure and other harsh conditions. Add a hot-dip galvanized rigid steel frame for a cattle barn that will last for decades.
Find out how Legacy buildings hold up in extremely corrosive environments.
Clearspan Area
The rugged frame and sturdy fabric of a Legacy building combine to allow ample freespan area inside. Tractors and loaders are free to maneuver anywhere in the structure. Flexible clearspan barns are easily rearranged for hay storage, cow/calf confinement, hog buildings, beef feedlots and more.
Economical
The natural sunlight and gravity ventilation systems eliminate the need to provide power inside the building – especially important when the structure is located away from traditional power sources. Legacy crews provide factory-trained installation services, so getting your new fabric barn up and running is easy, safe and fast.
Need a new cattle barn? Contact Legacy Building Solutions about a membrane structure building today.