Big Fabric for Big Projects: How to Streamline Oil & Gas Projects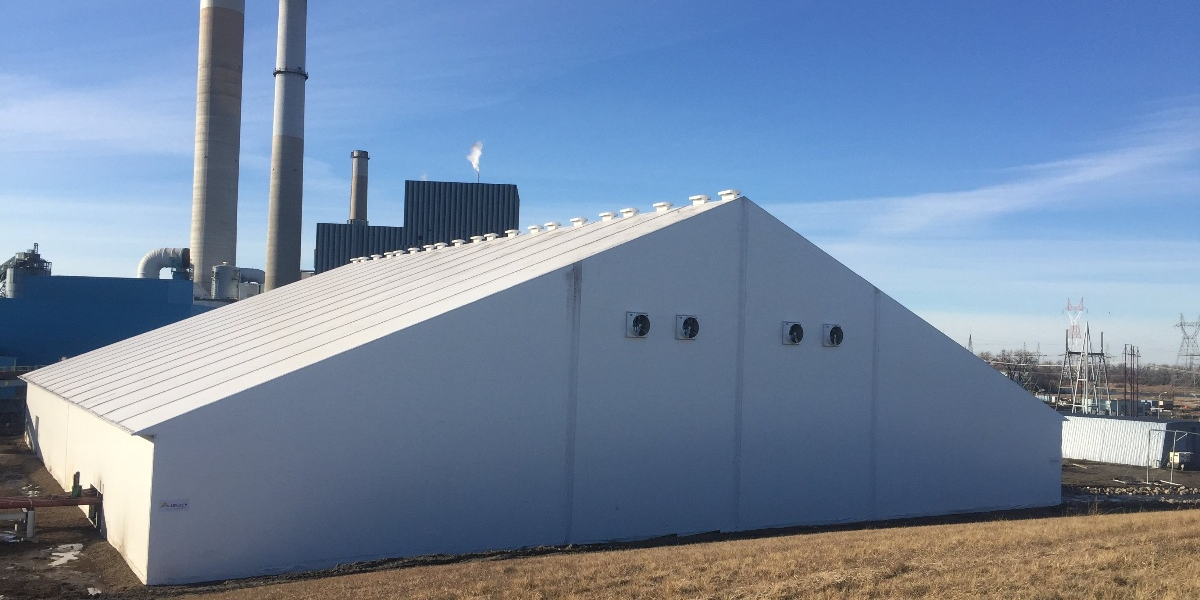 Harvesting the oil and gas that power society is a tough job, involving safety hazards, harsh environments and other obstacles. Keeping the operation under cover can make the job safer and more pleasant.
Many buildings can't accommodate the massive equipment used in the oil and gas industries in addition to the strict safety standards required on the jobsite. Custom engineered fabric buildings on a rigid steel frame by Legacy Building Solutions meet all specifications for size, features and code.
Legacy Building Solutions for Oil and Gas Construction Projects
Many pre-fabricated fabric building dealers offer a standard range of sizes. These sizes are convenient for the manufacturer – widths that are most common and easiest to sell.
In contrast, Legacy buildings are customizable in all three dimensions – length, width and height – as well as options like door placement, eave extensions and ventilation. With a building designed and constructed around your use, you'll work more efficiently than ever before.
Height is measured in two locations – at the eaves and peak. Customizing the eave height allows equipment and racking to the edges of the building, giving you more useable square footage without requiring a larger footprint.
Access Points for Oil and Gas Equipment
Access and egress for heavy equipment is a fact of life in the oil and gas industries. Impeding the movement of heavy equipment makes everyday tasks take longer and compromise safety. Legacy's custom engineered building design means doors and openings can be placed anywhere.
See a case study of a building with jackbeams for sidewall access.
Jackbeams allow extra-wide sidewall openings, which is vital for loaders and trucks. Separate access for personnel and equipment gives everyone and everything in the building a safe way to access the contents.
Ventilation Options for Fabric Buildings
Legacy's ExxoTec™ fabric is attached to the frame without small fasteners, and the fabric seals tightly around openings created for doors, ventilation systems and other openings.
This airtight building design enhances the efficiency of the ventilation system, as well as climate control for equipment. Ventilation creates a healthier, drier building and helps provide an ideal environment for occupants and sensitive stored materials. Learn more about ventilation options.
Energy-Efficient Fabric Buildings
A popular advantage of fabric buildings is natural light. This light is often used to keep energy costs low. In remote locations, this may mean a building that operates off the grid without the added expense and hassle of generators.
Fabric Buildings Enhance Jobsite Safety
Safety comes first. ExxoTec™ is a flame-retardant material that melts away rather than propagating the flame. This stops the fire from spreading and ventilates the building, minimizing the damage caused by the fire and smoke.
Read what our fabric structure experts say about fire safety.
The rigid steel frame is engineered to support any additional fire suppression or life-safety equipment required by building code or company guidelines.
Faster Construction for Gas and Oil Refining
A benefit of fabric buildings is the expedited construction time. While a Legacy building will never be constructed as quickly as a pop-up tent, Legacy is a vertically integrated company for speed at every stage of the construction process.
Legacy controls every step of the building design, manufacture and installation. With one company controlling the project and one point of contact from start to finish, you are able to meet your important project deadlines and realize a faster ROI.
Need a fabric building to enclose a massive operation? Click here to get started.