Fabric Pavilion: Protection Without Obstruction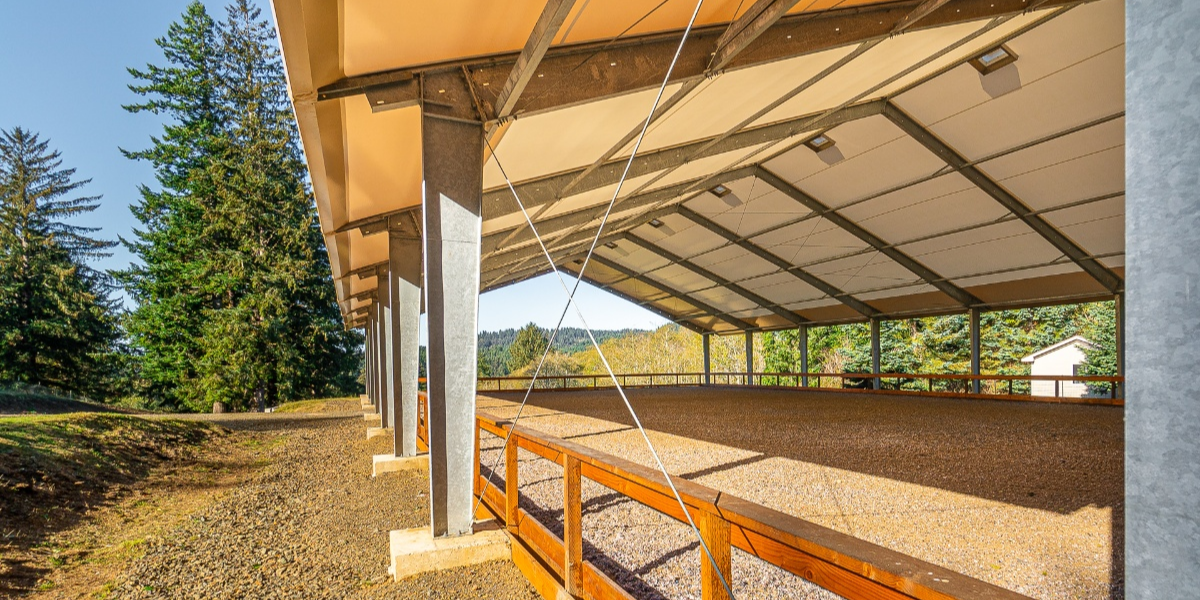 Engineered fabric structures are customized for a wide variety of uses. For applications requiring clear span area and unobstructed access, pavilion buildings with no endwalls or sidewalls may be the right choice.
Pavilions provide cover for everything from fairground and picnic shelters to sensitive stored material. The roof provides shade in and around the building, while the open sides allow people, vehicles and equipment – not to mention wind – to pass in and out.
Pavilion Building Framing Considerations
Consider all aspects of the open-wall building before construction begins. Because access is paramount to the building's functionality, consider what equipment will be operating in and around the building. The eave height should be tall enough for equipment to enter the building and maneuver inside.
The building application is also an important consideration – how will stored material be arranged? Is there clearspan space for the activities that will take place inside? The pavilion needs to be designed with adequate square footage as well as clearance.
Wind loads and ventilation are especially important considerations for clearspan pavilions built for outdoor events like concerts or sports. A fabric structure engineered to meet or exceed local wind and snow code regulations will be safe for use no matter the weather.
See an example of a pavilion building designed for 150 mph windspeed.
Many pavilion buildings will be exposed to corrosive elements like compost. While the fabric itself has non-corrosive properties, the steel frames also require corrosion protection, such as hot dip galvanizing.
More Options for Pavilion Buildings
With building customization, pavilion buildings can be more than just a roof on a frame. Gabled endwalls or partial sidewalls, where the top few feet of the building have a fabric cover, are available in custom buildings.
DHL Express uses two fabric pavilion buildings for airport staging operations. Learn more.
Pavilion buildings with partial walls provide even greater protection from the sun by increasing the shade level in and around the building. The partial walls will also keep precipitation out of the building. By designing with taller clear height, there is often space for a gabled or partial wall without restricting access to the building.
Ventilation is another important consideration. While in many cases the open walls will provide plenty of airflow inside the building, in particularly sensitive environments – such as compost storage or waste processing – peak exhaust vents may be necessary to maintain air quality inside the pavilion.
Pavilions are versatile structures that include everything from practical storage solutions to shady resting places. With a little planning and preparation, it's possible to maximize your investment by customizing the fabric roof building to meet your current and future needs.
Ready to get started on a pavilion fabric structure for outdoor events or storage? Contact Legacy Building Solutions to get started.