Preventing Corrosion in Port Storage with Fabric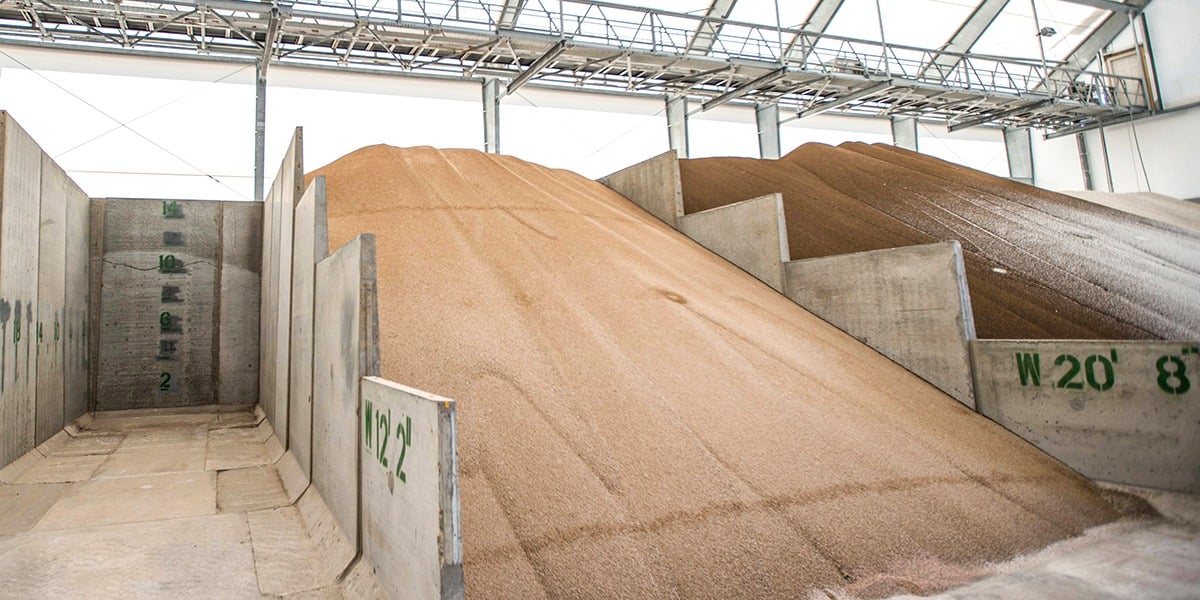 Corrosion is a costly problem. As a metal building corrodes, it weakens the structural integrity of the building – drastically reducing the lifespan of the structure, introducing leaks and causing expensive maintenance.
Steel roofs contain thousands of tiny fasteners joining the metal sheets. Each of these fasteners creates a tiny hole in the roof assembly, as well as an area where two metals join and corrosion is likely to begin.
Some elements, including salt and water, speed the growth of corrosion. This makes port storage buildings in terminals and marina environments particularly vulnerable to damage.
See an example of a port storage building used to store corrosive material.
Unfortunately, once corrosion takes hold of a building it is difficult or impossible to stop. The solution is to choose a building that is less vulnerable and more likely to maintain quality in a corrosive environment.
Fabric buildings by Legacy Building Solutions have several advantages for port and terminal storage.
Corrosion Resistant Building Materials
ExxoTec™ fabric is made of a strong woven polyester scrim with protective PVC coating and a top lacquer on each side. Unlike steel-cladded roof systems, fabric panels are welded together to create a weather-tight panel which is tensioned between the frames. This eliminates the need for metal fasteners which penetrate the roof to hold the panels together.
Unlike steel, ExxoTec™ is inert to corrosion. The cladding will not corrode or rust in any environment, and a warranty is always available – even at ports and terminals.
Steel Frames That Resist Corrosion
The first step Legacy uses in stopping corrosion is a solid steel frame. Solid web beams don't have hollow tubes where corrosion can begin undetected. If corrosion does begin on the surface area, the building owner can quickly correct the problem.
But the best way to prevent corrosion damage is to stop it before it starts. Buildings that will be used in corrosive environments or to store corrosive materials can receive a special treatment process to stop corrosion.
Legacy's corrosion protection package starts with garnet blasting the steel to an SP6 commercial blast. This removes impurities from the surface, and creates the microscopic peaks and valleys that allow the protective coating to adhere. Painters apply a total of 12 mils of durable, solid coating.
The first coat is 3 mils of a zinc-rich primer. Zinc provides sacrificial protection to the steel – if corrosive materials creep in through the outer protective layers, the zinc will corrode instead of the steel.
After the primer coat is dry, painters apply 5 mils of epoxy paint. The paint provides a solid barrier to protect the frame. Finally, 4 mils of durethane are applied. In addition to protecting from corrosion, the durethane layer protects from UV rays and other potential damage.
More about UV rays and fabric.
This corrosion protection process makes Legacy's steel building frames suitable for very corrosive applications, including marinas, salt storage or locations where the building frames will be partially submerged. Legacy is so confident in this system that we offer a 15-year warranty on the frame finish.
Other Advantages for Port and Marina Storage Buildings
Of course, good coastal construction techniques mean more than just corrosion protection. Legacy buildings also feature:
Custom design for increased efficiency
In-house design, manufacturing and installation for expedited construction
Engineered to meet safety and environmental regulations
Corrosion resistance is just one way a fabric building can serve your needs.