Why We Don't Do Rapid Deploy Fabric Structures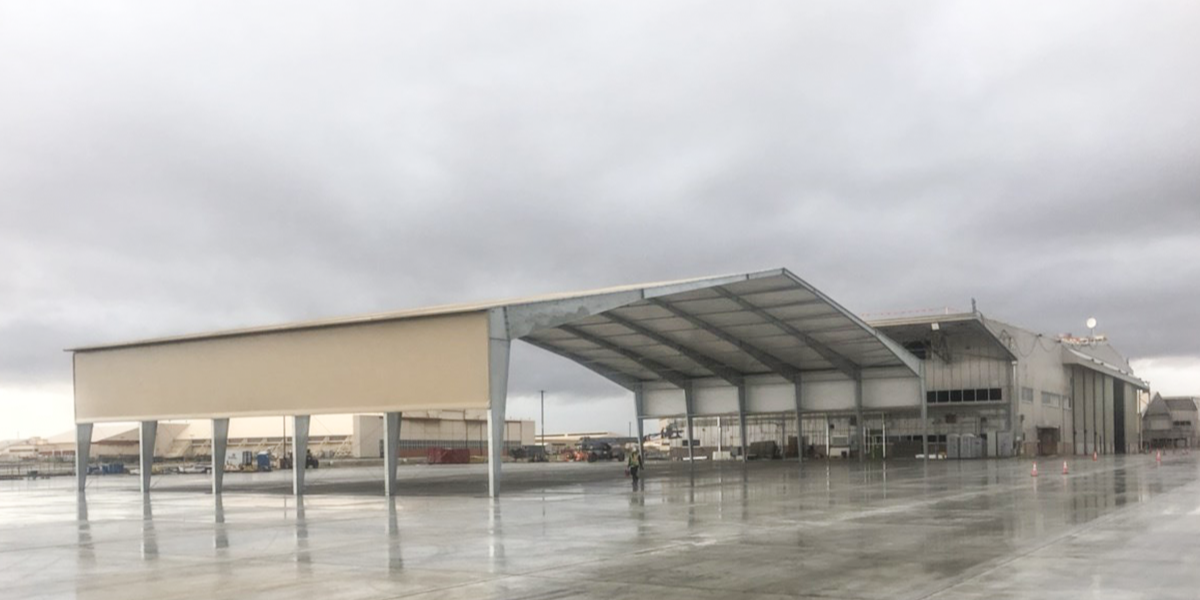 by Alex Rothstein
Legacy Building Solutions is different.
Although rapid deployment is an available option, it is not always the best option. It offers a quick and easy solution, but at Legacy, we offer you a better solution. Our solution is one that is highly engineered and customizable.
Legacy's custom design tension fabric structures have many advantages over rapid deployment. By erecting structures that can be customizable, we are open and able to accommodate the needs of the building.
For example, Legacy specializes in hangars for airplanes and helicopters in the U.S. military and overseas. Because our buildings are framed with solid steel, Legacy can custom engineer a tension fabric structure to over 300' wide in order to fit a large aircraft. Our engineers have the ability to meet your project's custom height, length and width needs for all types of hangars. Our system also adapts to multiple, if not all, types of door systems on aircraft hangars. Legacy is capable of designing the exoskeleton frames necessary to carry large aviation doors. Like the NAS Patuxent River Defense and Aerospace Structure, we have the ability to install large doors to accommodate the needs of the aircraft hangar, which was needed for this building.
Our buildings are not one-size-fits-all. We create unique, one of a kind structures built just for our customers.
We also provide the military with safe and secure structures so this no longer needs to be a worry. Legacy is able to construct specialty custom design buildings for Homeland Security for inspection stations. This Duos project provided Homeland Security with a railway inspection station to minimize their worry and maximize their protection.
If you want fast, rapid deployment, our competition has your back. If you want custom, engineered tension fabric structures, Legacy is the best choice.