Taking Stock of your Storage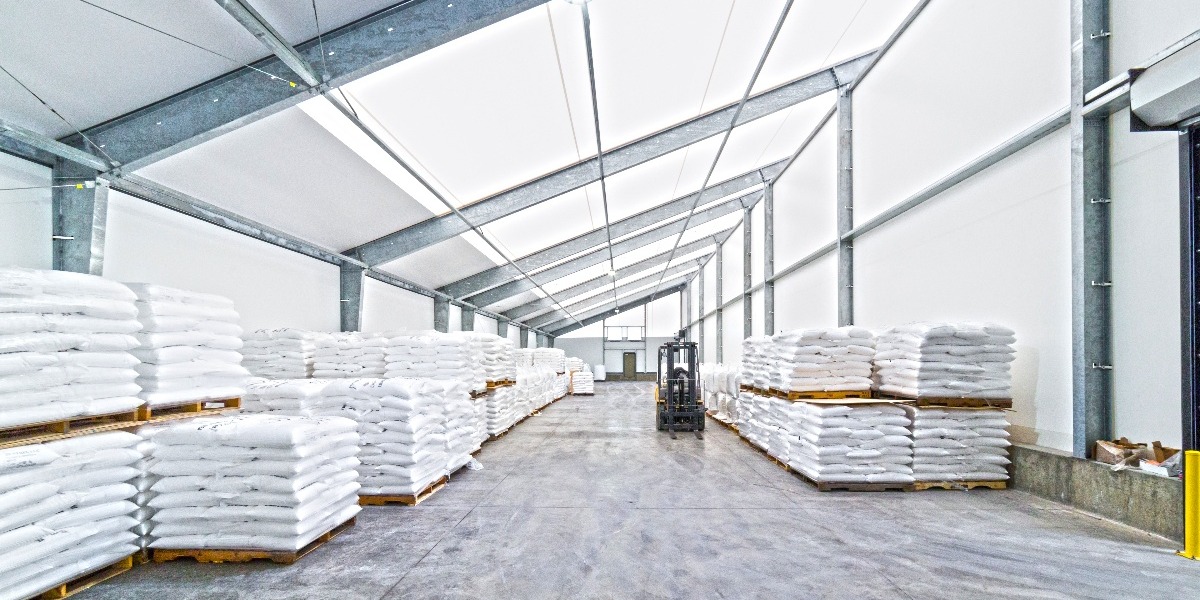 As the year begins, many have stopped looking at the past year and are looking forward to the approaching year. Storage has been a big theme in 2021, due to the economic climate, and it continues to be important as plans are made for the upcoming year. Of course, having lots of storage is good, but having really smart storage is even better. Legacy offers smart storage for a variety of materials--the kind of storage that is customized to your needs both now and well into the future.
Here are some of the things we help our customers store.
Dry Bulk
This is an umbrella term for commodities that are "raw materials shipped in large unpackaged parcels", and it includes things like grain, metal and energy materials. Two features of our structures that make them ideal for dry bulk storage is our clearspan space and our cladding. Because we use solid steel beams, we can design and build wide freespan structures (more than 300 feet) and no central supports. That's important for the folks who load and unload the materials because they don't have to constantly avoid central column supports.
Our roofs, using the same solid steel beams, can be designed to handle extra loads such as cranes, conveyors, catwalks and HVAC systems. The ability to add these elements, in the world of dry bulk, makes our structures more than just storage for materials. It makes them working buildings that contribute to productivity.
Fertilizer
Fertilizer presents some challenges in terms of storage. First off, the material itself is corrosive. We build with solid steel I-beams that are designed to last for decades, so we pay particular attention to corrosion. We use to rely on hot-dip galvanizing, but we have recently begun coating our steel with a variety of epoxy coatings (depending on the corrosive quality of the chemicals being stored). That protects our steel, which in turn protects the investment of our customer.
Also, fertilizer isn't just one thing. It's often a variety of different materials that get mixed together at the storage site and loaded onto the trucks for our customers' customers. Each mixture can be customized to the end users needs. Likewise, our buildings are customized to the needs of the building owner, and our structures become part of the work being done at the site.
Want to see what we mean? Check out the case study, profile and video of our work with Tronson Grain's Fertilizer Storage.
Crops
Many farmers are discovering the advantages of flat grain storage (in contrast to silo storage). In this article, they discuss the advantages of flat storage in terms of:
Ease of loading and unloading
Transportation
Importance of UV protection for crops
Importance of ventilation
Our proprietary Exxotec fabric is UV resistant and our structures support all kinds of ventilation. We also make extensive use of precast concrete walls inside our structures to create multiple, modular storage solutions.
Salt
Storage of salt presents the same issues as fertilizer: corrosion. Legacy has supplied salt storage structures for DOTs and salt mining company's across the country, and that helped us develop our epoxy coatings and our paint shop (built on our campus in 2019). Our clearspan space, without any columns, also helps plow drivers get in and out of the storage facility with fewer obstructions. That can be very helpful on early mornings, after a long plowing shift, when you need to get one more load of salt.
Sand
Most of the sand our customers store is for the fracking industry in the oil and gas exploration world. In that fast moving industry, being able to design and assemble a storage facility quickly is key. Our designers, fabricators and especially our installation teams are equipped to turn around a storage building very quickly.
Ore
Mining ore can be very corrosive, so our epoxy coatings are particularly important. In a recent case, the copper concentrate actually chemically reacted with zinc, so hot dipped galvanization was not even an option. Our epoxy coatings met their specifications perfectly.
Autos
Whether you need protection from the elements or a place for your mechanics to work on your fleet, our buildings are ideal. They can be lined and insulated for all seasons, and the crisp, clean lines of our fabric exteriors are beautiful. One Lexus dealership even turned one of our structures into a showroom.
Cargo
From ports to airports, customers use our structures to store cargo. They become key logistical elements in their supply chain. Open to the air or completely enclosed and insulated, these buildings solve a lot of cargo issues. Ontario International Airport (California) installed two cargo buildings and their clients were very happy with the results.
Leftovers
Recycling and scrap metal dealers often need a place to cover their materials to reduce the environmental impact, and we create warehouses for their materials. In addition, we have designed, fabricated and installed structures for the wastewater and biosolid facilities. Our unique combination of protecting the facilities with our fabric cladding but also leaving them open to the air made our structures the ideal solution.
Aircraft
We don't just do cargo. The aviation industry also uses our tension fabric structures as hangars for its aircraft. With our engineering and solid steel structures, we can go big…very big. Our entrances can be up to 300 feet wide to accommodate planes of all sizes. Again, having clearspan space inside the hangers—meaning no central columns—is vital to moving aircraft inside our buildings.
Military Equipment
Speaking of hangars, we have done a lot of hangars for the military. As it turns out, the military has a lot of resources—both equipment and personnel--that needs storing, so we work with them often. Our structures are also ideal for:
Warehouse Storage Buildings

Billeting and Mess Halls

Ground Maintenance Shops

Fitness Facilities

Overhead Sunshades
That's a sample of the some of the things we store. These materials are what makes your business, your organization, tick. Having a place to store it isn't a "nice to have"; rather it is a "must have." We can provide solutions that keep your organization, your operations running smoothly.