Tension Fabric Pavilions: Sometimes Your Building Needs to Breathe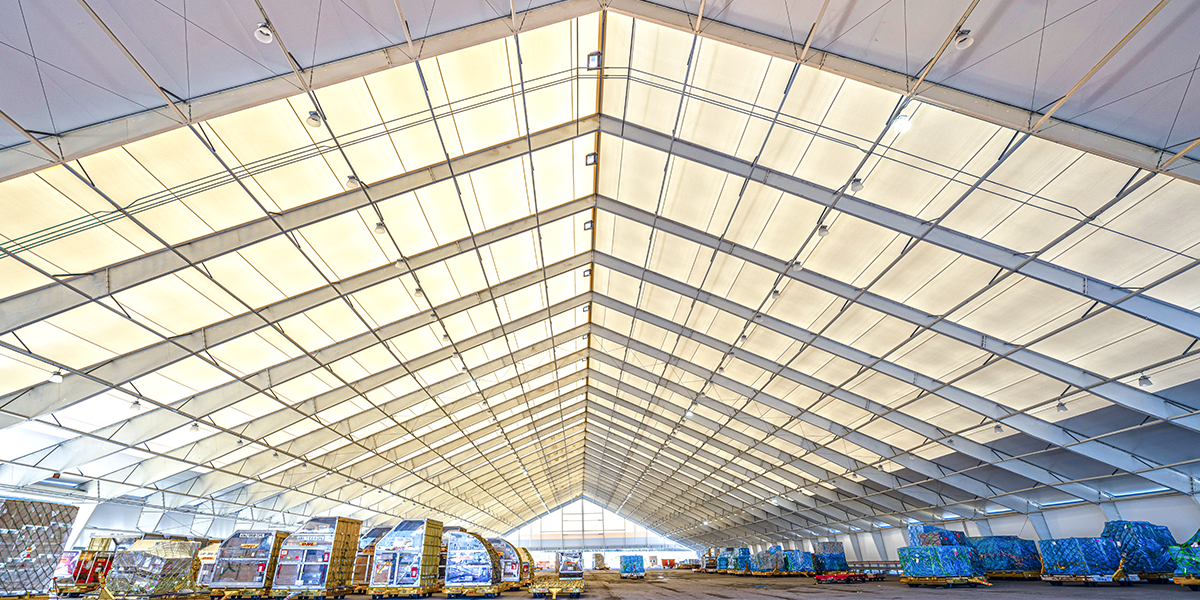 When you are in the market for a structure, you may not need the whole shebang—an insulated, enclosed space with HVAC and windows, doors, etc. You may only need some shelter from the elements, and that's why we design a lot of tension fabric pavilions for customers.
Open-to-the-air pavilions have a lot of advantages, especially when you pair them with the latest in fabric structure technology. Legacy's buildings feature proprietary industrial fabric cladding—Exxotec™—along with a patented installation process and solid steal rigid I-beams. Together, those elements create a solid structure that can be engineered to stand up to the toughest environmental conditions.
Room to Move
For situations requiring clearspan area and unobstructed access, pavilion buildings with no endwalls or sidewalls may be the right choice.
Pavilions provide cover for many uses: fairground shelters, covered riding areas, compost facilities sensitive stored material. The roof provides shade in and around the building, while the open sides allow people, vehicles and equipment – not to mention wind – to pass in and out.
Because access is paramount to the building's functionality, you should start by taking a census of the kinds of equipment that will be operating in and around the building. For example, is the peak height appropriate for the equipment to enter the building and maneuver inside?
Tension fabric pavilions give customers a lot of room to work with because we use solid steel, tapered, I-beam frames. These structures can be very wide—more than 300 feet—and the strength of the frame makes it unnecessary to have central column supports. That's what we call clearspan space, and it means you don't have any obstructions to work around. Whether it's loading and unloading, or just having room for all the people underneath the roof, clear span space can give your pavilion more usable space and easier movement.
From our experience there are a number of situations that call for a pavilion.
Riding Arenas
Legacy has a long tradition of serving the equestrian industry, creating open-air riding arenas for many customers. From large equestrian operations to private riding facilities, our pavilions bring certain benefits to those who work with horses. For example, when contrasted to traditional materials like steel, our arenas are much quieter. That's good for horses.
We also customize every building we create, so there is no one-size-fits-all with our riding arenas. Our combination of great designers, a great engineering team and our unique materials makes for a beautiful structure, inside and out.
With Legacy's white Exxotec™ fabric*, there's the additional benefit of natural light. Our roof and wall panels have 12% translucence, so the interior of your pavilion can be beautifully, naturally lit all day. Research shows that natural light is a benefit to both the animals and the humans working in that environment. In addition, our fabric cladding is virtually maintenance free.
Dry Materials
Some bulk materials, such as fertilizer, need a completely enclosed building, but others do not. Salt and sand, for instance, needs to be protected from rain and snow, but it can be safely stored in an open air pavilion. Some mining materials can also be stored this way, as well as some agricultural products. You, the owner, will know the best solution for your storage needs.
With some of our airport facilities, an open pavilion has been ideal for storing cargo. With DHL and the its facility at Cincinnati/Northern Kentucky Airport, their twin pavilions are used for cargo that is coming and going frequently.
Compost
Some customers use our pavilions to process wastewater and biosolids. Keeping these materials away from the weather is a matter of public health and is key to safely converting them. With sludge and biosolids, keeping them dry is vital to converting them to compost that can then be used in agriculture.
The City of Highland, IL, installed one of our open-air building for their wastewater sludge. Bill Zimmer, the city's plant manager, said "now we can save anywhere from 6 months to a year depending on how hard we push our digester and our press." With the old building, they had to transfer the biosolids to local farmers three or four times a year. "This Legacy building has been a very useful upgrade," he added.
Customization
In all these cases, having an open-air pavilion has proven to be the best solution for the building owners. Legacy customizes all of our structures, so pavilion buildings can be more than just a roof on a frame. Gabled endwalls or partial sidewalls, where the top few feet of the building have a fabric cover, are available in custom buildings.
Pavilion buildings with partial walls provide even greater protection from the sun by increasing the shade level in and around the building. The partial walls will also keep precipitation out of the building. By designing a structure with a higher peak, there is often space for a gabled or partial wall without restricting access to the building.
Pavilions are versatile structures that include everything from practical storage solutions to shady resting places. With a little planning and preparation, it's possible to maximize your investment by customizing the fabric roof building to meet your current and future needs.