Three Design Criteria for Your Equestrian Arena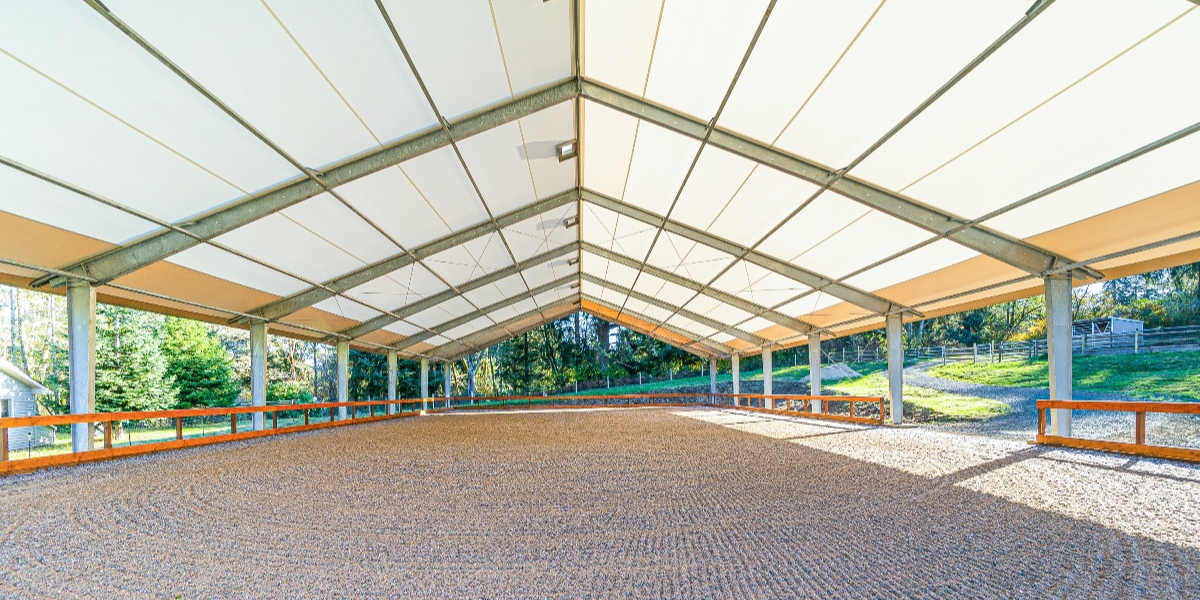 While Legacy builds our tension fabric structures for a lot of industries, people in the equestrian world really appreciate the beauty of what we can do. Those who "get" horses also get what we do: building clean, bright, majestic structures for equestrian arenas and complexes.
As you work with our designers or your architects, there are some factors that should go into your decision-making process.
Big
Legacy has been embarking on a lot of big projects lately, and our tension fabric structures do lend themselves to the "bigger is better" premise. That's because, as the projects get larger, the designs and improvements we've built into our materials and processes become more cost-effective. For example, we build with solid steel beams to create something that will last a long time, stand up to all kinds of weather and will meet local building codes. With our buildings, you should ask yourself how big your project will be and whether you are looking for a long-term solution.
Custom
If you want an off-the-shelf kit, that's not us. All of our buildings are custom designed to meet the specific needs of our clients. That takes a little more time and planning, but the results speak for themselves. Here are some projects we've completed to look at if you haven't seen our structures before.
Whether it's an open-air arena or an enclosed, insulated indoor space for your horses, you probably have specific needs. We are equipped to address those needs and exceed your expectations.
Permanent
There are some who still think we do tents, but nothing could be further from the truth. We didn't choose a fabric exterior for our buildings because it was the least expensive or easiest to work with. We chose to use our patented Exxotec™ fabric because it lasts decades and makes the most sense for our clients. Our fabric is tough, guaranteed for 25 years, and we use a patented process for installing so you won't need worry about it again.
By the same reasoning, we didn't choose solid steel frames because they were easy. We committed to steel because it has an established reputation for strength in construction. It meets local building codes and gives our buildings, especially equestrian centers, a clean look with straight walls. It is also designed to stand up to weather or seismic conditions, based on local conditions.
That's the long way of saying, when our crews show up with piles of steel, bundles of fabric cladding and cranes, you are getting a permanent structure that will stand up over time.
There are, of course, many other features that will factor into your decision to go with a fabric structure—e.g. natural lighting, gentle acoustics, beautiful exteriors, etc.—but these three should be right up front as you are considering a fabric option.
---
Susan Fowler, Building & Project Design Consultant
Susan Fowler has over 25 years of experience working with equine associations, including NTRA, AQHA, USEF, USPA and more. She focuses on commercial riding buildings that are bright, customized and code-compliant. Susan specializes in creating value for equestrian customers, including riding arenas, stall barns and pavilions.