Top 3 Advantages of Fabric Warehouses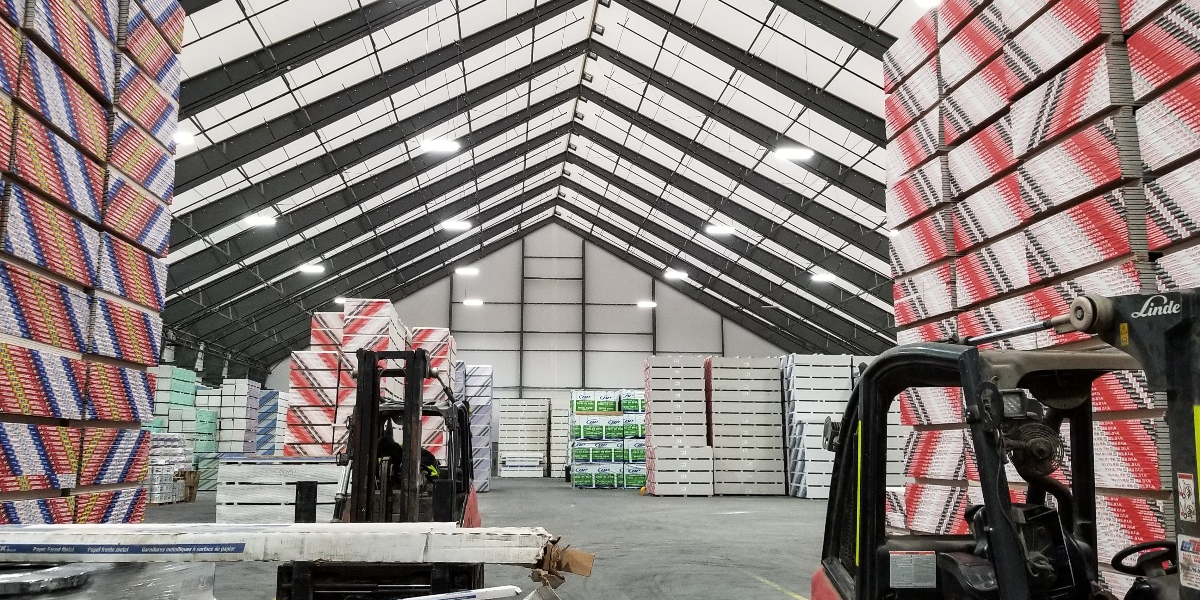 There may have been a time when warehouses were just simple, boxy structures. Today's warehouses have to be so much more. At a minimum, warehouses and industrial storage buildings must meet safety standards and building code requirements. Effective warehouses include streamlined design with clear aisles and racking to reduce operational friction and storage costs.
And few businesses have the flexibility to have a single-use warehouse. Many warehouses must include space for cargo sorting and processing, material handling, logistics, light industrial work, heavy equipment maintenance and transloading equipment.
Hard-working warehouses may also need weather-sensitive enclosures, employee break rooms and office space.
Fortunately, fabric structures by Legacy Building Solutions have all the options necessary for modern warehouse and storage buildings.
1: No Supporting Columns
Clearspan space is vital to warehouses. Supporting columns eat up valuable square
footage that could be used for racking and storage. Columns are also a nuisance when driving forklifts and other equipment – one accidental collision means damage to the equipment and the building.
Unlike heavy sheets of steel, fabric is easily supported by the exterior I-beams. This means no interior columns for buildings up to 300 feet wide, with no restrictions on length or height.
See a video tour of a fabric structure used for frac sand storage and material handling.
Steel-framed fabric structures create more usable square footage inside a storage building. The building engineer will adjust the sidewall height to allow overhead space for storage, operations and equipment inside. Taller buildings allow headroom for bridge cranes, conveyors and catwalks, and fire suppression systems.
Warehouses designed for loading and industrial use may also require cargo doors and large openings on the endwalls or sidewalls. Wide bay openings are created using jack beams and spreaders anywhere on the building to create extra-wide portals for heavy equipment and machinery access.
Fabric structures are customized for every step of logistical handling and supply chain management.
2: Better Interior Environment
Fabric structures have the same structural considerations as traditional buildings – the main difference is a better building envelope.
Fabric is a climate-responsive building material. Rather than magnifying the outside temperatures and creating extreme conditions inside, the fabric cladding retains the interior temperature. This simplifies climate control by maintaining a consistent temperature with less energy expended on heating and cooling systems.
Maintaining one temperature also prevents condensation and moisture build-up. Excess moisture accelerates the rate of product spoilage and creates an ideal environment for mold and bacteria growth. Eliminating condensation also extends the life of the steel frame by reducing the rate of oxidation and corrosion.
Ready for hands-off fabric building construction? Learn more about Legacy's installation process using factory-trained crews.
One of the defining characteristics of fabric buildings is the natural light that flows in through the walls and ceiling. In addition to saving on ongoing energy costs, the natural light further inhibits the growth of mold and bacteria and eliminates the dark corners so often used by vermin.
Liner Options
Fabric structures also have interior options customized for your environment. All
insulated buildings feature an interior fabric liner. The liner serves several purposes: it protects the frame and insulation, and it creates the backdrop for the building's interior.
The liner will keep the steel framework sealed off from the interior of the building. This prevents debris from settling on the building frame. In corrosive environments this will extend the life of the frame by preventing the steel from coming in contact with the frame.
3: Faster Profit
And most importantly, warehouses need to make a profit. Fabric structures can help with this in three ways.
Expedited construction: Build faster, profit sooner, lower construction costs. Your new building can be standing and fully operational in just a few weeks, so you'll be
Portability: Relocate to a new leased lot with no loss of quality. Fabric buildings are constructed as permanent but can be relocated as needed.
Flexible design: Customize the entire building around your operation and your equipment. Install cargo doors on the endwalls or sidewalls to allow large components in and out of the structure. Attach conveyors, cranes, fire suppression equipment, mezzanines for additional square footage and other systems. Use an offset peak to get the conveyor in just the right spot. Or add a lean-to to create room for storage, maintaining equipment and even offices. There are no limits to the design options available in your fabric structure.
No matter how big your operation or where you are on the supply chain, with a fabric warehouse building your structure works with you rather than working against you.
Is your warehouse working with you or against you? Contact us to get started on a fabric structure for your next warehouse and industrial building.