What's the Weakest Link in Your Grain and Feed Supply Chain?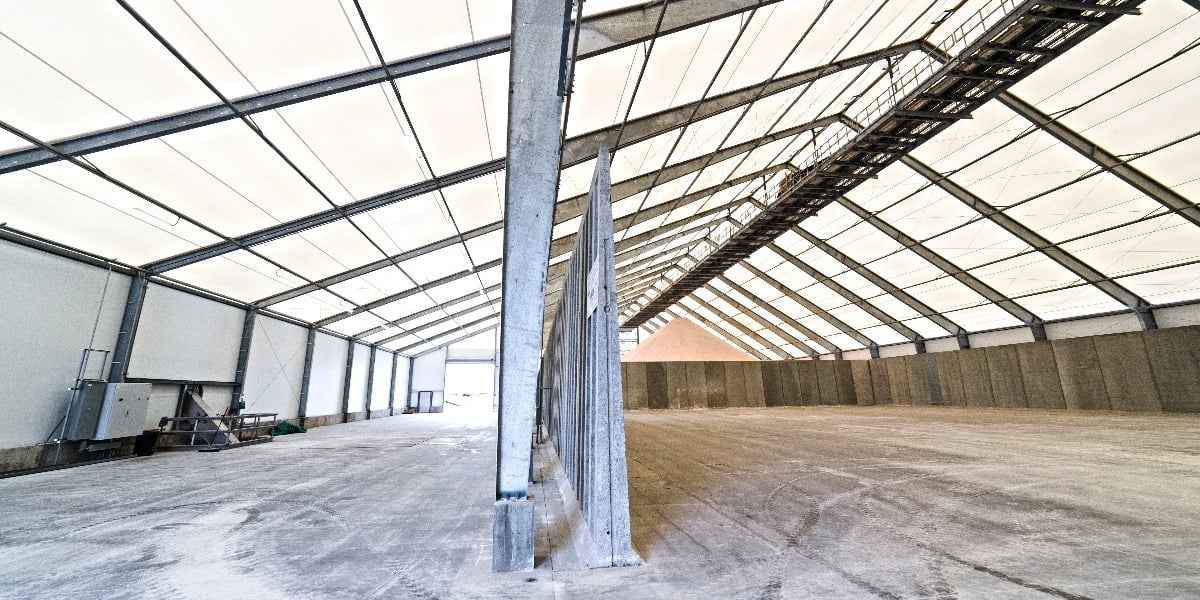 Supply chain problems are in the news a lot lately, but for the grain and feed industry the timing couldn't be worse. As harvesting begins, there are issues with shipping the grain, and even finding containers for it, in most ports.
These headlines summarize the problem.
The Shortage Ripple Effect—"Access to export containers has been limited by skyrocketing shipping costs and surcharges, making it challenging for U.S. grain exporters and producers to fulfill overseas contracts. American Farm Bureau Federation economists estimate the total loss in agricultural exports could reach $1.5 billion."
If you can't move it, you need a way to store it. Legacy has been creating farm storage buildings for grain and feed, all over North America, for years. Our tension fabric structures provide certain advantages for agricultural customers that you don't find in traditional storage facilities.
Unique Protection
With grain and feed, having the commodities protected from weather and moisture isn't optional, it's crucial. A fabric structure creates an air tight envelope around the frame that keeps the weather out—all of it. With metal buildings, the exterior cladding is typically attached with thousands of Tek screws, i.e. thousands of holes in the frames that can potentially leak air. If you are need a climate controlled storage building, fabric can truly seal in your commodities while still controlling humidity through a variety of ventilation strategies.
Fabric is also naturally thermally non-conductive, so your interior will stay warmer in the winter and cooler in the summer.
Loading and Unloading
Tension fabric structures are designed—we custom design all of our buildings—to make it easy to get commodities in and out of the building. At Legacy, we fabricate and construct our frames out of solid steel I-beams. That strategy makes two things possible.
First, our frames are very strong and can be engineered to support hanging loads. That means your storage structure for grains can be equipped with conveyors, cranes, and catwalks (and more) that are all supported by the frames. That can change your simple storage building into a fully functioning part of your operations. It's no longer just a place to put stuff.
Second, our strong frames and lightweight cladding allows us to create very wide clearspan space, meaning there are no central column supports getting in the way. The whole floor of the interior of your storage space is unobstructed, so loading, unloading and moving materials around is much easier.
Unlike hoop fabric structures, Legacy's buildings have straight walls so you can store grain and feed right up to the edge of the interior.
Legacy prides itself on being able to design, manufacture and install buildings without all the typical delays. Because we do everything in-house, we can be confident that we will deliver your storage building when we say we will. Our crews are trained in our construction techniques and will install your building more quickly than you might expect.
Let's face it, you're not going to need storage for just this year (though the current supply chain problems have exacerbated your storage needs). Our storage buildings are built to last. The solid steel frames, the tough fabric and a wide variety of corrosion-protecting coatings add up to a structure that will last for decades.
If you want to know more, we have compiled a book full of examples: The Bulk Storage Solutions ebook. It's a great gallery of our experience and our expertise.