Why Choose a Legacy Tennis Center?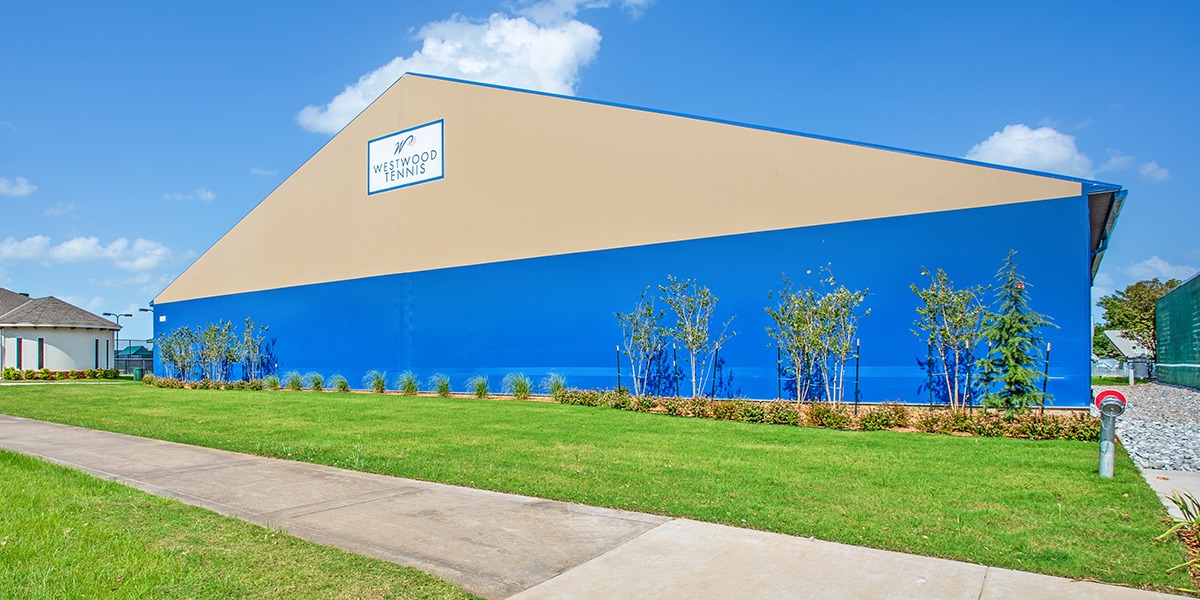 An indoor tennis center is the only way to guarantee the ability to play, practice and hold events year-round. The ideal facility meets USTA standards, allows for spectator seating, has optimal lighting quality and is fully insulated for energy efficiency. Legacy tennis structures offer these qualities plus a shortened construction schedule for on-time delivery.
Tennis Centers That Meet Codes and Standards
Each Legacy indoor tennis structure meets official standards for indoor play set by the USTA, LTA and Tennis Canada. The minimum recommended heights for tennis facilities are 18 feet at the eaves and 38 feet at the ridge, with at least 18 feet of open space between courts. Legacy can customize an indoor sports facility to meet these specs for any number of single, double or junior courts.
In addition, each structure is compliant to IBC regulations, including wind, snow and seismic loads, plus occupancy, energy usage and fire regulations. The proven strength of rigid steel frames means the structure will withstand any conditions.
Fully compliant high-occupancy structures are adaptable for any function. The high occupancy rating means you can hold recreational or national tournaments, end-of-season banquets, training camps and other events inside your tennis center without additional worry about compliance.
Rigid Frames Make Things More Comfortable
Rigid frame fabric structures aren't like the old fabric stadiums you're used to – the building interior doesn't rock, creak, move or leak, no matter the weather. The indoor arena has all the comforts of the indoors. Eave extensions also create passive air movement in every structural bay system that flows throughout the closed cavity. There are no huge fans creating noise inside the arena, just the sound of the ball on the racquet and whatever sound system you specify.
The rigid steel frame system is engineered to accommodate additional loads from LED lighting, sprinklers and fire suppression systems, scoreboards and even a viewing deck. Suspending these systems from the building frame keeps them out of the way yet visible from anywhere inside the tennis arena. Even the weight of banners and divider nets can be engineered as part of the building frame, allowing them to be permanently hung with no safety or maintenance concerns.
Custom design also accommodates spectator seating, interior pro shops and locker rooms. Adding these amenities makes your tennis facility more popular, and maybe even more profitable.
A Look All Your Own
Not all tennis centers need to look the same, and there are more options than white and green (although white and green are available if you want them). The exterior of the structure is designed to complement nearby buildings or stand out with a look all its own. Multiple colors of fabric are available, as well as alternate facades like steel panels, masonry and windows and glazing walls. Or print your logo on the fabric so it's visible as soon as guests arrive at the arena.
The tennis arena interior features bright white fabric, which reflects light to easily provide the recommended 70-100 footcandles recommended for indoor play. The liner evenly reflects light without dark corners or shadows, and is stretched over insulation for a uniform, distraction-free interior look that is resistant to ball puncture. We provide the cushion protection needed around immediate playing systems.
Legacy's design team considers other factors, including ADA compliance, fire suppression systems, custom headers for large openings and emergency exits. Water management systems including gutters and downspouts, icebreakers, and interior and exterior lighting are also available.
Insulation up to R-30 is available for year-round play in any climate. The fabric exterior muffles outdoor sounds rather than magnifying them, making for more comfortable, focused play during any weather conditions. After all, the last thing you want is an indoor tennis arena that's noisy or uncomfortable during bad weather.
Even with insulation, liners and complete interior installation, fabric structures are installed more quickly than traditional steel buildings. This means your indoor tennis facility will be up and running sooner, with no loss of indoor season dollars during winter block time.
The Legacy Advantage
Full construction management means the process from signing the contract through post-construction is easy for the building owner. Legacy crews are licensed, bonded and insured, and we use factory-trained installers. Our team has also achieved ISO 9001:2015 certification, one of the few fabric structure manufacturers to do so.
We control the quality of our structures from fabrication through post-construction service, leaving you to focus on training your players and marketing your new indoor arena.
At Legacy, we may not be able to improve your game but we can improve your facility. Contact us to learn more about indoor tennis arenas for recreational, club or professional play.