Why Fabric Structures for Fertilizer Storage?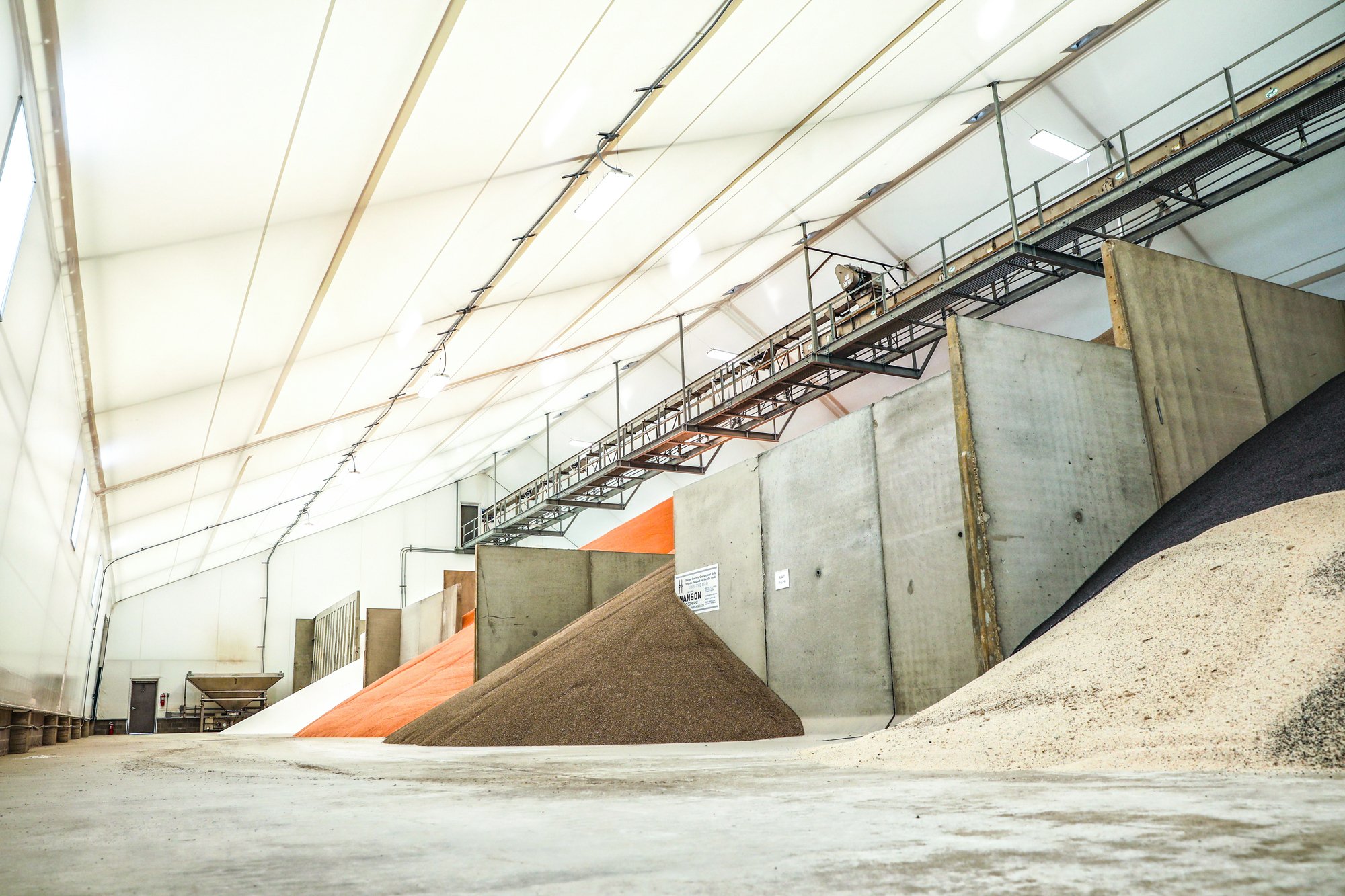 As the Ag industry changes, the nature of fertilizer storage has to keep up with the changes. For example, with larger machinery in the fields, crops go in faster and earlier. That changes the fertilizer storage dynamics.
"You have to be at capacity to be able to handle that in today's ag world," says Brent Benike, the general manager for Northern Farmer Coop in Williams, MN. "Product has got to be on hand so you can get it out the door quickly."
Benike and Northern Farmer chose to go with a fabric structure—a tension fabric building-- for fertilizer storage. Here are some of the reasons they went with fabric.
Corrosion
Fertilizer dust, in particular, and the fertilizer storage environment, in general, is not friendly to steel. As Benike says, "everything that fertilizer dust touches wants to corrode." Fabric cladding is, of course, completely non-corrosive. That's one of the reasons why many industries look at fabric structures. For an extra level of protection, some customers add a liner to their building design. That's what Northern's Benike did, and he said in the long run, he knew it would be worth it.
Steel clad buildings, by contrast, are quite vulnerable to corrosion. Every inch of traditional steel structures need to be protected, and monitored, for corrosion, and that can be a lot of ongoing maintenance work.
With fabric buildings, protecting the steel frames comes in two forms hot-dipped galvanizing (HDG) and epoxy coatings. Legacy offers both, but it thinks building owners get better protection from epoxy coatings. Legacy has its own proprietary suite of epoxy coatings called EpoxxiShield™.
Clean
With fertilizer and its added dust, keeping a storage facility clean can be an ongoing maintenance cost. Fabric structures are virtually self-cleaning on the exterior fabric. The panels also cover the steel frames, so while the exterior sheds dirt, the frames are also sealed off from moisture. With traditional materials like steel, wood and concrete, dirt and peeling paint and rust are all part of the upkeep of your building. Over time those costs can add up.
Loading/Unloading
Storage space must, first and foremost, be functional. Legacy's structures rely on tapered I-beam (solid steel) frames. The strength and proven engineering of those frames allow Legacy to create very wide clearspan spaces (more than 300 feet wide). With clearspan space, you don't have central column supports to interfere with trucks loading and unloading.
Mixing
A lot of storage buildings are just that—storage and not much more. With fertilizer storage, you often want the storage to be a productive facility where you can mix different products in different amounts based on the requests of your Ag customers. In that way it's more like a manufacturing facility in addition to storage. Legacy has done a lot of fertilizer storage with added mixing towers.
The ability to support more than just walls and a roof with the solid steel frame is what sets Legacy's tension fabric structure apart. It helps the building owner imagine new possibilities for the storage space, and owners can add elements that will make it a truly functional structure. Like the customized mixes that fertilizer companies create, Legacy tailors every building to the individual customer.
Benike's current building does not have a mixing tower, but it has space for one. He knew his current mixing tower was old and on its last legs, so we designed a structure with space for the tower as well as a conveyor that would be supported by the structure's frame. That's what we mean by customization.
If you want an alternative to traditional storage structures of metal or wood, tension fabric structures have some distinct advantages that typical buildings can't provide. Likewise, if you want a fabric building but need something that's more than just a covering or a temporary solution, Legacy has a solution that will last for decades--one that's protected from corrosion and needing very little maintenance. Fertilizer storage isn't just a space. It's a business. Let us partner with you.