9 Fabric Building Benefits for Warehouse and Storage Uses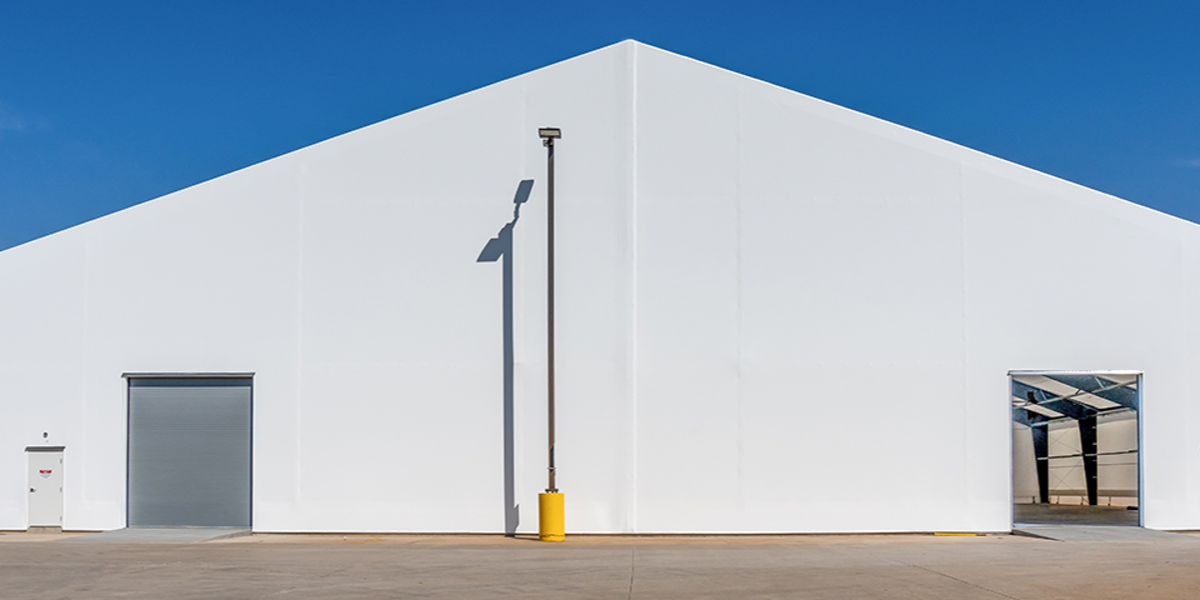 As logistical and delivery problems continue to plague the country, consumers still expect easy access to the goods they purchase in stores and online. The most successful companies are able to pivot quickly as demands grow and change.
Pivoting quickly means investing in infrastructure. Specifically, increased storage capacity means you can always have the right products on hand, in the right place, and ready to deliver. Even if your business is not storage, imagine the profit potential of a just-in-time warehouse that is ready to rent out to a small or large business.
But when it comes to warehousing, fabric structures have numerous advantages. Whether you are storing bulk material or pallets of consumer goods, your business can run more efficiently in a fabric building by Legacy Building Solutions.
Why Choose a Custom Warehouse Building Design?
A warehouse custom designed to meet your specifications will allow you the most efficient operation with your available space.
Warehouses have to do more than store products; you also have to be able to load and unload that product quickly and safely. Unlike bulk storage bins, flat storage buildings do more than just storing. You can stock and maintain equipment, run retail operations, and even incorporate office space into the building design.
Adding hanging loads to the building frame also increases the efficiency of your warehouse building. Suspending cranes, conveyors, catwalks, and other equipment from the building frame makes a big difference in the reception and dispatch of goods, whether you are transporting to and from trucks, barges, or railcars.
Suspending large equipment from the building roof also keeps it off the floor. Every square foot of floor space occupied by support columns is a square foot that you cannot use to store materials.
Customization extends to the building access as well. Forklifts, loaders, and trucks can access a custom building through multiple overhead doors or oversize doors to create a safe and efficient warehouse with a separate access point for personnel.
Overhangs allow for proper water management with gutters and downspouts. Creating a safe, dry area around the building means your staff can load and unload without slipping or getting precipitation on your equipment and stored items.
Legacy Building Solutions also customizes fabric buildings to include climate control and ventilation systems. A proper interior environment can help keep your stored material dry and cool, contributing to longevity. See a ventilated bulk storage building in action.
Custom Design Warehouses for Bulk Storage
Bulk storage warehouses for grain, fertilizer, road salt, and agricultural products often use precast concrete panels to create bulk storage bins. These bins are reconfigurable for future business operations and flexibility.
Unlike the upright bins often used to store bulk material, flat storage warehouses allow you the flexibility to conduct blending and mixing operations inside the same facility where the material is stored.
Legacy Building Solutions has a long history with salt storage buildings. See just one example.
Custom Warehouses for Consumer Good Storage
Customizing your consumer goods warehouse allows for the clear span design you need and the ability to build wider along the sidewalls and endwalls. This creates more space for stacking pallets of goods, with additional headroom for shelves and mezzanines.
No matter what type of goods or supplies you are storing, a custom warehouse design makes it more efficient and cost-effective to run your business on a daily basis.
Advantages of Clear span Design Buildings
Clear span buildings do not have interior support columns. Legacy Building Solutions uses proven FEA software to design fabric buildings with a freespan interior up to 300 feet (91 meters) wide.
Clear span design is essential for cost efficiency and safety. Interior support columns create hazards for equipment driving inside the building. Forklifts, scissors lifts, and even trucks can crash into support beams–potentially causing injury, time loss, and damage to machinery and the building.
In addition to safety concerns, interior support columns take up the space you need for bulk piles or pallets of stored material—the more space available inside your building, the more space you can devote to storage.
Clear span Design for Bulk Storage
Storing bulk material in bins means limited flexibility and options for future growth. But flat bulk storage with precast concrete barriers has unlimited flexibility for reconfiguring the volume and number of stored products and equipment maintenance and work options. Flat storage also provides the most cost-effective method for bulk commodity storage.
ExxoTec™ PVC Fabric Enhances Your Building Efficiency
ExxoTec™ PVC fabric creates a more natural environment inside the building. This is a pleasant environment for workers and a building that is more energy-efficient and longer-lasting.
The natural light inside an uninsulated fabric warehouse allows you to save money on running and maintaining an electrical lighting system. You may even be able to run the building during the day without using indoor lighting.
When required, energy-efficient fabric cladding may also allow your warehouse to operate off the power grid while still having plenty of light inside the building during daylight hours.
ExxoTec™ is also naturally non-corrosive. When storing highly corrosive materials like salt or fertilizer, or for corrosive environments like port storage buildings or mining operations, non-corrosive cladding can add years to the life of your structure.
With Legacy's unique fabric building construction, individual fabric panels are permanently attached to the building frame using our patented fabric attachment system. With the fabric secured along the entire width of the rafter frame, typically at every 20 feet of length, the panels are secure enough to withstand industrial use. If a panel sustains damage, it can be repaired without spreading to other areas of the building.
Advantages of a Rigid I-Beam Steel Frame Treated with EpoxxiShield™
Legacy's rigid I-beam fabric structures with EpoxxiShield™ technology are built to last in any industrial applications. With multiple layers of epoxy coatings providing a barrier coating to protect the steel framing members, Legacy buildings combined corrosion-resistant cladding (fabric) with an epoxy coated steel frame designed to withstand exposure to moisture, salt, and other rust-causing elements.
Some fabric buildings with corrosion-resistant cladding use open web trusses instead of a rigid I-beam solid steel frame. Open web trusses use hollow steel tubes as the basis of the structure, and the tubes are vulnerable to corrosion and have hidden areas invisible to the building owner. Since rigid I-beams are constructed with solid plate steel, this minimizes this potential risk.
Learn more about EpoxxiShield™.
Steel Frames Create Structural Integrity
Legacy's Rigid I-beam steel-framed buildings are engineered to withstand the pressure from local environmental loads (wind, snow, and seismic) as well as additional pressure from hanging loads.
Using the same engineering methods and software as pre-engineered metal buildings means your engineering and inspection teams will understand the safety and longevity of your structure. Internal and external pressures are supported by the steel frame.
Quality of Today's Fabric-Covered Warehouses
You may have experience with old-fashioned fabric buildings that are un-engineered and built with open web trusses. If that is your experience, you do not know today's fabric buildings! Legacy's modern fabric warehouses on a rigid I-beam steel frame are the highest-quality structures available on the market today.
Think of the open web truss buildings as the first generation of fabric warehouses. These buildings became popular because they are easy to set up, portable, and filled with natural light. Now that the technology exists to have the same rigid I-beam steel frame as warehouses that have been trusted for generations, Legacy fabric buildings have unlimited uses.
There is no match for Legacy's fabric buildings on a rigid I-beam steel frame in corrosive environments. Every inch of the building can be designed to resist the formation of rust. Because rust is impossible to control once it starts, preventing rust from forming is critical.

Only uninsulated fabric buildings have natural light coming in through the cladding. This natural light can reduce or eliminate the need for electrical lights inside the building.

Engineered rigid I-beam steel frames withstand industrial use and environmental dangers from wind, snow, and seismic activity.
But the quality of materials only matters when the building is expertly engineered, manufactured, and installed. That is another advantage of warehouses by Legacy Building Solutions–a team that is dedicated to fabric buildings that use in-house trained installation teams for every aspect of your structure.
Fabric Building Manufacturing
Once your building has been designed and approved, component manufacturing begins. Your fabric warehouse will be created at our Minnesota headquarters using ISO 9001:2015 certified processes.
One advantage of Legacy's process is that the entire team is located on-site. If a problem arises during manufacturing, construction or installation, our team will work together to arrive at the best solution. Your agent will be kept abreast of every step of the process, with no time wasted with disputes between the building seller, designer, manufacturer, and installer.
What does this mean overall? Faster construction. Your project is scheduled to cause minimal interruptions to your business and system.
Steel Frame Manufacturing
Our rigid I-beam frames are made of 55 ksi steel, and every piece of steel is inspected when it arrives at the facility.
Then the steel beams are welded by Qualified Welders using state-of-the-art tools. Each weld is inspected by a Certified Welding Inspector.
The end use of the building will dictate how the steel is finished. Finish options include hot-dip galvanizing, priming or our exclusive EpoxxiShield™ epoxy coating, which creates a barrier coating separating the steel from corrosive elements. All finishings are applied evenly on all steel surfaces.
Fabric Cladding Manufacturing
When the fabric arrives on site, it is inspected for quality, color, and consistency. Each panel is precisely cut and welded in our climate-controlled facility to fit the building design.
Quick Installation of Fabric Buildings
Your business needs your new infrastructure as soon as possible. Whether your warehouse is part of an expansion or a new business venture, it is critical that the warehouse is up and running as soon as possible.
With traditional construction, often, one entity designs the building and then gives you specs to solicit for bids. An extended design and bid process can often lead to delays in determining the product's design and manufacturing. Legacy's integrated design, manufacture, and install process for the building can speed up the timeline to completion of your project.
Once the building is on-site, construction is breathtakingly fast. Our experienced crews can even work around your existing operations if needed to help keep your timeline intact. See how we did it.
Low Maintenance Fabric Structures
Unlike fabric buildings on open web trusses, Legacy buildings are designed using a patented fabric attachment system. With this patented system, the fabric is properly tensioned horizontally and vertically during installation, which means the fabric should never need to be retensioned again, unlike most other manufacturers' designs. Additionally, all sub-framing remains permanent, allowing for a safer fabric installation process. The fabric is securely fastened to every framing member, and this means no friction on the fabric, no stretching or pulling, and no detaching from the frame.
Some open web truss buildings are built with the fabric attached only at the end frames. This means that the fabric along the entire length of the building is vulnerable to lifting and pulling away from the building frame–causing damage to the fabric itself and likely leaving the contents of your fabric warehouse unprotected.
Passive Light in Fabric Structures
Uninsulated fabric warehouses are naturally bright from the natural light that shines in through the roof and walls. As the natural light can permeate from all directions, it can provide much better visibility with no dark shadowy areas. In addition to saving money on electrical costs, this passive lighting also requires no maintenance, and your staff will not have to spend time changing light bulbs and fixtures.
ROI of Fabric-Covered Warehouses
Your new warehouse is an investment. And while the initial low price is important, the overall value and ROI make a difference to the bottom line.
Here is how a fabric warehouse by Legacy Building Solutions increases your ROI:
Longer lasting: A fabric building on a rigid steel frame will last longer than steel-cladded buildings or fabric buildings on an open web truss in corrosive environments.

Reduced maintenance: With Legacy's patented attachment system, there is often no need to re-tension the fabric during the building's lifetime.

Ready sooner: In-house services, design-build construction, and an experienced installation team mean that your building will be ready to use sooner. You will get to work sooner and have room to store your valuable assets.

Natural light – in the case of an uninsulated building, the fabric is twelve percent translucent, making for a lighter space and a much happier working environment. Even if the building needs to be insulated, a clean white fabric reflects light well and will brighten the interior.

Fabric with thermally nonconductive properties helps your building be cooler in summer and warmer in winter, potentially reducing your overall heating and cooling costs.
Why Choose a Fabric Building for Your Warehouse?
Options for new warehouse buildings are nearly unlimited. While there is no universal solution that will work for every type of business and every warehouse, a Legacy fabric building has several advantages for your cold storage needs:
Custom design to maximize your investment

Clear span interiors to make the most of your available space

ExxoTec™ fabric cladding

Steel frames finished with EpoxxiShield™

Quality design, materials, and installation

On-site manufacturing

Quick installation saves you time (and money)

Faster ROI

Low maintenance for greater efficiency
Ready to learn how a fabric building by Legacy Building Solutions can solve your storage needs? Contact us to get started.