Aircraft Hangar Design Guide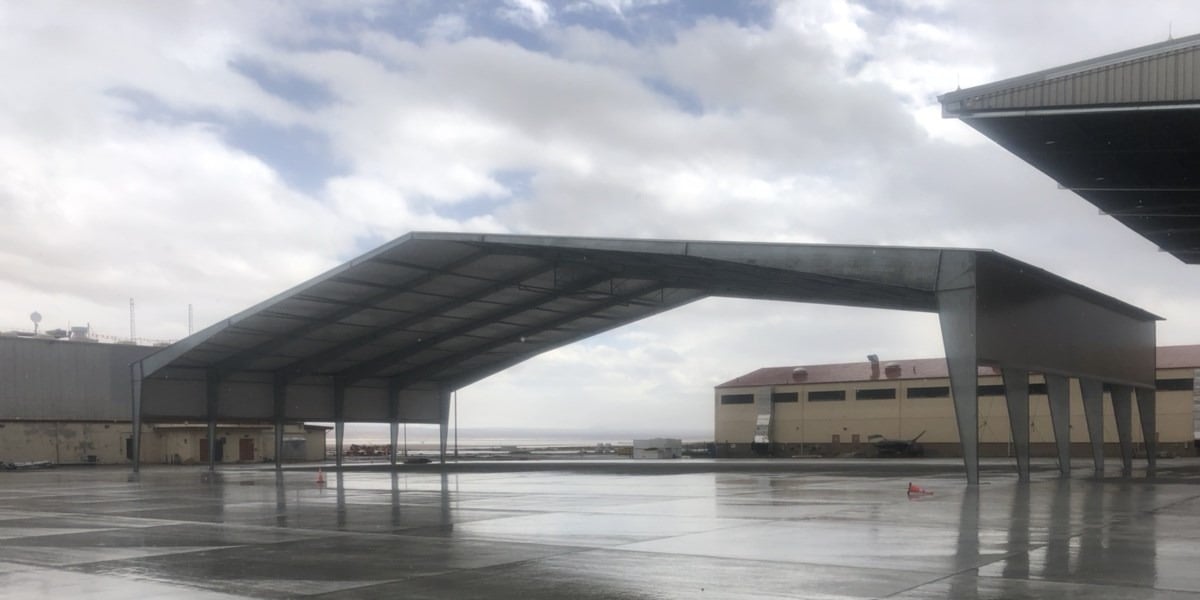 Aviation buildings by Legacy Building Solutions combine the benefits of fabric – including natural light, NFPA 409 compliance, expedited construction, longer life cycle and reduced maintenance costs – with the proven strength of a rigid steel frame.
The engineering benefits and design flexibility of the frame allows Legacy hangars and aviation buildings to soar above the competition. Legacy buildings have FAA compliance and unlimited design options to meet aircraft hangar structural design specifications.
Rigid Steel Frame Allows Unlimited Design Options
Clearspan space is a fundamental requirement in aircraft hangar design guide specs. Combining fabric with the strength of rigid steel allows for buildings without interior support columns. In the case of Legacy buildings, this means clearspan widths up to 300 or more feet, along with any length.
Legacy aviation buildings are more than just hangars. Check out this design of a cargo staging facility.
Accommodate any commercial or military aircraft inside the building. Safely support a hangar door. Use the space for cargo, staging, logistics, racking, assembly or heavy equipment. More interior space means more flexibility for current and future use.
In addition to horizontal clearspan space, Legacy buildings have straight, vertical sidewalls. The design maximizes the interior square footage of the building, making them more cost-effective and efficient.
Even the roof is customizable, with unlimited options for eave height and peak height, including barrel-top roofs, monoslope design or off-center peaks to accommodate horizontal stabilizers, rotors and scaffolding needed to meet aircraft maintenance hangar specifications.
Moisture Control and Ventilation
Another benefit is the ability to add a water mitigation system. Controlling the flow of water is vital for keeping runways dry, complying with regulations and protecting landscaping and other areas around the building.
Using the design flexibility of the rigid steel frame, Legacy buildings have multiple options for water management systems – including overhangs, gutters, downspouts and icebreakers.
Overhangs form the basis of effective water management and ventilation systems. The only fabric buildings capable of added overhangs use a rigid frame system like Legacy's – other building types, such as those built on open web trusses or tubular frames, cannot support the engineering necessary for overhangs.
Standard overhangs are 18 inches; standard and oversized options are available to meet requirements based on rain intensity figures at your site. Gutters and downspouts may be placed along one or both sides of the building.
All buildings need ventilation. In many applications, a passive gravity ventilation system consisting of air intake and exhaust vents will create an adequate flow of cool, fresh air. Powered ventilation systems, which produce a specified number of air turns per hour, are also available.
Overhangs allow for soffit ventilation to aid in the natural ventilation of the building or to provide attic ventilation in an insulated or lined building. They run the length of the building, eliminating dead hotspots in the center. Varying the width of the overhangs will control the amount of airflow into the building.
Individual Fabric Panels
Many fabric buildings are constructed with one large sheet of fabric covering the structure – meaning the entire cover must be replaced if a sidewall is damaged. In these buildings, there is no clear separation between the walls and roof. Any damage can easily spread to the roof and leave the contents of the building exposed until the repair is completed.
Under Legacy's system, if one or more sidewall panels are damaged the individual panels are replaced without disrupting other areas of the building.
Our exclusive ExxoTec™ PVC fabric outlasts the competition. Learn more.
If damage is a concern, endwalls and sidewalls may be constructed out of alternate materials – such as steel sheeting, glazing walls, masonry, concrete panels, or even one- to two‐hour fire‐rated walls.
These alternate wall materials provide added strength and security against external forces. Before choosing an alternate cladding, the Legacy team will discuss the new material and how it will impact your fire suppression needs.
Hanging Loads
Hanging loads keep building features like lighting, bridge cranes, fire suppression equipment and heating and cooling systems off the ground and out of the way. Hanging these loads from the frame leaves the clearspan space undisturbed.
The ease of designing framing members to support these collateral loads is another advantage with using rigid frame structures. Custom engineering means it is safe to suspend these systems where they are needed, without over‐engineering the rest of the building at a considerable additional cost.
Lean-Tos
Lean‐tos are an extension of the building off one side. Lean‐tos may be the length of all or a portion of the sidewall. There may also be multiple lean‐tos on one building.
A lean‐to is a useful way to add more space to the building or to separate multiple functions. There may be a wall between the lean‐to and the main building cavity, or they may be fully open. Lean‐tos have many applications – sometimes they are used to store different goods, or to create barriers between fuel storage and work areas.
Access Points
Large equipment, aircraft and machinery often need large clearspan openings for safe, easy access. There are a few options for this.
The rigid steel frame allows for unlimited door options, including MegaDoors, vertical lift doors, bottom‐rolling doors and bi‐folding doors. The door load is accounted for in the framing, and the building width and roof slope are adjusted in compliance with FAA regulations.
See an example of massive doors on this aircraft assembly hangar.
When accessibility is more important than weather protection, shade shelters without sidewalls or endwalls are available. Shade shelters may be customized with one or more enclosed walls, enclosed gable ends or simple roof shelters.
Jack beams are horizontal transfer beams that carry an intermediate frame that has had its sidewall column removed. The load is then transferred to the adjacent frames and their corresponding columns.
Using jack beams allows the building to be safely supported with fewer vertical members, creating extra‐wide openings – 20 feet or more between supports. Jack beams create large sidewall doors, entry points for sidewall cargo access and loading, or two-way cargo transfer between structures.
Insulation
Insulation up to R‐30 is available. Insulation is installed between two layers of fabric and may be installed throughout the building or in targeted areas.
Enhancing the efficiency of insulation and climate control systems is another benefit of fabric – independent studies have shown Legacy's insulated buildings to be 157% more airtight than comparable steel buildings.
Fire Suppression
By nature and definition, fabric structures are classified as Group IV buildings by the National Fire Protection Administration. Group IV buildings with less than 12,000 square feet of fire area do not require a sprinkler – potentially saving thousands of dollars during initial construction and the lifespan of the building.
Learn more about fire suppression from our fabric structure experts.
For buildings that do require a fire suppression system, water deluge or AFFF systems can be accommodated.
Installation
Legacy employs factory-trained installation crews, who meet the requirements of OSHA certification and other safety requirements as needed. Every member of Legacy's crew has a thorough understanding of fabric buildings and the unique needs of each of our customers.
While there are many fabric building manufacturers that serve the aviation industry, not all fabric buildings are created equal. Using the proven design engineering of a rigid steel frame gives Legacy buildings an added advantage for airport hangars, cargo processing, staging and logistics facilities.
Looking for an aviation building? Contact us to learn more about design considerations for hangars, storage buildings and logistics facilities.