Are you making these mistakes when considering fabric buildings?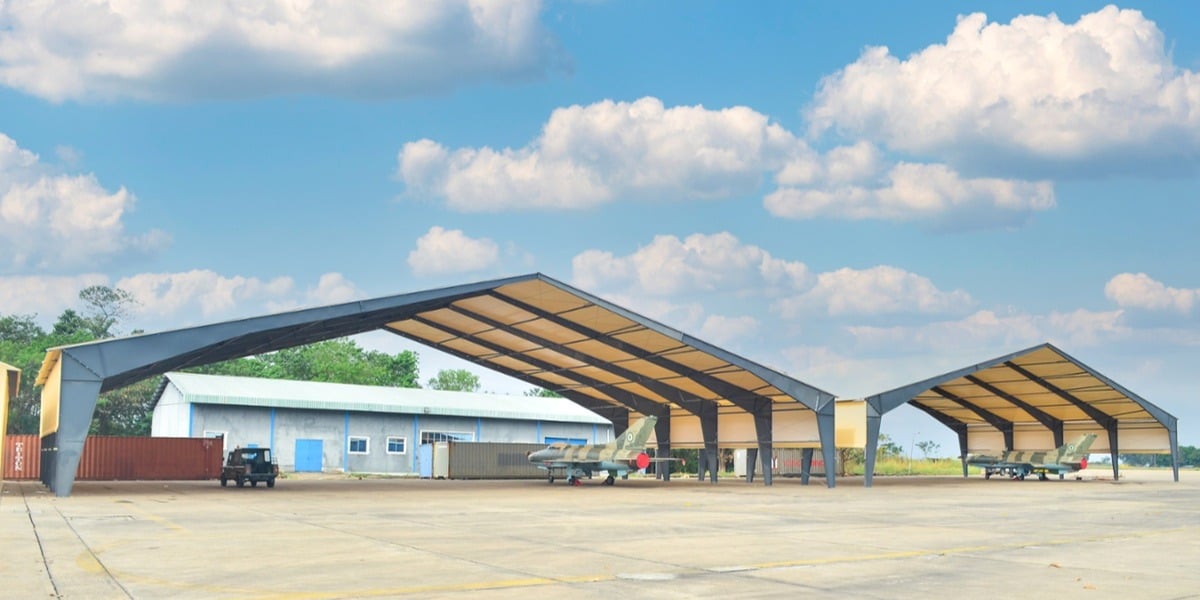 In terms of big projects, buying a building is right up there. There's a lot to think about, lots of moving pieces, and a lot of ways to go off track. When buyers go "off track", they can end up stuck with a structure that doesn't last, doesn't work for them and costs too much in terms of the life cycle.
Knowing what to avoid is sometimes half the battle. Once you eliminate the wrong turns, the correct path becomes more obvious. Here are some wrong turns to avoid.
Open Web Trusses
Many fabric structure manufacturers use open web trusses to create the frame for their buildings. These consist of hollow tubes welded together to create a semi-circular frame. On the plus side, they may be relatively lower priced and light weight. However, when compared to solid steel I-beams, it's easy to spot some important differences.
On the minus side, web trusses hide corrosion. If corrosion starts inside the tube, there's no way to detect it until the rust has eaten through the tube. In addition, there is potential cord plastification, where a thin steel web within the truss "punches" through the wall of the supporting cord of the truss, eventually leading to instability or structural failure.
Learn more about the solid steel frames used in Legacy buildings.
These and other reasons pushed Legacy to take a different direction: rigid frames made of tapered steel I-beams. Rigid frames allow us to design with "engineering certainty" using the same software and techniques that are standard with traditional metal buildings. Each I-beam is made of solid plate steel. In addition to creating a strong, durable structure, the solid steel frames allow us to create clearspan spaces that don't need central column supports. For customers who use our buildings for storage of bulk materials, the ability to load and unload without obstructions is a real advantage.
Using solid steel frames gives you, as the building owner, additional options that can optimize your operations. For example, our beams can be engineered to support conveyors, cranes, catwalks, fire suppression systems, HVAC systems and lighting equipment. Using the right frame can make your building work for you.
Because our steel is such an important component of our structures, we recognize the need for corrosion protection, especially in highly corrosive environments such as salt storage, mining chemical storage and fertilizer storage. We have created a suite of epoxy coatings for our steel frames called Epoxxishield. These coatings create state-of-the-art corrosion protection for our customers' structures.
The third element in our trifecta of durability is our proprietary fabric—Exxotec. This is a PVC-based industrial fabric we use for our wall and roof panels (as well as our interior liners). It's tough, it stands up to extreme weather conditions, and it's virtually maintenance free. It's another reason why our structures are a step up from other fabric structures out there.
Monocovers
Monocover buildings have just one large piece of fabric stretched over the entire building. The cover is attached to the end frame members, while the center frames support the fabric from below, they are not attached. In a mono-cover fabric building, the fabric tensioning pressure from the fabric is transferred primarily to the two end frames.
Additional pressure on the fabric – from strong winds, for example – are passed on to the end frames of the building in a greater proportion than the intermediate frames. When this is too much for the end frames, they can twist or even fall completely, bringing the entire building down. Similarly, a rip in the fabric can easily spread across the entire cover, leaving anything inside the building vulnerable to the elements.
Legacy uses separate wall and roof panels, and each frame has an individual panel which is attached to each frame member using our patented fabric attachment system which allows for proper tensioning technique of the individual fabric roof panels. The fabric pressure is evenly distributed among the frames, protecting any one frame from overstressing. Even if there is a strong force inside or outside the building, the fabric is securely attached to each frame and will not pull on other framing members.
Letting just anyone Install the Building
In many cases, a general contractor will subcontract the construction work to a local crew. For traditional buildings, that may be fine, but not for Legacy's tension fabric structures. Fabric structure installation is a specialized process, and our structures have proprietary techniques that are essential to the success of the project.
Our crews are trained in our patented installation techniques, as well as our strict safety standards, and they travel the world erecting building after building. Because we manufacture the materials for our structures, our teams in the steel and fabric shops know exactly how to load the components onto the trucks so our crews can efficiently unload the product and begin the installation right away.
Anyone who has worked in construction knows how important it is to have excellent coordination.
It's a given that mistakes can be costly. When you are making decisions about a project like an entire building, those mistakes can look even worse. Legacy has taken the potential drawbacks of an open web truss fabric structure and removed them from the equation. What's left is a fabric structure that is strong, durable, safe and cost-effective in the long run.
Want to know what else to avoid? Check out this blog.