Benefits of Fabric for Military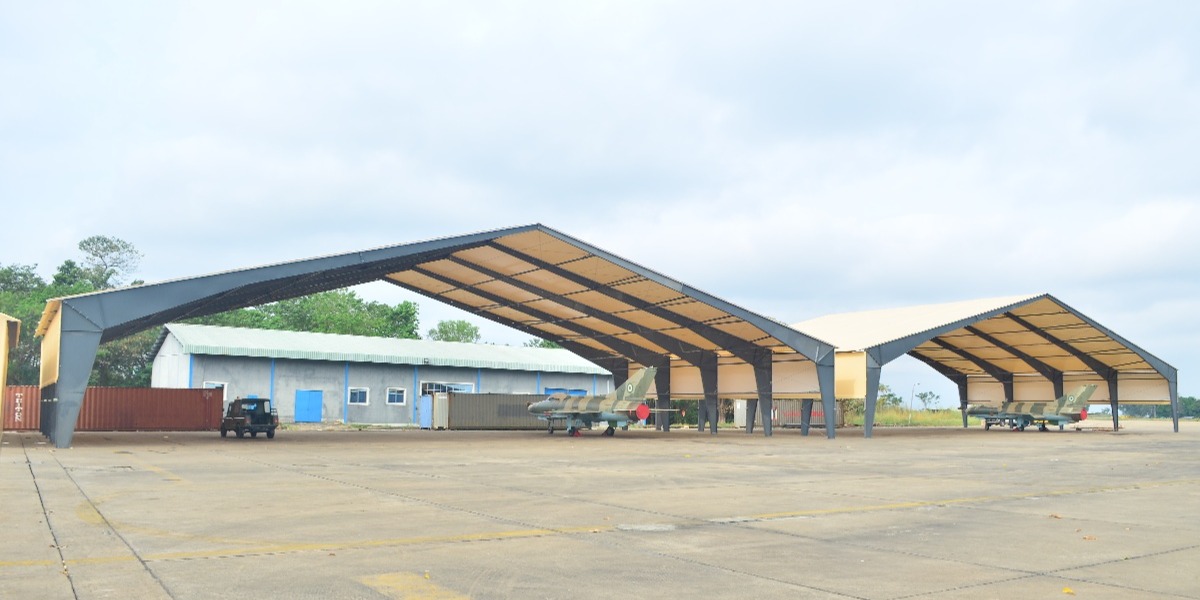 Three basic things humans need to survive: food, water, and shelter. If you are looking for the latter, Legacy is where you should be looking. Let us show how the Armed Forces readiness can improve with a Legacy building.
Who is Legacy?
Established in 2010, Legacy Building Solutions manufacturing headquarters is based in South Haven, Minnesota. Legacy manufactures custom-designed rigid I-beam frame tension fabric structures-- the most durable in the tension fabric industry. Our patented keder rail attachment system sets us apart from competitors. We offer 28 oz fire retardant PVC fabric, as "Berry Compliant" grade if it is required, and EpoxxiShield™ paint or hot dip galvanizing (HDG) to protect our steel from corrosion. Our CEO, Ben Fox, has been in fabric building construction for decades, and he knew there was a way to make fabric structures more durable with quality that would last. Thus, Legacy was born. Learn more about us on our website.
Fabric for Military
The military relies on fabric buildings more than most industries. Units deploy to remote regions around the globe where little infrastructure exists, and shelter is required that can easily be erected. Legacy provides the structures needed for many military applications, some with clear span space up to 320 feet wide. Our structures are designed to meet building code to withstand extreme weather in whatever operating environment. We can also design to handle collateral loads including overhead cranes and hoists if necessary. Check out this article about how one of our buildings took on a derecho!
Choosing fabric means soft walls, which means you are selecting a longer service life. The maintenance is significantly reduced as fabric can take more of a beating due to its flexible nature. Another bonus is the return on investment you will get with a Legacy building; no need to wait for MILCON funding approvals. Fabric structures can be installed in a fraction of the time it takes to put up a metal or brick & mortar building. Our buildings can be purchased as relocatable structures through DLA's Tailored Logistics Support Program (TLSP) as well as traditional contracting methods. When you move forward with a custom-designed Legacy building, you are investing in a permanent solution rather than a temporary structure. Legacy building design applications include:
Storage/Warehouses
Large Aircraft Hangars & Sunshades
Troop Billeting & Command Posts
Overhead Sunshades
Fitness Facilities
Dining Facilities
Large Area Maintenance Shelters (LAMS)
Advantages of Fabric
Fabric is a superior building material in many ways. Our fabric is twelve percent translucent in an uninsulated building, allowing for a fair amount of light to come in. This makes for a more pleasant working environment or perhaps imagine a brighter dining hall. It is rated for severe weather, including high winds and snow loads. Our fabric also has thermally non-conductive properties. Unlike steel or concrete, fabric lessens the transfer of heat or cold, which means your building will feel cooler on hot days and warmer on cold days, even in our non-insulated structures. Moreover, fabric is naturally inert to corrosion. In the event of storing corrosive materials, this is naturally a greatly desired perk, but it also applies when the building itself is located in environments where the elements could degrade building cladding quicker, such as coastal areas. And of course, time will eat away at steel, and having more fabric incorporated into your structure provides an overall extended service life.
Our fabric has been strength tested by driving a ten-thousand-pound skid loader suspended in the air by a fabric sample. No damage was sustained to the fabric, frames, or our patented attachment system, and although the fabric stretched from the weight, it fully re-tensioned itself within twenty-four hours. The PVC fabric we use is manufactured with seven layers to achieve the highest performance; two layers of lacquer, two of primer, two of topcoat, and the base fabric. These coating and finish layers allow for a longer service life.
How We'll Get it Done
Design – we are here to help begin the process. It does not matter if you have a vague idea or a fully-fledged plan
Engineer – Legacy's staff will help problem-solve and design the best building for you and your stakeholders
Manufacture – from raw steel and fabric, we fabricate the building frame to specifications, prepare the fabric, and ship it to your project site location
Install – we have our install team that will go almost anywhere your project requires
Legacy is versatile; our equipment and innovative minds allow for customization. Our structures are relocatable and expandable but durable enough to be your permanent solution. Take a look at a more detailed way Legacy helps the military with fabric structures.
We're Ready When You Are
Fabric is a building material with many advantages without compromising what you are looking for in any other building. Fabric is corrosion-resistant, lets in more light, and has a longer service life. Soft-sided walls, as well as rapid construction, increase your ROI. Legacy has a carefully thought-out process that delivers you a unique structure.
Legacy provides a vital service by supplying impressive tension fabric structures. For the military, soft wall shelters have been in practice for a while; allow us to show you the best version of what has been done in the past. We are excited to take your ideas and project requirements and turn them into functioning shelters. Trust Legacy with your next requirement – we have the experience necessary to complete your project successfully!