A Better Arena for Better Riding: Advantages of Legacy Riding Arenas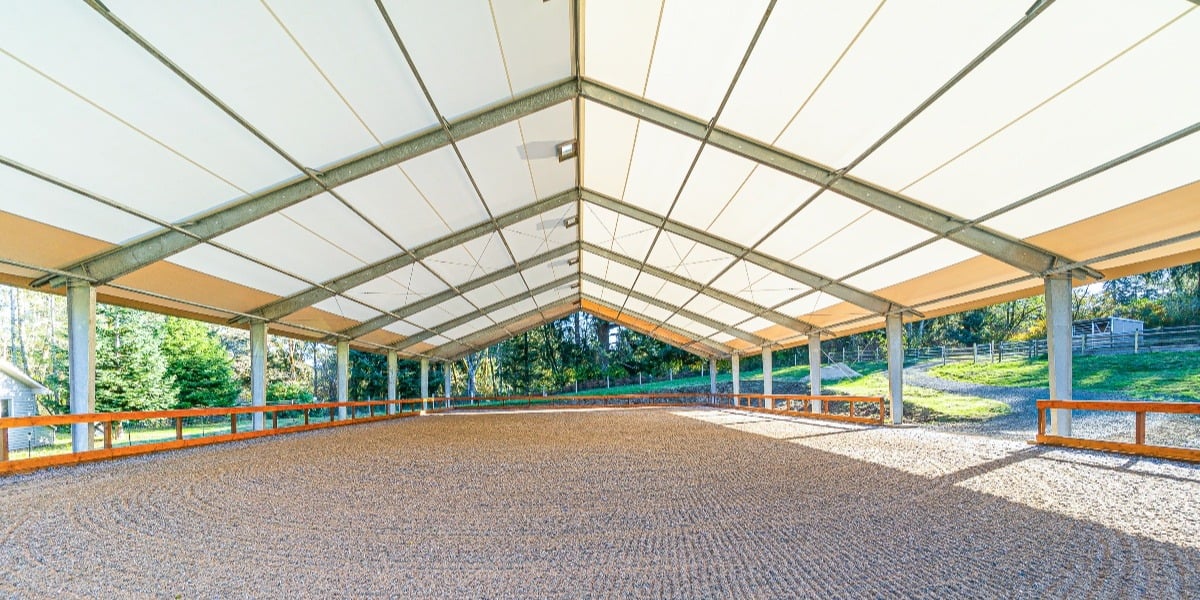 Giving your horses a daily workout is important for their health and performance. This daily workout can also be a great opportunity for you to learn new skills, enjoy time with your horse, or simply relax and let go of it all.
But riding outside can sometimes be unpleasant. A hot day with the sun beating down on you, or a rainy, windy or cold day can make even the most eager horse and rider feel dispirited – or worse, cause injury or illness.
With a sheltered riding arena, you can ride every day in comfort. Without the
distractions of weather, you can focus on learning new skills and enjoying your
time on the horse.
Fabric arenas are well-known among professional and recreational riders because of the superior environment inside the buildings. Fabric is one of only a few building materials that allow natural light to flood in through the ceiling and walls.
ExxoTec™ fabric has up to 16% translucency – lowering the electrical lighting cost in the building, helping horses to see better and providing a more natural feel. Light coming in from every angle of the building eliminates the dark, shadowy corners that can spook horses or make them skittish.
Steel sheets magnify the sound from rain, wind or hail outside the building, as well as echoes or squeaks from inside the building. Fabric will dull or muffle many of these sounds, giving horses one less reason to spook and riders one more reason to ride in poor weather.
Riding arenas can be fully enclosed, with walls on all four sides. Or they may be roof-only pavilions, which provide a roof but no walls. With the design flexibility of the rigid steel frame, Legacy can customize a shaded or enclosed professional riding arena.
Fully Enclosed Riding Arenas
A fully enclosed riding arena has a fabric roof with steel or fabric on the walls on all four sides. These enclosed buildings provide ultimate protection from all types of weather.
This arena in Winnemucca, Nevada, is used for a variety of fairground and equestrian
events year-round.
Unlike steel sheets, which transmit and magnify the outside temperature, fabric is climate-responsive. This means that the fabric cladding will better maintain a comfortable interior temperature, even without added climate control systems.
With the design flexibility of a rigid steel frame, enclosed riding arenas have multiple options for doors and ventilation systems. No matter what type of riding you will be doing in the arena, there will be room for riding, jumping, trailers or even spectators.
Shaded Riding Arenas
In areas with milder weather, a simple shade shelter will provide the ideal environment for riding. A pavilion building with a roof and open walls will provide natural light in every corner of the building while keeping UV rays out.
A fabric building with open walls will provide shade, while allowing the breeze to flow into the building. This ventilation and cross breeze will make it feel many degrees cooler under the arena roof.
Silver Drache Farm uses a shaded riding arena for year-round riding in Florida. See
the case study.
Steel arena roofs are constructed with thousands of tiny fasteners. Each of these fastener holes, as well as the seam between the steel sheets, is a potential starting point for drips and corrosion. Every leak dripping into your arena is damage to your footings and an unpleasant surprise for riders. Fabric provides a waterproof barrier to protect everyone inside the arena.
Protecting Footings
High-caliber sport horses need to be protected from injury and strain. Most serious riders use specialized footing on the arena floor to protect the horses. A covered riding arena will protect the footing, meaning less time spent on maintenance and a longer lifespan for the footing.
A sheltered arena will keep rain and other elements off the footing. The strength of Legacy's rigid steel frame allows overhangs to extend out past the footing, adding protection for the sensitive ground cover.
Legacy's arenas offer natural sunlight, a superior environment and design flexibility that is unmatched in the industry. For public riding arenas, these advantages mean more returning riders, fewer weather delays and, ultimately, increased profits.
Don't wait until the weather turns. You can start planning for your riding arena now.