Building Beautiful and Functional Equestrian Arenas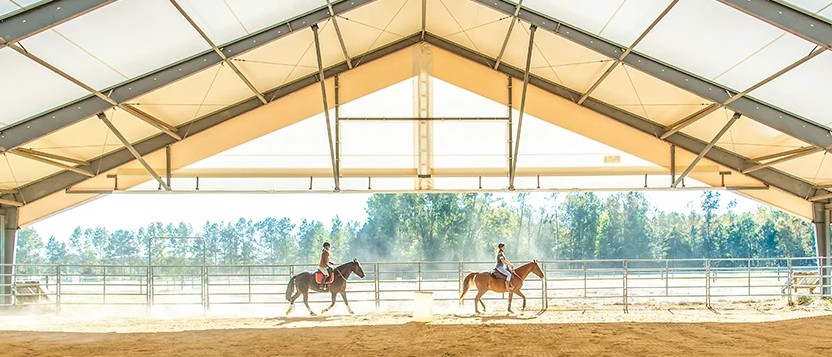 Horse enthusiasts are happiest when they're partnering with their beautiful, powerful companions in some type of athletic activity: dressage, jumping, barrel racing or other rodeo events, the fast-growing sport of mounted shooting, lessons, or 4-H shows.
Interest in horse ownership and equestrian sports is up—way up since the pandemic. According to the American Horse Council, the equestrian industry supports 1.4 million jobs and 7.1 million horses and contributes $122 billion to the nation's economy. To accommodate all that interest and all those horses, the need for equestrian arenas is on the rise, too. But not just any facility will do.
Most sports use equipment, but horses are living creatures. Their comfort and, especially, their safety are paramount. Special care is taken to ensure the surface of any equestrian arena is ideally suited to whatever activities will take place. But what about the structure itself?
Functionality Is Top Priority
Different disciplines require different overall square footage—dressage versus jumping, for example—and many facilities are intended to be multipurpose. Whatever a facility's specific size, large open areas are essential for line of sight as well as effective space configuration.
Details that contribute to functionality and comfort include:
Access for people, horses, trucks/haulers, service providers, and maintenance
Indoor air quality, especially when activities kick up dust that can be bothersome to horses as well as humans
Lighting—sufficient consistent light without dark spots or shadows
Acoustics—no echoing and a quieter environment overall
Special features such as mezzanines or lean-tos
Adjacent areas such as viewing stands, barns or stalls, turnout lanes, and storage and tack rooms
Indoor climate control
Fully functional arenas aren't just more convenient; they are safer for horses, riders, and others who access the structures. But what about aesthetics? As beautiful as horses themselves are, don't they deserve a beautiful workspace? Everything that takes place inside an equestrian arena—work or play—is even more enjoyable in an attractive environment.
ExxoTec
™

Buildings Offer a Blue-Ribbon Solution

A tension fabric riding arena is ideal for any equestrian activity—amateur or professional, private or open to the public.

Legacy ExxoTec™ buildings are permanent structures built to meet all applicable building and occupancy codes. They are custom-designed and engineered one at a time to fit your location and usage needs. That includes exact building length, width, and height. All components are manufactured in-house and assembled onsite by our own Legacy Building Solutions experts. This single-source process is faster and more convenient and can reduce miscommunication and delays that often frustrate construction projects.

ExxoTec™ fabric equestrian arenas offer more advantages:
Rigid steel I-beam construction creates a frame strong enough to accommodate whatever special features might be required, such as a mezzanine, a lean-to, sprinkler systems, or spectator balcony. Any size and number of doors can accommodate access for pedestrians, horses and riders, and vehicles. Any size and number of windows can add natural light. An optional interior liner and insulation can be added to fabric walls, or arenas can be designed pavilion-style, without walls.
Clear span up to 300 feet eliminates columns that obstruct visibility, present a potential danger to horses and riders, and limit indoor configuration. Every square foot of indoor space is usable.
ExxoTec™ buildings are sturdy and flexible enough to withstand even extreme weather events over many years. (Our buildings meet Florida's highest hurricane standards.) ExxoTec™ fabric is also naturally fire-resistant.
Adding our proprietary EpoxxiShield™ coating can provide even more corrosion protection than traditional hot-dip galvanizing. EpoxxiShield™ makes it easier to protect against interior moisture sources, such as wetting down the riding surface.
Our white ExxoTec™ fabric provides up to 12% translucency allowing for natural daylight to penetrate, producing a pleasant indoor atmosphere that often requires no additional lighting. ExxoTec™ fabric also helps absorb sound for a quieter environment.
Unlike metal, our tension fabric is thermally non-conductive, which makes it easier to maintain comfortable indoor temperatures year-round and save money on heating and cooling costs. In addition, ExxoTec™ buildings are constructed with passive ventilation, which allows excess heat to escape but does not cause additional vibrations or sounds. That said, an ExxoTec™ building's rigid I-beam construction easily accommodates hanging or roof-mounted HVAC equipment if additional temperature control is needed.
ExxoTec™ buildings require only minimal maintenance. Should an area ever be damaged, EpoxxiShield™ can be reapplied in place, and fabric cladding is installed in sections that are individually repaired or replaced.