3 Reasons for a Fabric Structure as Your Next Port Building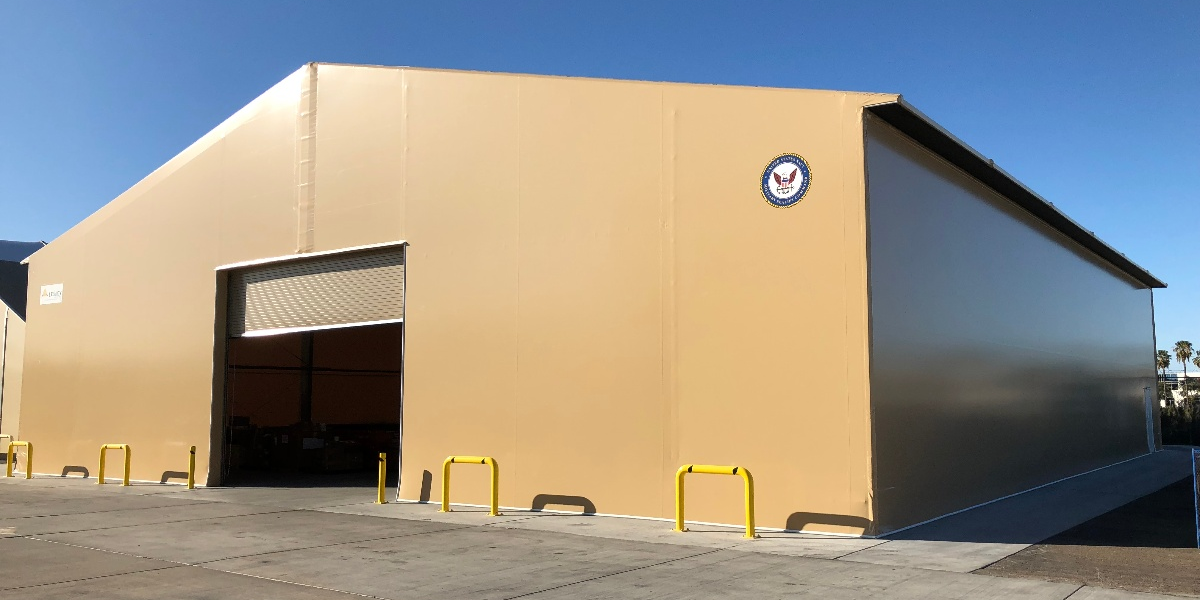 Waterways are among the safest, most cost-effective and greenest ways to transport goods. Many items, including bulk material, break bulk items that are loaded individually, and containerized shipments, are shipped either overseas or via inland waterways. Typically, at some point the goods are moved to a truck or rail car for further shipment and logistics. But no matter where they come from or where they are going, most goods spend some time stored at a port, terminal or harbor.
Advantages of Fabric Port Buildings
While there are many reasons to choose fabric structures for port buildings, three stand out above the rest:
Corrosion resistance
Size
Cost
Corrosion Resistance
No matter how humid the air at port, the fabric cover will never rust. Fabric membranes resist corrosion caused by moisture, salty sea air or even stored corrosive materials such as fertilizer and road salt.
All types of metal are vulnerable to corrosion. Rust may start slowly, with a few small leaks around fasteners. But as any warehouse operator knows, a few small leaks can cause big damage to stored goods.
If left unchecked, the rust will eventually damage the entire steel building. There is no way to stop rust once it starts - the entire building will eventually need replacement.
Hot dip galvanizing building frames for corrosive bulk material storage has been the standard, but epoxy-coated frame finishes are another option for extending a building's lifespan. Epoxy-coated frame finishes have proven to be the barrier between corrosive bulk material and building frames.
In contrast, structural fabric is naturally impervious to corrosion.
Attaching a fabric liner to the inside of the building frame further increases the structure's lifespan. While the outer cladding protects the building from corrosion caused by rain and humidity, the inner liner protects the frame from corrosive substances that may be inside the building. The frame is completely sealed, separated from even fine dust particles, and protected from rust.
Size
All fabric buildings are customized to meet the customer's or port authority's demands. Many customers choose Legacy Building Solutions for their next building because of the wide clear span space that allows for more material to be stored without a larger footprint.
But size is more than length and width. Each building also includes a custom eave strut, straight sidewalls and the ability to add industrial doors. This simplifies transloading and transshipment by allowing trucks and heavy equipment to easily pass in and out of the building.
Multiple entry points allow dockside cranes and derricks to load and reclaim materials straight to waiting trucks. Industrial doors and conveyor penetrations further simplify storage and handling operations.
Cost
While steel buildings incur higher maintenance costs due to inevitable corrosion, wooden buildings tend to be more expensive initially. The large timbers necessary for freespan buildings are rare and expensive. And in the damp marine environment, wood is susceptible to rotting and pests.
The longer lifespan of fabric structures is one cost-saving aspect. The naturally well-lit interior is another. Over time, the energy spent lighting a terminal on a sunny day adds up – money that could be better spent improving other aspects of logistics.
Overall, fabric structures will improve efficiency of port operations. And when you're an integral link in the supply chain, there's no time to waste on small, corroded and expensive structures.
Many contractors and building owners automatically think of pre-engineered metal buildings when contemplating a port structure. We want you to challenge this default setting and think about what you want and need. A tension fabric structure isn't just an alternative to a steel building or traditional building for ports & waterways; it's a better cost-saving building solution.