Fabric Building Prices | How Much Does a Fabric Building Cost?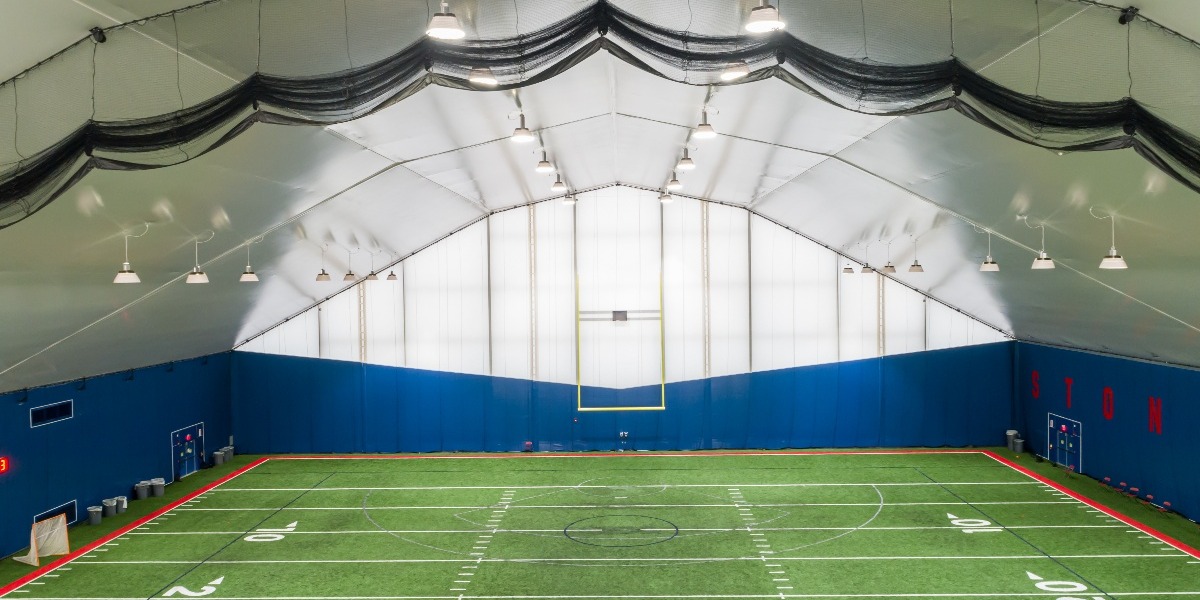 It's a question we get…often. It may be the first question that you, as a fabric structure buyer, ask yourself. Your immediate impulse will be to comparison shop what's out there. Consumers love comparison shopping because the internet has made it easy, and it gives us confidence that we will make the best decision.
"You know we're sitting on four million pounds of fuel, one nuclear weapon and a thing that has 270,000 moving parts built by the lowest bidder. Makes you feel good, doesn't it?" –-Armageddon, right before spaceship takes off.
But does it? Simple items like a lawn trimmer might be a good candidate for a cost comparison, but bigger and more complicated items like autos, houses and, in our case, whole buildings, make comparisons less and less useful. Making exact comparisons between two different houses, for example, is darn near impossible.
That's when we, as consumers, start asking more complex questions about what features we want and what are available. Now we are getting somewhere.
It Depends
When you ask how much our buildings cost, the honest answer is also the most unsatisfactory: it depends. When you make entirely customized buildings, as we do at Legacy, "it depends" is the only answer that makes sense. We don't have anything that's "off the shelf" or easy to find in some catalog. Our experience has taught us that buildings that truly serve our customers are based on their needs, designed by our engineering team, manufactured in our plants and installed by our construction teams.
When our consultants and designers say "it depends," it's the beginning of a conversation that includes factors such as:
Size—Do you have general idea of how much space you will need?
Design—Open walls, off set peaks, enclosed and insulated, and roof height are all factors in their calculations.
Materials—in addition to our Exxotec fabric cladding and solid steel I-beams, will you need extra corrosion protection (epoxy coatings) or precast walls?
Extras—Our solid steel beams can support a wide variety of equipment that will make your building more functional, from cranes and conveyors to goalposts and mezzanines.
Industry—We serve a wide variety of industries, from equestrian customers to military hangars, from bulk salt storage to hockey arenas. We have consultants who specialize in each industry, so they know how to listen to your needs and make suggestions based on their experience.
Have you considered these factors?
The cost of a fabric structure is probably not the total cost of your project. Our estimator, Troy Jurek, says the cost of one of our tension fabric structures is probably only one piece of the total cost of a project when you add in civil work, foundations, doors, HVAC and purchasing the land (if you don't already own it).
In terms of going deeper into the analysis of a building, let us suggest you look into life cycle costs. That is defined as "the selection of alternatives that impact both pending and future costs. It compares initial investment options and identifies the least cost alternatives for a twenty year period."
Some of the life-cycle savings that should factor into your calculations include:
Our buildings have warrantees on our fabric, corrosion protection and installation. They are designed to last for decades.
Solid steel frames mean our building can stand up to whatever Mother Nature dishes out. One of our early buildings just survive the Derecho in the Midwest this summer. Not a scratch on it.
They are also virtually maintenance free with no painting, no rusting and no chipping. The cladding sheds dirt during rain events, so most customers don't even need to clean them.
In short, making an investment in a building that will last a long time is always the right decision.
Apples to Apples
When you design nothing but custom buildings, making direct comparisons to other structures is difficult. You can't really say our 50,000 square foot storage building compares to the 50,000 square foot structure of one of our competitors because we work with totally different materials. For example, you can't compare our solid steel I-beams to their web trusses because our beams are based on proven engineering, manufactured to handle almost any load and stand on their own.
Furthermore, you can't compare our installation processes to the competitors. We have a patented tensioning system that means our fabric exterior won't need to be retensioned over the years. Most of the other structures out there need to be retensioned repeatedly over the life of the building. That's one of the reasons we use our own installation crews; they are trained in our processes, and it shows.
We have recently created our own proprietary epoxy coatings for our steel. Many of the industries we serve—mining, bulk storage, salt storage—need corrosion protection for their structures. These epoxy coatings extend the life of the building and that protects your investment.
What things cost
While "it depends" is the best answer we can give about our custom tension fabric structures, we do have a good sense about how different options will affect the price of the project. When you are talking to our consultants, we hope these will provide a roadmap for the conversation.
There are some words of caution from our estimator: In each case, the feature can involve thousands of variables and have ripple effects that extend beyond the building itself.
Items to take into consideration when budgeting-
Steel coatings: if you need corrosion protection, there is a spectrum of choices. On one end of the spectrum is a simple primer. On the other end of you can get hot-dipped galvanized steel or a 13 mil epoxy coating. The price is dependent on your needs.
Insulation: If the building needs to be insulated, it will also need to meet local energy codes.
Wide openings: if you need extra wide openings, e.g. an opening wider than 18' to 20', on the sidewalls of the building, you will need jack beams.
Conveyors and Cranes: Our solid steel beams can support a wide range of conveyors and cranes, and that can add to the total cost of your building and needs to be considered when budgeting. But when our customers need them, they really need them.
Risk Category/Occupancy Class: We encourage clients to be forthcoming with building officials when trying to get their ducks in a row. An increase in the risk category required by the local official based upon building use will literally add steel weight—and therefore cost—to the building. These can also have ripple effects including: more required parking spaces, greater restroom capacity, increased requirements for emergency egress, etc.
Extras that aren't too extra-
Wall penetrations: If you need space to install doors, HVAC, etc., these are the easiest adjustments to the design and will not impact your overall budget.
Eave Extensions: Some customers want eaves that are wider than our standard 18 inches. Extending them is relatively inexpensive in most cases.
Sidewall clearance: Getting the proper clearance inside your building should not be sacrificed. Many fabric buildings have walls that curve inward, and that reduces the amount of usable space. The cost to increase the height of a sidewall to create more clearance for a Legacy building, for example, from 11' to 14' is relatively inexpensive.
We all like decisions that are black and white, and that's why comparison shopping appeals to us as consumers. When it comes to a building, however, the complexity of the variables make comparison pricing a bit of an illusion. Pricing a building is not really a do-it-yourself project. Get some help by reaching out to our industry experts that understand the options, the features, the industry and your particular sector of the economy. The answer you will get from speaking with us s is worth the time you spend. After all, finding an easy answer that is also wrong isn't going to help anyone.