Advantages of an ExxoTec™ Building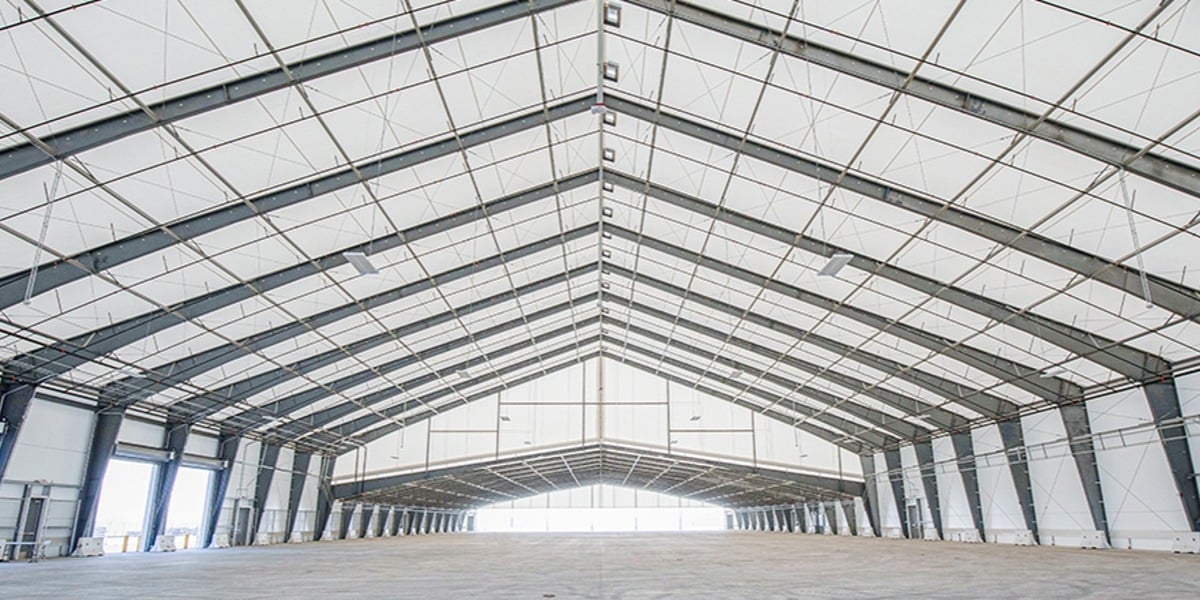 ExxoTec™ may not be a building material you're familiar with. But if you're considering a large metal, wood, or concrete building it should be something you consider as a quicker construction option.
ExxoTec™ is an industrial PVC fabric that is stronger and outperforms other types of polyethylene (PE) fabrics. It comes in two weights and is available exclusively through Legacy Building Solutions. Used in conjunction with Legacy's unique steel framing and patented attachment system, an ExxoTec™ building offers multiple advantages compared to many traditional building styles.
Tough Enough for Your Location
ExxoTec's™ high tensile strength makes the fabric especially resilient. Year after year, it stands up to heavy snow loads, hurricanes, derecho winds, and other extreme weather conditions. If the ExxoTec™ ever becomes damaged or worn, repairs are faster and easier compared to wood or metal buildings because the membrane is designed and installed as individual panels.
And it's not just weather. The rigid steel I-beams used to construct Legacy structures can support rooftop solar panels, heavy equipment such as HVAC and fire suppression systems, cranes and conveyors, special features such as goalposts, and architectural add-ons such as mezzanine.
Durable
The rigid steel I-beams used in an ExxoTec™ building can be coated with Legacy's proprietary EpoxxiShield™, which protects against corrosion better than hot-dipped galvanizing. You can opt to have an interior liner added around the frame for an additional level of protection.
This is especially important if your building will be housing corrosive bulk commodities like salt or fertilizer.
Resource: Case study on corrosion protection for Hull Coop
Fast, Simple Construction Process
With Legacy Building Solutions, you're dealing directly with the manufacturer, end to end. This one-stop approach simplifies and streamlines the entire process. Our in-house experts are with you every step of the way handling each phase from design and engineering through manufacturing and installation at your site. No worrying about communication breakdowns or the need to hire subcontractors. With a shorter time to completion, you can occupy the space significantly faster compared to other construction options.
Custom-built
Every ExxoTec™ building project is 100% custom-designed to meet your needs and specs. The possibilities are almost limitless compared to traditional steel structures. Select your length, width, height, windows, and any size doors—every detail reflects your usage and aesthetic requirements.
Versatile
ExxoTec™ buildings are an excellent choice for applications across vastly diverse industries for whatever you need to house, from bulk commodities to sports fields, horses to fighter jets, recycling, warehouse inventory, or waste treatment facilities.
Clear Span
Rigid steel I-beam construction gives you a clear span that can extend more than 300 feet wide. That allows for wide open interior space without support columns, so there is nothing to impede interior configuration or movement within your building. Every square foot is usable space.
Simplified Process
Legacy's team has decades of experience working alongside architects, engineers, and general contractors. We can quickly collaborate and coordinate on solutions that are in the best interest of the end user. Our approach makes communication easier and cuts down on construction delays and other project misalignments.
Good Looking
Let's be honest. No matter the purpose or location of your building, your facilities make an impression. An ExxoTec™ building can look like a traditional building, and the exterior is essentially a blank slate that can be decorated or branded as you like.
Outstanding ROI
Legacy buildings clad with ExxoTec™ fabric are engineered to last for decades. Plus total cost of ownership is low, as the buildings are virtually maintenance-free. Exterior dirt and dust usually rinse away in the rain, and painting or repairing rusted or chipped areas is typically not needed.
Comfortable
White ExxoTec™ fabric allows up to 12% transparency for natural sunlight to penetrate the ceiling and walls in uninsulated structures (ExxoTec™ is also available in other colors). That can save energy costs, and it provides a more appealing working environment. With R-30 insulation, ExxoTec™ buildings offer complete indoor climate control, plus many lighting and interior finish options. All structures can accommodate almost any configuration of windows.
Proven Around the World
Legacy Building Solutions is the industry leader in innovation and successful on-the-ground installations worldwide. You can trust our team to help devise a building solution based on your specific needs and concerns.
It's easy to see why ExxoTec™ tension fabric buildings are becoming the go-to choice in many industries. If you have questions about how quickly your building could be built and how much it would cost, please reach out to our team and we'd be happy to answer them.